Cuc Phuong National Park – 8 highlights & how to get there
Cuc Phuong National Park – 8 highlights & how to get there
Cuc Phuong National Park is located in  Ninh Binh, 120 kilometers from Hanoi. It was founded in 1962 and is the oldest national park in Vietnam. With 307 species of birds, 133 species of mammals, 122 species of reptiles and more than 2000 plant species, this national park is one of the most important protected areas of Vietnam.
History of the Cuc Phuong National Park
The preservation in Vietnam began in the Cuc Phuong National Park. It was initiated by Ho Chi Minh  in 1962, right in the middle of the Vietnam War. The bombs dropped and the defoliants used during the war (to better see the hidden Vietnamese) destroyed much of the forests and fauna of Vietnam. Ho Chi Minh told people that environmental protection protects their future. Since then 29 other national parks have been created in Vietnam, but Cuc Phuong is still the largest.
Animals in Cuc Phuong National Park
With 307 bird species, 133 mammals, 122 reptiles and more than 2000 different plants, this national park is one of the most important protected areas of Vietnam. The park was established to protect animals, including tigers, leopards, bats, pigs, civet cats and flying squirrels and the endangered Delacour langur. Unfortunately poachers and habitat destruction are tormenting the park. Better roads have led to illegal logging and many indigenous species such as the Asian black bear, the Siamese crocodile, the wild dog and the tiger have now disappeared from the area. Other wildlife is very rare to see, so adjust your expectations.
Even without seeing these large animals in the wild, you can get an idea of ​​the wide variety of insects and plants in the park. Some trees reach more than 50 meters high and are estimated to be more than 1000 years old.
Endangered Primate Rescue Center
Some of the "happier" victims of the illegal hunting in Vietnam can now be found in the Endangered Primate Rescue Center near the entrance. The center, opened in 1993, not only looks after rescued animals, but also tries to rehabilitate them by releasing them into an adjacent semi-wild area. In addition, the center manages crucial research, conservation and breeding programs.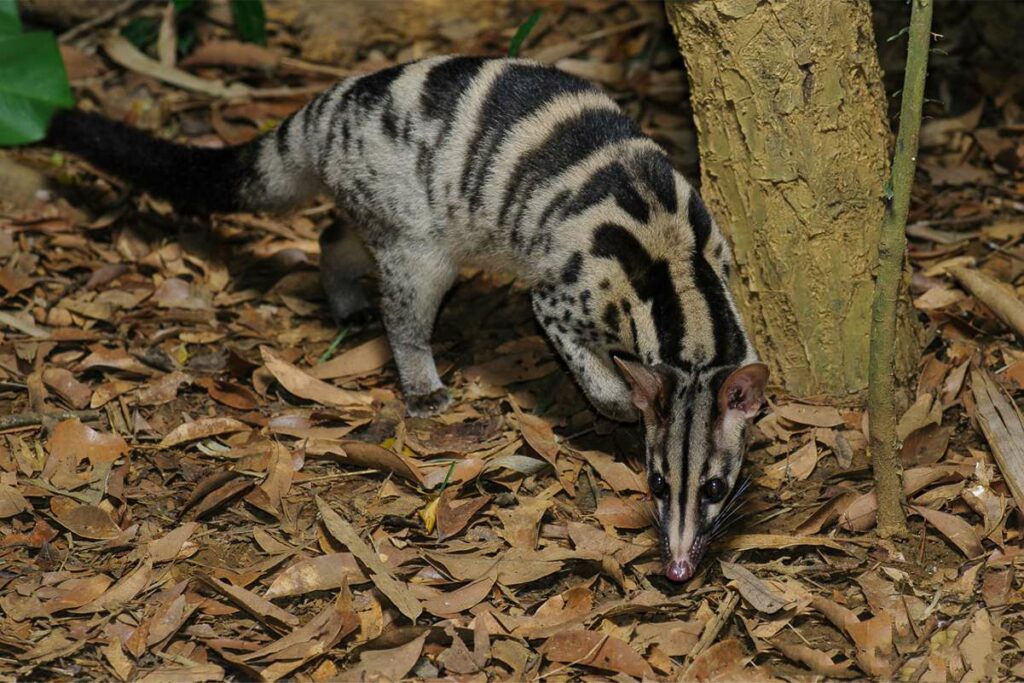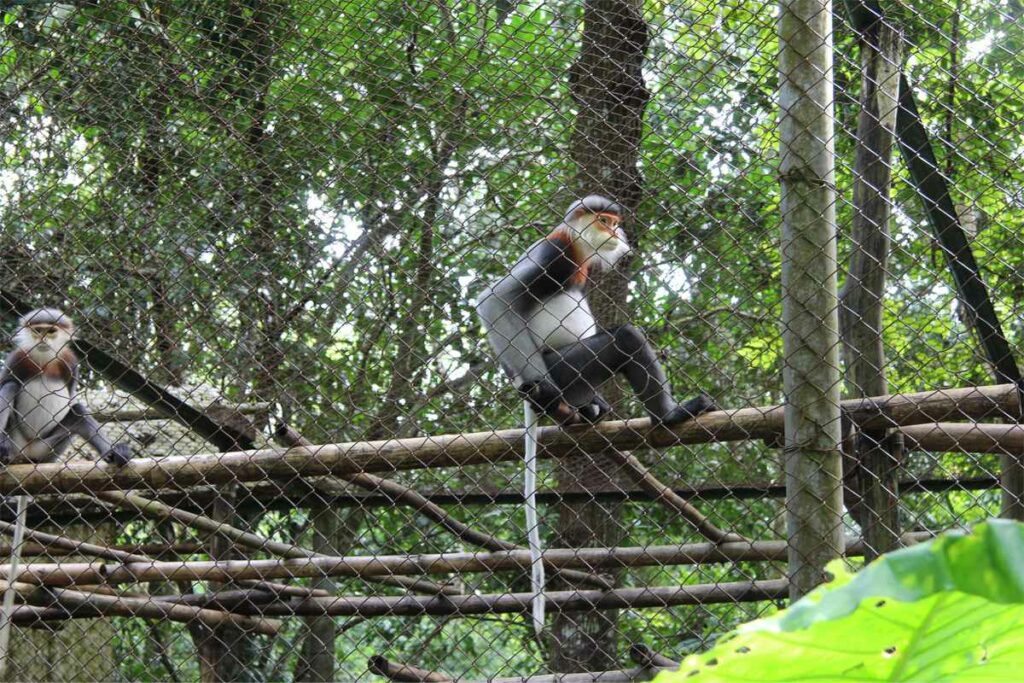 At any given moment there can be between sixty and one hundred animals, including Delacour's langur, the Cat Ba or golden yellow langur, and the gray pasted douc langur, as well as various lori and gibbons; a unique opportunity to see these incredibly rare species up close.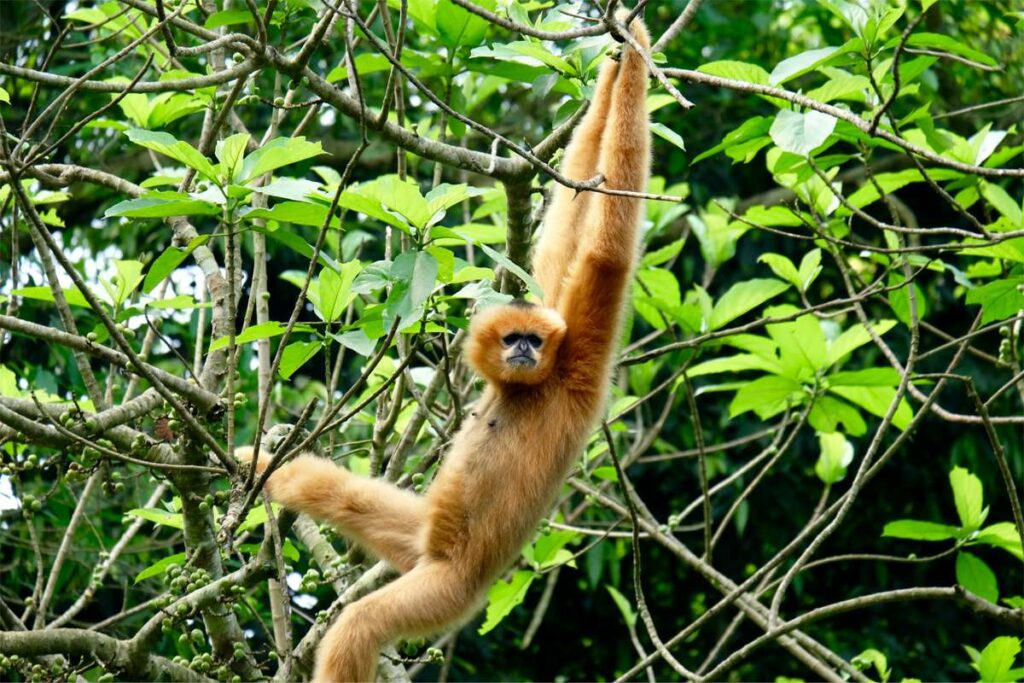 Opening times: daily from 9:30 AM to 11:30 AM and from 1:30 PM to 4:30 PM
Read more: 
https://trekkingvietnam.net/10-tip-backpack-hiking-vietnam/
Cuc Phuong National Park highlights
1. Trekking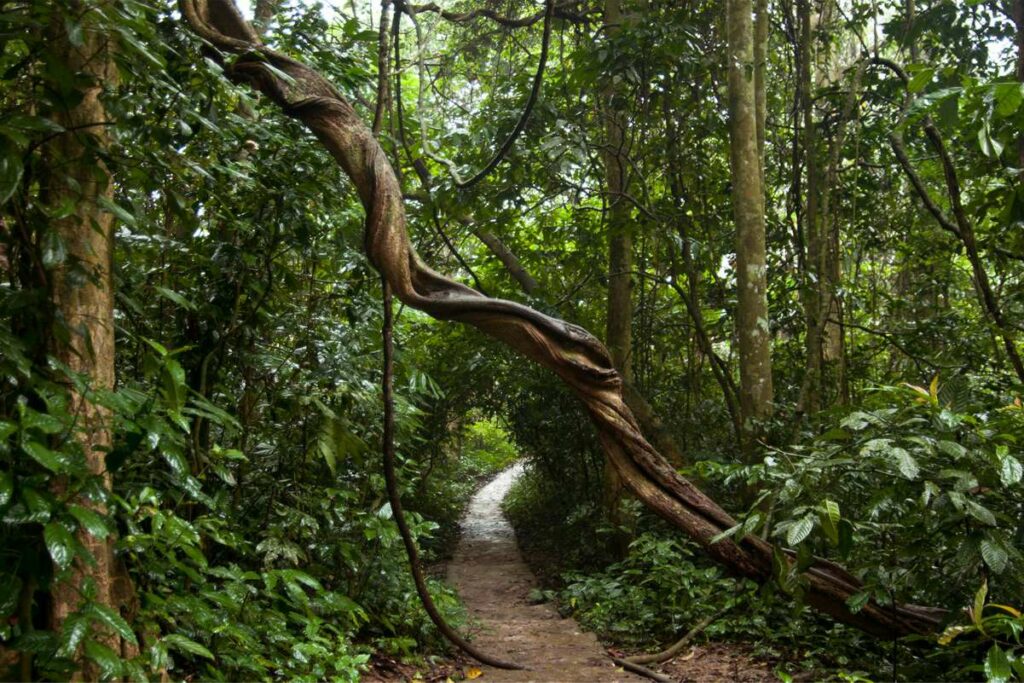 The main reason for going to Cuc Phuong National Park is a trekking through the nature. There are many different treks, ranging from short 1 hour walks to full day trekking. At the visitor center you can ask for different trails. Some trails go to caves, villages, rainforest, lake and bird watching. Below a few of the trekking routes:
Fauna and flora garden. The trail is approximately 3 km long and lasts a maximum of 2 hours.
Observation tower: a short walk up the mountain with a beautiful landscape that takes about 1 hour.
Other short walks are a route of 220 steps to the cave of prehistoric man. Human graves and tools are 7500 years old, making them one of the oldest sites for human occupation in Vietnam.
Popular walks are a 6 km walk to the huge, 1000-year-old "old tree" (Tetrameles nudiflora) and a longer four-hour walk to Silver Cloud Peak.
There is also a long 15 km (approximately five-hour) walk to Muong village. You can spend the night here with local families and rafting on the Buoi River.
Tips
Night camping requires the help of a guide from the park and the locals, including watching wildlife at night. Camping equipment must be rented in Hanoi.
Park staff can deliver maps, but a guide is recommended for day trips and mandatory for longer trips.
2. Kayaking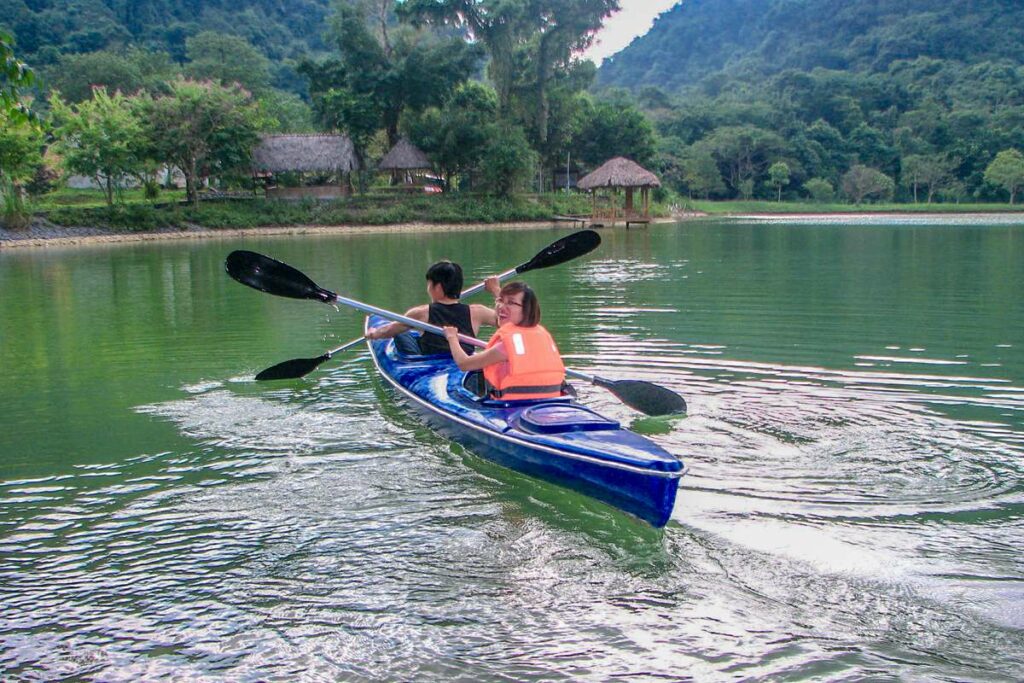 There are two places where you can go kayaking; on the artificial Mac lake or the natural Yen Quang lake. Kayaks can be rented directly at the park entrance.
3. Traditional music performance
Cuc Phuong National Park has been settlement for many generations of the Muong minority. These people have their own unique culture. To show and preserve a part of their culture they have traditional music performances by young Muong girls and boys who live around the park.
4. Amphibians, insects and reptiles spotting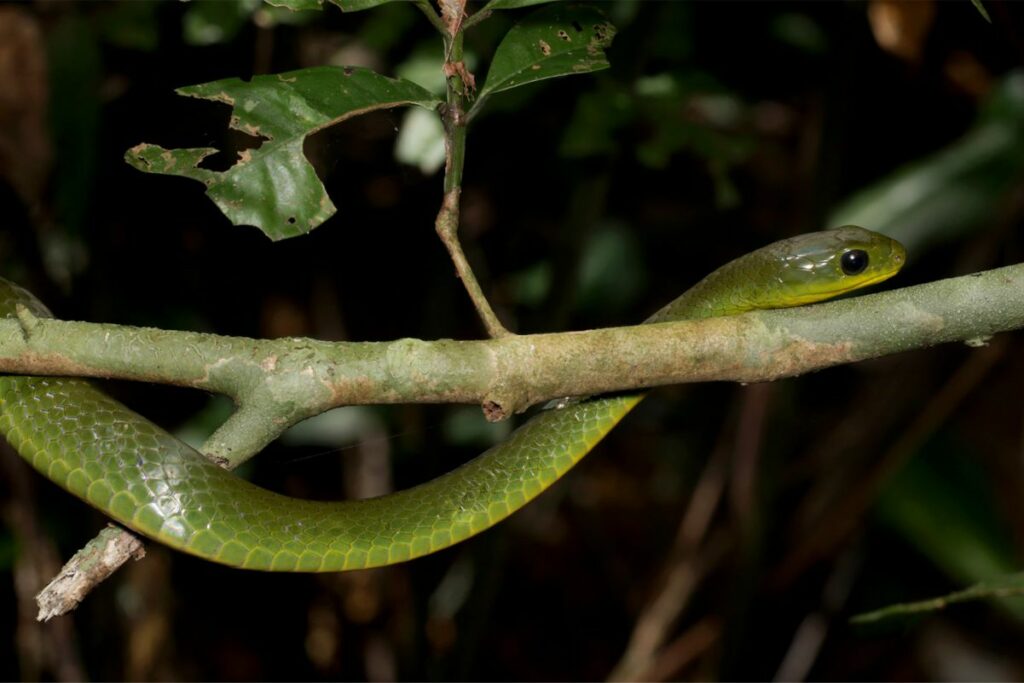 The national park is home to many different species of insects, amphibians, and reptiles, which many of them are endemic to Vietnam. Some animals you can see are green tree frog and stick-insects.
5. Cycling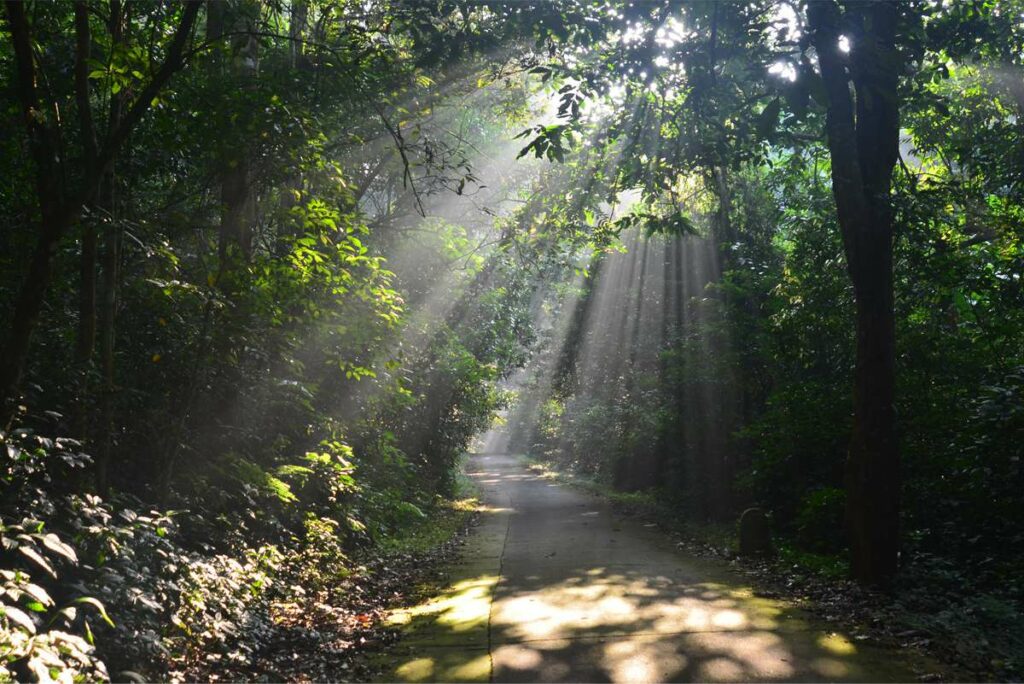 One of the best ways to explore Cuc Phuong National Park is by biking through the jungle. Cycling gives you the change to see a larger part of the park in a shorter time and is also a great way to see the more secretive animals and birds of the park. You can rent mountain bikes at the visitor's center.
6. Bird watching
Cuc Phuong National Park is home to many beautiful tropical birds. Some of the 308 species of rare birds that you might encounter are the Silver Pheasant, Red-collared Woodpecker, Brown Hornbill and Bar-bellied Pitta. The park is a must-vist destination for birdwatchers. The best time for bird-watching is early in the morning or in the late afternoon.
7. Wildlife night-spotting
There are night safaris through the forest. These night tours give you the change to see the more difficult to spot animals of the park including the Black Giant Squirrel, the Indian Flying Squirrel, Samba Deer, Loris and several small carnivores.
8. Caves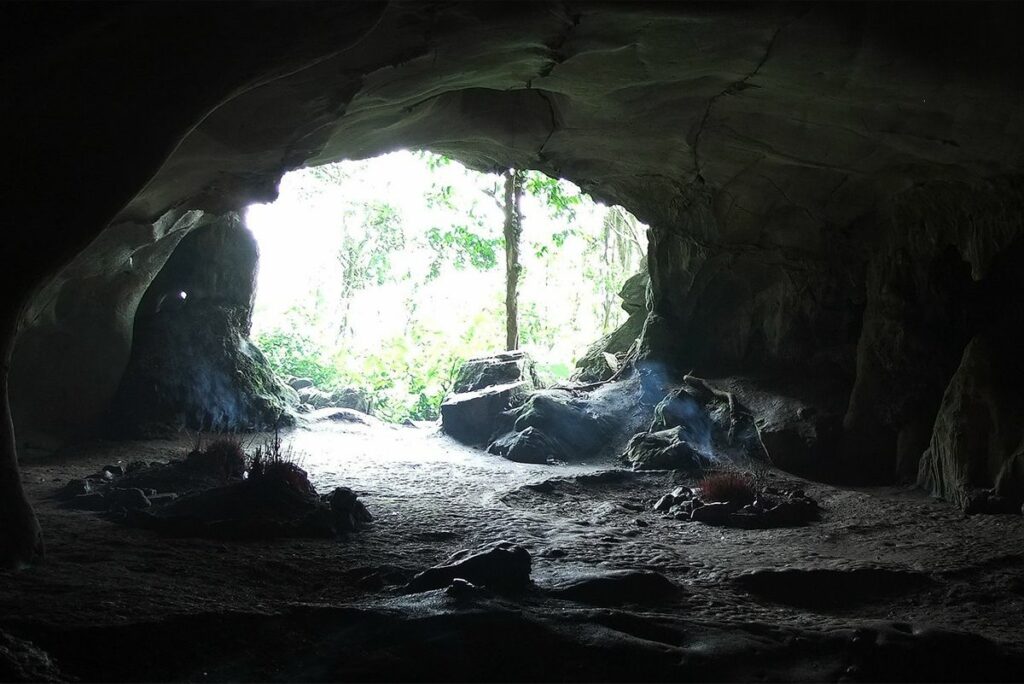 The limestone formations produced numerous caves, many of which are accessible to explore. Three graves dug up in one of the caves in 1966 contain shells, animal teeth, rudimentary stone tools and prehistoric human remains. The most known caves in the park are Thang Khuyet Cave, Con Moong Cave, Pho Ma Cave, Nguoi Xua Cave and the Cave of Prehistoric Man.
What to bring
Walking shoes for the slippery paths is highly recommended. Bring lots of anti-insect agents. It is also advisable to take a bottle of water with you, because the walk can be strenuous. Along the way there are stone tables along the hiking trails that are ideal for a picnic meal.
Facilities
At the entrance there is an information center where you can get a map of the paths. There are also restaurants, souvenir shops and a small hotel at affordable prices. You can also consider renting a bike at the information center.
As you approach the park, there is another accommodation with a more authentic natural feel. This house on stilts is a nice experience, but not advisable for those who can't handle mosquitoes and biting insects.
How to get there
Tours
The easiest and most comfortable way is by tour. There are day tours available from Hanoi and Ninh Binh that will take you by comfortable minibus including lunch and a guide.
TIP! Check the tours of Local Vietnam to Ninh Binh, inclding trips to Cuc Phuong National Park. Combine your trip with a visit to some of the other highlights of Ninh Binh, such as the viewpoint at Mua Cave and the Trang An boat tour.
It is possible to take the direct bus to the park in about 3 hours from the Giap Bat bus station in Hanoi, but it does not leave until 3 p.m. If you want to be there earlier, you can take a bus from Giap Bat station to Nho Quan, and then take a taxi to the park entrance. Buses to Nho Quan leave at 8 a.m., 9 a.m., 12 a.m., 1 p.m., 3 p.m. and 4 p.m. They cost around 100,000 dong.
A direct bus back to Hanoi leaves the park only at 9 a.m. (look at a red bus). To go back via Nho Quan, take a taxi from the park back to the bus station and then take a bus back to Hanoi at 7:00 AM, 8:00 AM, 11:00 AM, 12:00 PM, 1:00 PM, 14 : 00 or 15:00.
You could also go from Ninh Binh, which has a large bus station that is easily accessible from most cities in the area. Once you arrive in Ninh Binh, you can take an expensive taxi ride or rent a scooter and drive yourself. It only takes a few hours and occasionally the views are amazing.
Best time to visit
The best time to walk in Cuc Phuong National Park is from October to January, when mosquitoes and leeches take a break and the temperatures are relatively cool, but this is also the peak season. Flowers are at their best in February and March and in April and May are the months in which you can enjoy the "butterfly festival" where thousands of butterflies color the forest.
Accommodation in Cuc Phuong National Park
It is also possible to spend the nigh in the National Park. There are three places with accommodation in the park, which are the Park Headquarter, Mac lake and Park Center. Accommodation in the park center means you stay far away from civilization in between the rain forest. Close to Mac Lake is very relaxing with good places for biking. Staying at the Park Headquarters can be handy, because you are right next to the park information and all the activities start from here, including night-spotting, kayaking, traditional music performance and trekking and bike tours.
The rooms and bungalows are not very luxurious, but modern, nice and clean. Prices start from $15 but go up in weekends and holidays.
Other things to do around in the area
This national parks in Vietnam is located in 3 provinces. The biggest part and also the entrance you will find in Ninh Binh province. There are many great things to do in Ninh Binh. Around 40 km from the park you will find Tam Coc Here you can enjoy a boat trip over the stunning river between rice fields and mountains. There is also a great viewpoint here, at Mua Cave .
There are also a lot of beautiful temples in Ninh Binh you can visit. The one close to Tam Coc is the Bich Dong pagoda, a perfect spot for photographers. A bit further away is the Bai Dinh pagoda, the biggest complex of temples in Vietnam. You can also visit the temples of Trang An, Halong Bay on land, by one of the best boat tours in Ninh Binh.