Phong Nha 10 best things to do & travel guide
Phong Nha Ke Bang National Park is an impressive place where you will find the largest cave in the world, Son Doong. Mountains, lakes, caves, jungles and exotic wildlife, this destination has it all. Phong Nha is a paradise for adventurers. Colossal caves are perhaps the main attractions, but linger longer and Phong Nha reveals hiking trails, remote country lanes and rivers that are perfect for kayaking.
You can visit one to three caves and drive around the national park in two days. If you are planning to do a caving expedition or want to relax for a day at the pool, it is recommended to stay 3 to even 4 days.
The Son Trach village at the park is developed for tourism, so there are a few ATM's available and most hotels and home stays accept payment by card.
The best travel time: From June to August. These are also the hottest months.
December to February: These months can be considerably colder.
The flood season is normally from mid-September to mid-November each year and is periodic and not continuous. Be sure to check the weather forecast in advance before traveling to Phong Nha. Severe flooding affects the availability of tours.
10 best things to do in Phong Nha
Most of the best things to do in Phong Nha involve the famous caves of this national park. Whether you are very adventurous or looking for a more gentle walk, there are so many caves that there is always one that suits you. But even if you don't like caves at all, this national park is worth a visit, because above ground the jungle and rivers are also very impressive.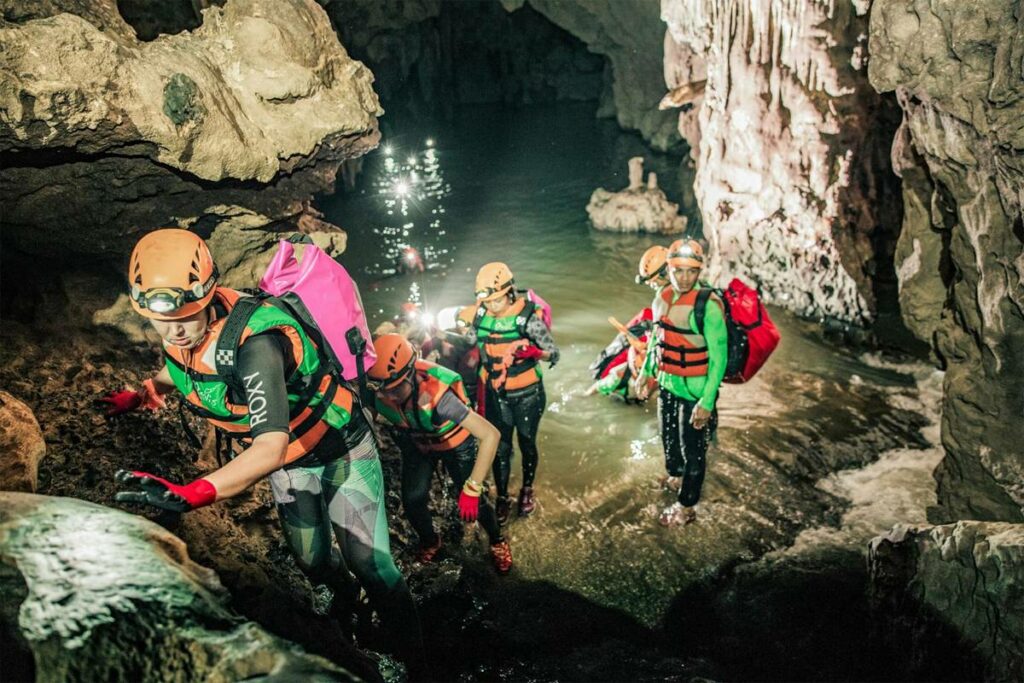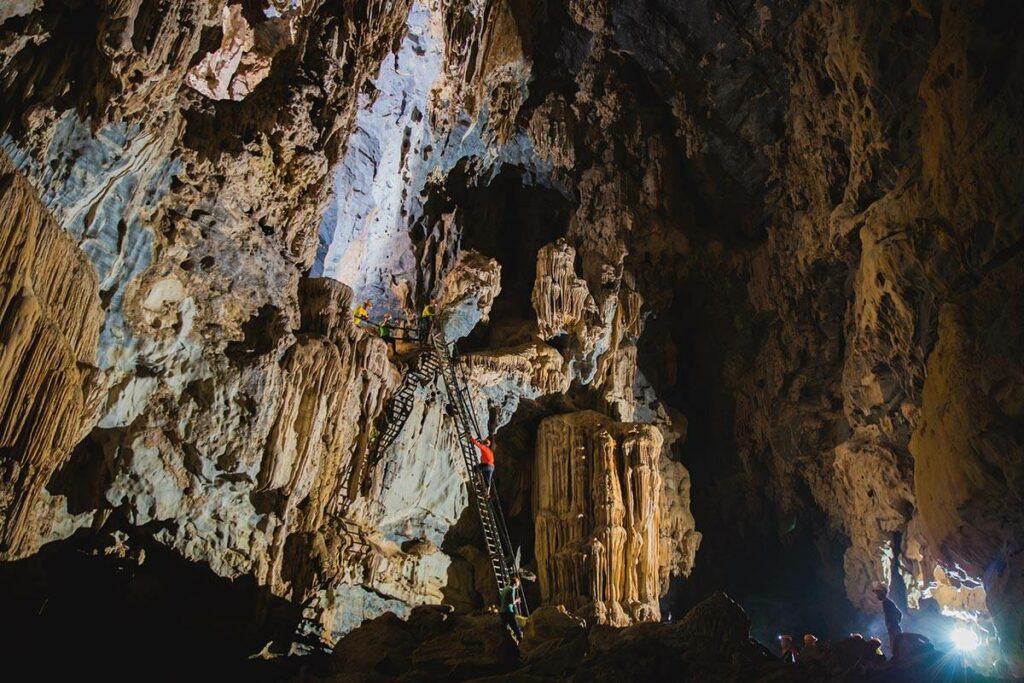 The coolest activity is to visit the caves that are located off the beaten track. For this you have to walk through the jungle and in the unlit cave you will swim, abseil and climb while making your way with a helmet with flashlight.
There are dozens of caves where you can take such an adventurous expedition. The Hang Son Doong is perhaps the best known, because this is the world's biggest cave. However, this is not for everyone, because the price to visit this cave is $ 3000 and takes several days. The Hang En cave that you can visit in 2 to 3 days is a good alternative as one of the most beautiful caves in the national park.
The Pygmy Cave, Tu Lan Cave and Hang Va Cave are a lot more adventurous. Expect a real adventure, with swimming and climbing through a complete dark cave. In the Tiger Cave there is 100 meter abseiling from a collapse roof inside the cave.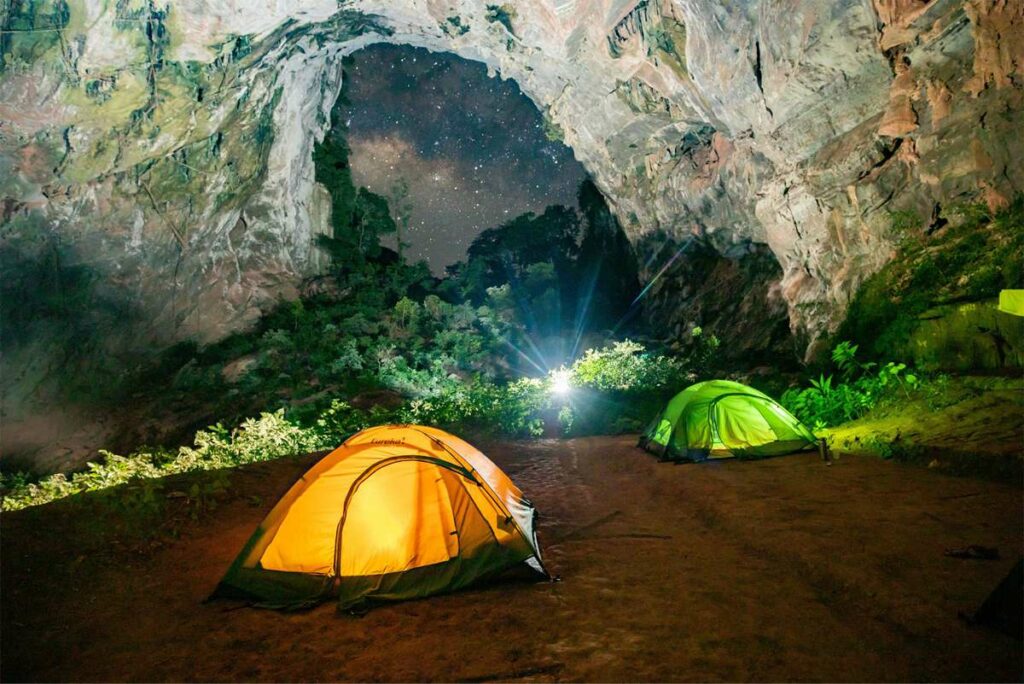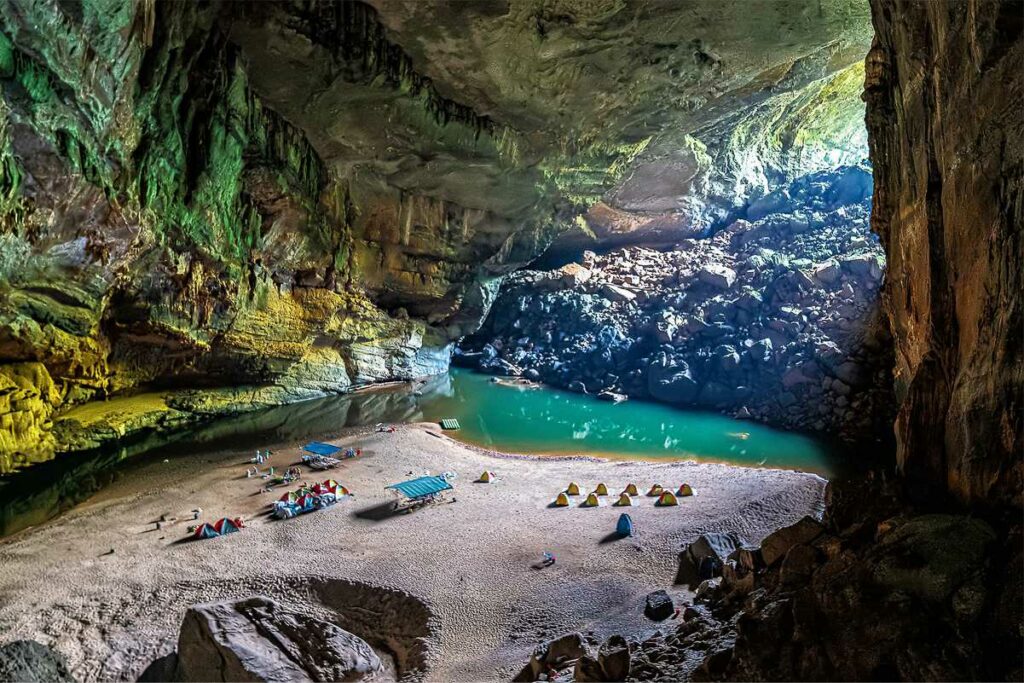 One of the other best things to do in Phong Nha is camping. If you are planning a multi day caving expedition, camping is already included.
The most impressive campsite is inside the Hang En cave, at one of the openings and next to a small pond inside the cave. It is also possible to camp in the Pygme cave. Campsites of other caving trips are often outside in the jungle, next to a waterfall or river.
Whether you sleep in a cave or in the middle of the jungle far from civilization, it promises to be a unique experience that you must have done at least once in your life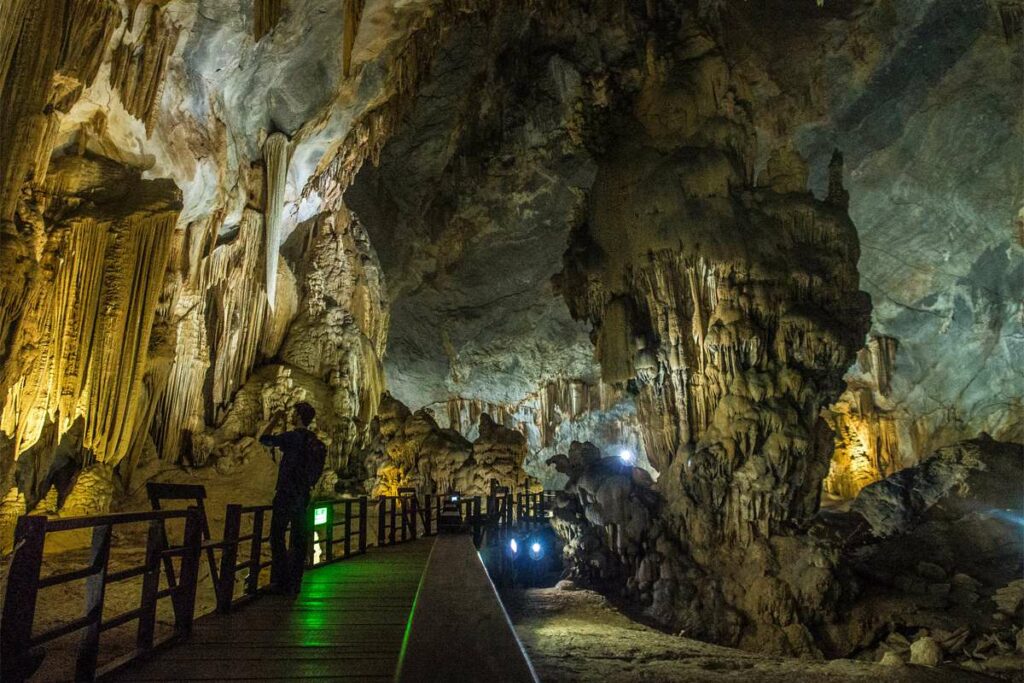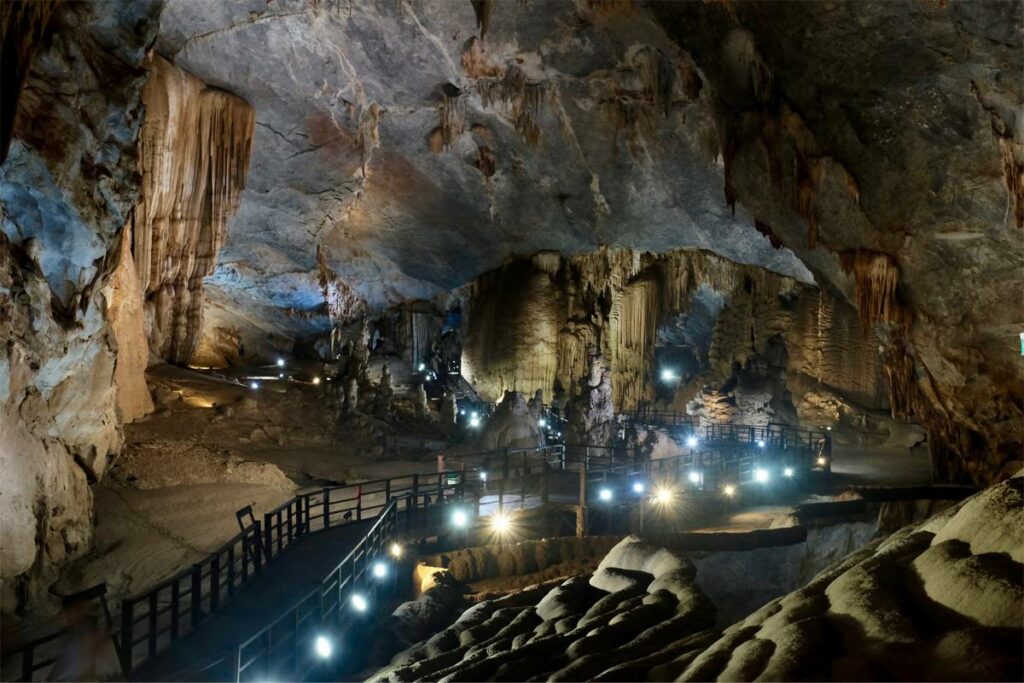 If you don't like so much adventure with long hikes through the jungle and swimming in underground rivers, you don't have to worry. There are plenty of caves that you can visit from the road, which are lit inside and with paved paths so you don't have to climb and scramble.
The two most famous caves are the Phong Nha cave and Paradise Cave. The last mentioned cave is the most impressive. Huge underground chambers with long hanging stalactites and standing stalagmites. Phong Nha Cave includes a river boat trip through the beautiful countryside of central Vietnam.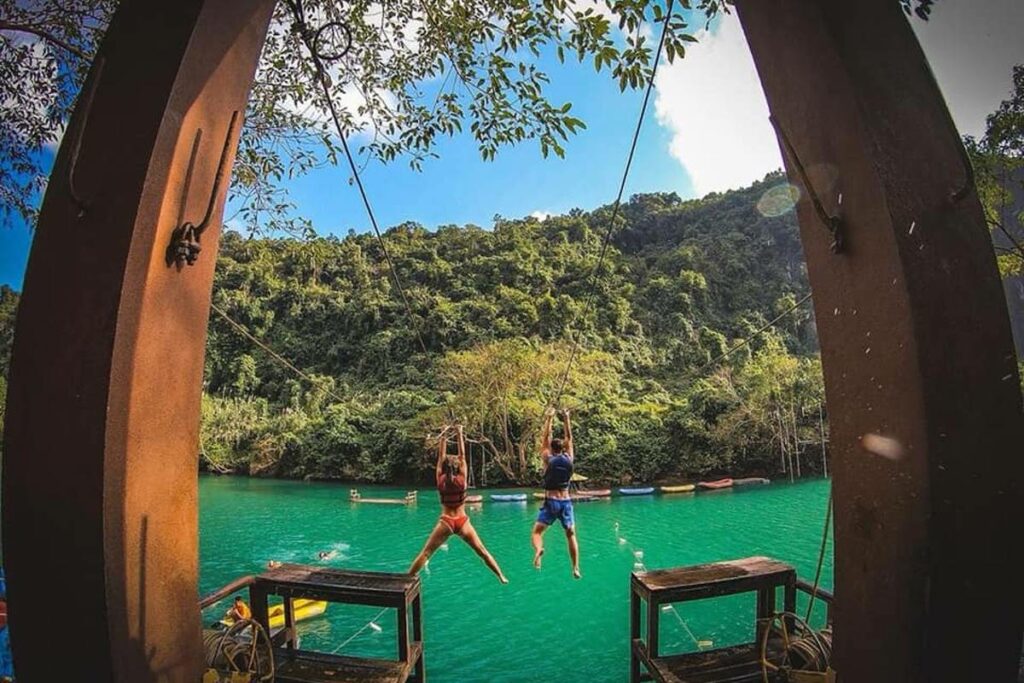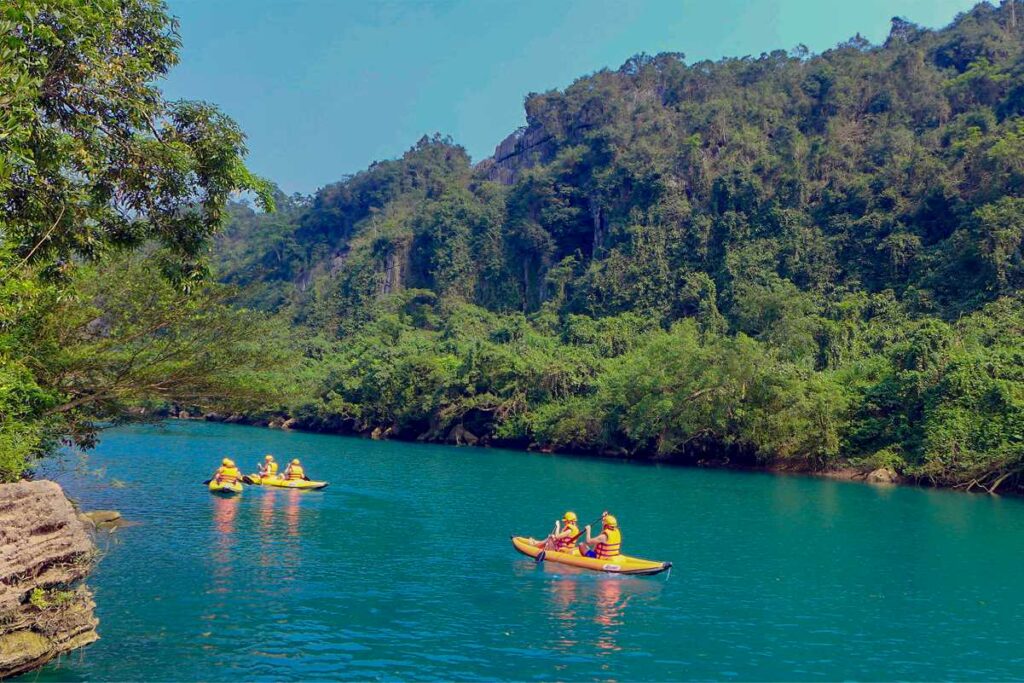 Another adventure in this list of the best things to do in Phong Nha is the water activities. The park has a river and small sea rivers where various activities are possible, such as kayaking, swimming, floating bounce island and zip lines above the river.
The Dark Cave is the place where you can combine all these water activities with visiting a cave. You start with the longest zipline in Vietnam to the entrance of the cave. The unlit cave itself is completely made of mud inside, where you have to make your way through and ends is a real mud bath. You will eventually get clean again by swimming out of the cave, where kayaks are ready to paddle back to the start. In the river you can also use smaller zip lines where you can drop yourself in the water and floating islands.
A place with even more water activities can be found at the Suoi Nuoc Mooc eco trail. Here you will find various zip lines, hanging bridges and kayaks. It's the perfect place for fun and cooling off on hot days.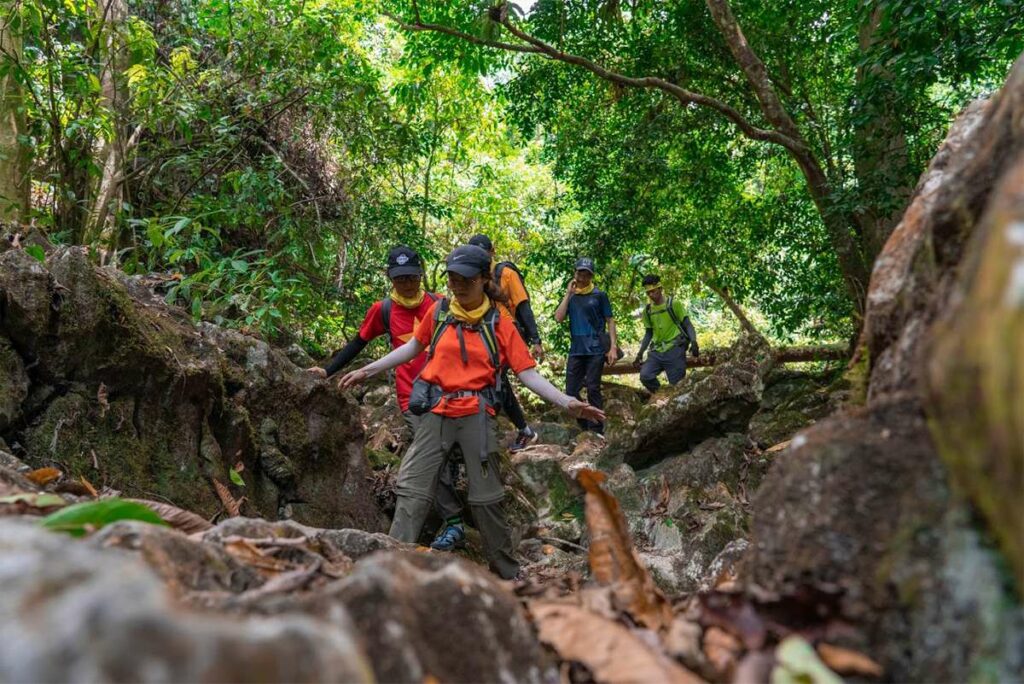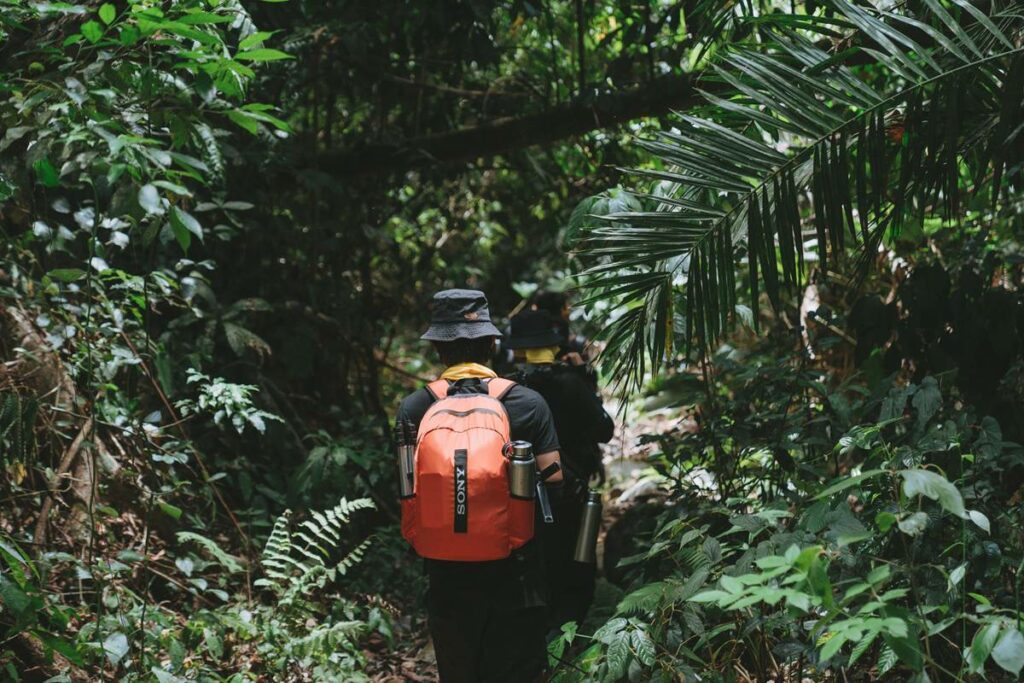 Jungle treks are included in the multi-day cave tours, but you can also do day tours through the jungle. Phong Nha's jungle is exactly how you'd imagine it or as you've seen it in movies. Walk through the forests and sometimes through low-lying rivers, surrounded by mountains and you might spot some animals. Of course it is best to go with an organized trekking tour, where an experienced guide will take you along hidden trails unknown to other travelers.
6. Drive around the park and countryside
The park above ground is just as impressive as the ground and a good way to see this is on a bicycle or motorcycle. Many accommodations in the park have bicycles to borrow for free and motorcycles are available for rent from 100,000 VND.
The roads take you deep into the jungle, but you can also explore the beautiful and expansive countryside surrounding the park. On the way through the park you can either enjoy the scenery, but you can also directly visit the caves that are located along the road. If you want to see more of the countryside it is best to head to the Ho Chi Minh Highway to Bong Lai Valley.
If you are an experienced cyclist, try taking a tour of the national park. Make sure you have a good bike and plenty to drink and eat, because there are no restaurants in the park itself.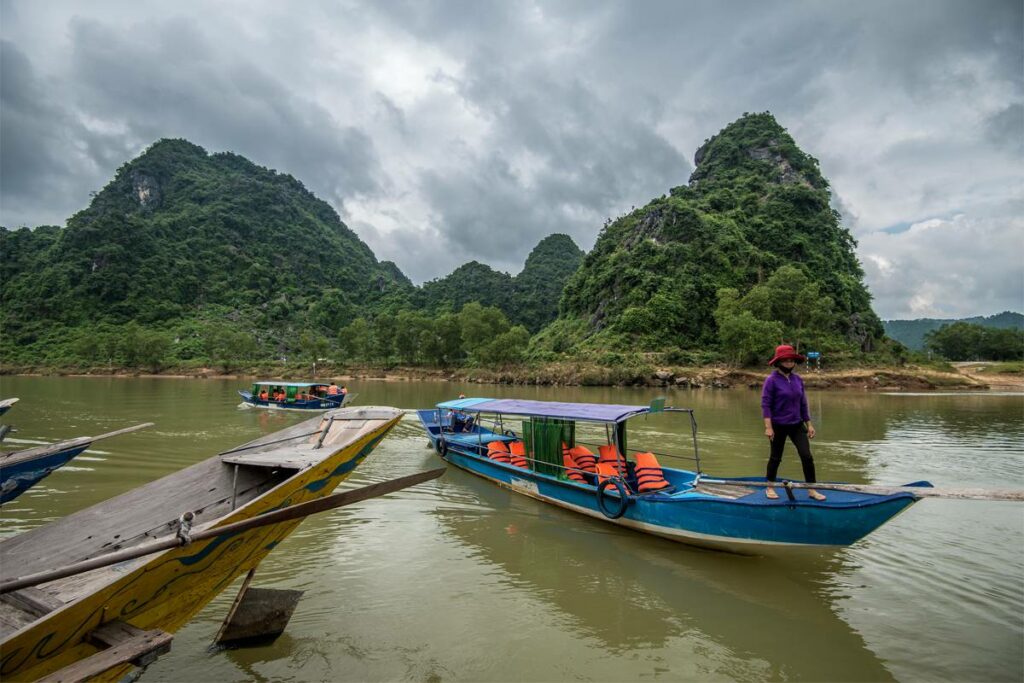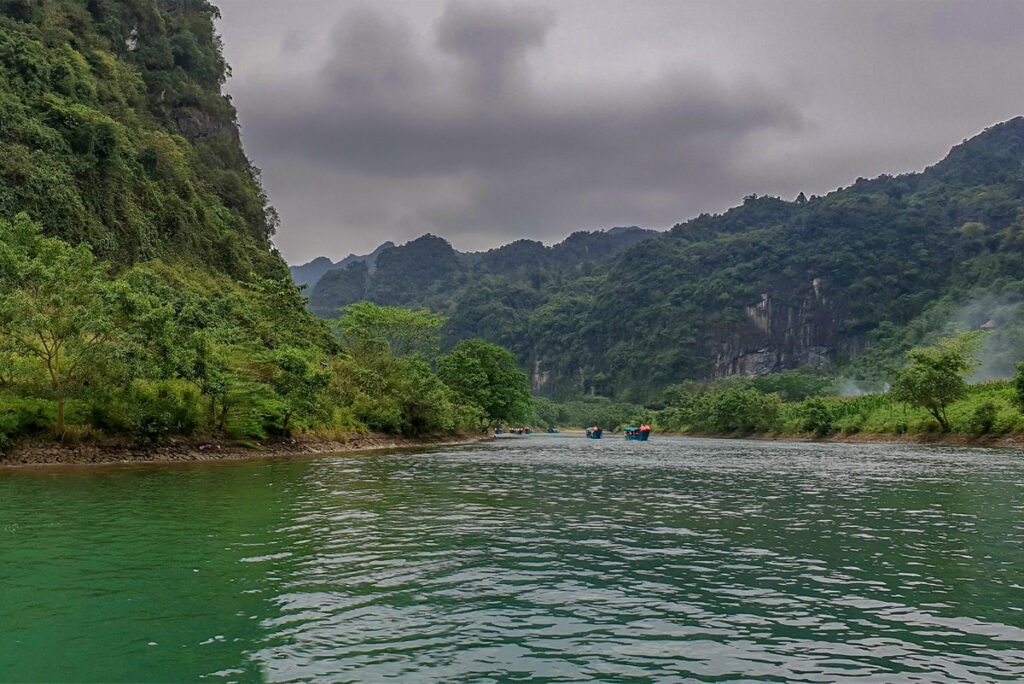 When you visit the Phong Nha cave you can enjoy a two half hour boat trip to and from the cave. Along the way you will sail through the beautiful landscape, with mountains, jungle, local villages of ethnic minorities and the countryside. Next to you in the river you will likely see a water buffalo washing and cooling itself. Even if you don't feel like visiting a cave, this boat trip is worth it.
The national park is home to not only jungle and wildlife, but ethnic minority groups as well. There are small villages with houses made on stilts of the Bru Van Kieu minority in the park and just beyond. They mainly live on rice cultivation from burnt over land and in submerged fields. Hunting, gathering and fishing supplement are also an important source of food. They raise livestock and poultry primarily for religious offerings, then for their meals. They make baskets and palm mats as their second activity.
The Botanical Gardens may sound a bit boring with all the beautiful scenery of the national park, but it is actually a poorly chosen name. Here you can walk alone through the jungle (without a guide), with an option for 3 different routes. There are also several places where you can swim in natural pools and there is a beautiful waterfall that you can visit.
10. Relax with a great view
If you don't like all these activities, or if you just want to rest after a whole day of hiking or visiting caves, you can relax in a quiet place in the area. There are several cafes along the river where you can enjoy the view with a drink. There is also a coffee shop with a hilltop lookout called East Hill coffee. Of course you can also just book an accommodation with a swimming pool and great views of the countryside and the mountains of the park.
Best hotels & hostels in Phong Nha
Son Trach (Phong Nha Town) – Son Trach the gateway to the Phong Nha-Ke Bang National Park. This one-street village is growing every year to support the growing number of tourists that arrive every year. You will find a number of decent hostels, 2 – 3 star hotels, new budget accommodations and small family-related homestays that offer a more personal experience. Just outside the town are a few accommodation with stunning views over the countryside.
Dong Hoi – Dong Hoi is the closest town to Phong Nha Ke Bang National Park. It is approximately 45 km away. There are many comfortable and cheap hotels in Dong Hoi and on the beach. Some tour companies also include a pick up starting from Dong Hoi. having that said, it lacks of atmosphere and you are far from the stunning mountains and jungle, so if possible always choose to stay around Son Trach.
Budget hotels & hostels
Easy Tiger Hostel
Phong Nha Gecko Hostel
Thao Nguyen Homestay
Phong Nha Midtown Hotel
Linh's Homestay
Mid range hotel
Phong Nha Coco House
Jungle Boss Homestay
Phong Nha Lake House Resort
Restaurants
The restaurant scene of Phong Nha is limited. But if you like the flavors of Vietnamese country cuisine, you can eat very well here. There are also a few options for international cuisine in the city. Most guesthouses serve tasty local dishes. Otherwise the best option is to eat at your accommodation.
Phong Nha Underground
Omar's Namaste
Nguyen Shack Art café & Restaurant
Capture Vietnam Cafe
Phong Nha Bamboo Cafe
Lantern Vietnamese Restaurant
Nightlife
If you want to get the best out of your time in Phong Nha, you may want to go to bed early and get up early. But if you are determined to party, go to the backpacker area.
Jungle Bar
East Hill
Bomb Crater Bar
Andy Bar & Disco
Phong Nha national park is quite limited in transportation, but the nearby city of Dong Hoi has more options.
From Dong Hoi to Phong Nha you can either take the bus leaving from the bus station or go by taxi or private car.
Flights to Phong Nha / Dong Hoi
You can take a flight to Dong Hoi and then travel by bus or taxi to Phong Nha. There are daily flights operating by Bamboo Airways, VietJet Air and Vietnam Airlines from and to Ho Chi Minh City and Hanoi.
There are three major bus companies that run night buses to Phong Nha from Hanoi, Hue, Hoi An and Da Nang: Hung Thanh, Queen Café and Camel Travel. Tickets can be obtained at all hotels and hostels in every major city in Vietnam.
There are more bus options going to Dong Hoi, but this means you need a separate bus to Phong Nha or go by taxi.
The nearest train station is in Dong Hoi. There are trains going from and to the north such as Ninh Binh and Hanoi and to the south, to Hue, Da Nang and Nha Trang. The train tickets can be booked at the train station or online. Dong Hoi train station is approximately 1.5 km from the bus station. From Dong Hoi you can take a taxi or bus to Phong Nha (Son Trach).
A great way to get from Phong Nha to Hue is by private car as you drive through the DMZ on the way. This was the border between South Vietnam and North Vietnam during the Vietnam War. Here you can visit the bridge that was right on the border and the Vinh Moc tunnels that were used by locals to hide from the bombs.
Motorbike – Driving around the national park is great, but not recommended for inexperienced drivers. There are several motorcycle rental companies on the main street, including Thang's Phong Nha Riders alongside Easy Tiger. Also hotels and hostels rent out. Rental costs around 150,000 dong per day.
Easy Riders – You jump on the back of a motorbike driven by local guides, and they show you the best of what Phong Nha has to offer. It is highly recommended if you want to explore the countryside, make a beautiful drive through the national park, the botanical garden or the Bong Lai valley, with unpaved roads.
Tour – Tours are the best way to see much of the National Park; in fact, in many cases it is the only way to see some parts of the National Park, especially the caves. Tours are also the best way to travel through the jungle; guides will safely show you some of the best routes while you get information about the park, history, cultural information and much more.
Private transportation – If you are a family or just want to keep things very easy, it is possible to rent a driver's car and minibus to take you to all local tourist destinations.
Itinerary 2 days in Phong Nha
On the first day you visit Paradise cave and Phong Nha cave. You can either do this by yourself and rent a motorbike, go by easy rider or book a combination tour Phong Nha Cave and Paradise cave here.
Go to the Dark Cave in the morning on day 2. In the afternoon you explore the Phong Nha Park yourself on a motorbike or on the back with an Easy Rider. You can also visit the botanical gardens or view the Mooc eco route if you want to see more of nature in Vietnam and have the option to swim in the local river.
Read more :
More tips for traveling in Phong Nha
The national park is located in central Vietnam. If you travel back to the closest main city Dong Hoi, you can either take a train up north to Ninh Binh and Hanoi or a train to the south, to Hue and Da Nang, Hoi An 
There are also buses available between these destinations. In addition, if you are planning to go to Hue next, you can also take a sightseeing transfer from Phong Nha to Hue through the DMZ, and visit some of the Vietnam war sights.
Phong Nha is one of the best destination in Vietnam with kids. Children can enjoy lots of activities such as zip-lining, kayaking and swimming. Depending on how old they are and adventurous you can also choose from different caves to visit. Book an accommodation with swimming pool and amazing view so they can easily enjoy them self while you can enjoy the view.