Hagiang -Caobang loop by motor bike
The drive to Ban Gioc Waterfall is beautiful, especially when combined with the Ha Giang Loop. For individuals who want to spend more time discovering what is beyond Ha Giang Loop, the Famous Ha Giang Loop Plus is ideal. One of Vietnam's most magnificent natural wonders is the Ban Gioc Waterfall. The largest waterfall in the nation, Ban Gioc is 30 meters high and 300 meters broad, and is situated in the northeastern Cao Bang province. The Quay Son River, a stunning jade-blue body of water flowing from China through a pastoral setting of rice paddies and bamboo groves encircled by limestone pinnacles, is where the falls are located.
For travelers coming from other locations such as Sapa, or Ha Long, we kindly request that you plan to arrive one day prior to the scheduled departure on Day 1. Furthermore, if you are planning to travel by motorbike, we would appreciate it if you could allocate the morning of Day 1 for completing certain procedures before meeting the group and commencing the journey after lunch.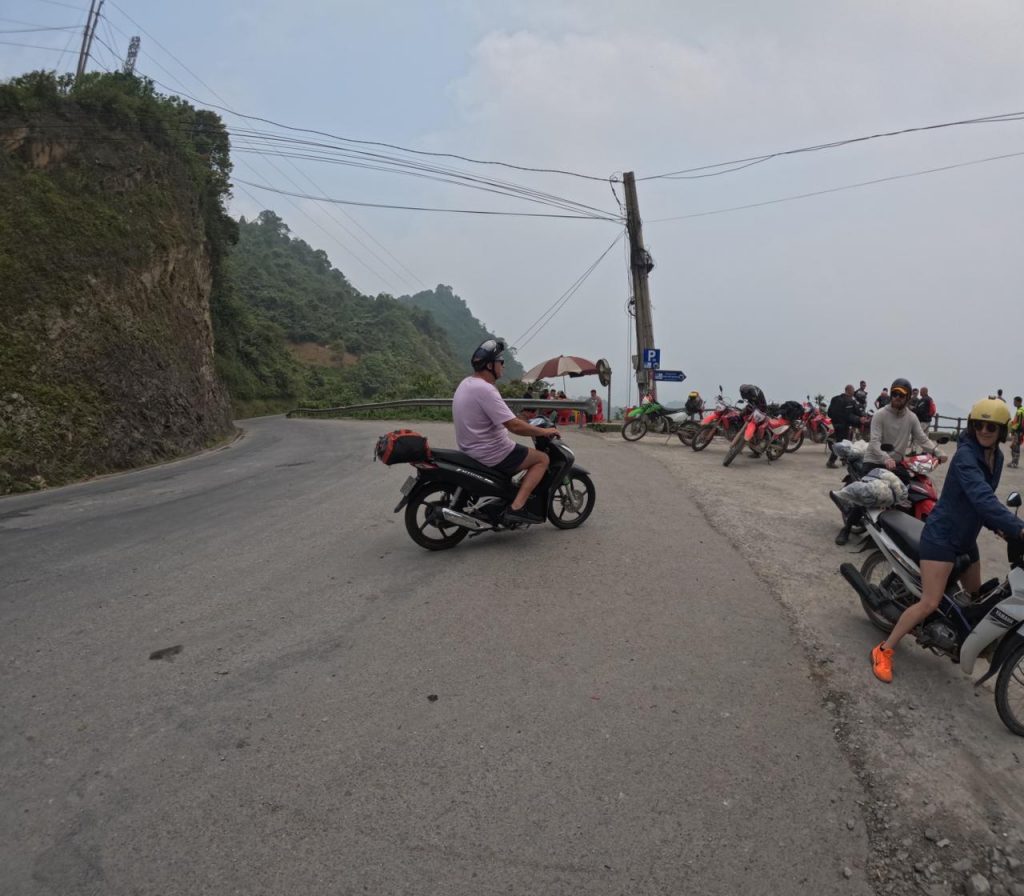 If you choose to travel with us by van from Hanoi, we will arrange for our van to pick you up between 6.15-6.45 am. You will then be transported to Ha Giang where you'll meet the rest of the team and enjoy lunch before embarking on the motorbike adventure.
However, if you plan to ride a motorbike, our guide will meet you at your hotel in Ha Giang around 9.00 am. From there, we'll take you to our office where we'll begin the essential safety procedures. After gearing up, we'll provide a comprehensive briefing about Vietnam traffic and practice some fundamental bike skills on roads around Ha Giang. This practice session is designed to prepare you for your upcoming trip. Our guide will assess your ability at the end of the session and recommend whether you should use an automatic, semi-automatic, or avoid riding altogether for your safety.
After the session, we'll serve lunch around 12.30 pm, followed by a trip briefing conducted by our guide. You'll depart for our Dao homestay in Nam Dam, Quang Ba District, passing through stunning valleys and villages along the way. We'll make several stops throughout the journey for photos and rest, including a beautiful sunset view from the top of Lung Khuy Cave. Finally, you'll check into the homestay and enjoy dinner before spending a peaceful night nestled in the mountainous heart of Nam Dam Village.
Once we've had breakfast at our homestay, we'll prepare the bikes and embark on the next part of our adventure. During today's journey, we will visit a charming village called Lung Tam which is known for producing high-quality hemp linen. Here, you'll have the opportunity to watch the entire linen-making process, from start to finish, and even try your hand at rolling out the cloth. You'll be surprised by how much balance and strength it requires!
After crossing a mountain via a shortcut, we'll arrive in Yen Minh for lunch. Following that, we'll head towards the border between Vietnam and China, covering a guest favorite 50km stretch along the way. While en route, we'll make a stop at the house of the Hmong Opium King, where you'll get an insight into the life of the wealthiest man in the region. We will also visit the Extreme North Point, where, on a clear day, you might glimpse some of the Chinese towns on the other side.
Upon reaching Dong Van, we'll check into our hotel. Dinner will once again include plenty of happy water for those of drinking age who wish to partake. We strongly recommend scheduling your trip to pass through Dong Van on Sunday, as this is when the villagers host their weekly highland market. This market is not only a chance for locals to trade goods and livestock, but it's also eagerly anticipated as a weekly social gathering.
We will depart after breakfast and venture into the most tranquil areas of the region. Our destination today is towards Ma Pi Leng, deemed as the most beautiful pass in Vietnam. During our 7km hike here, you'll have the opportunity to capture breathtaking photos. Later, we'll be cruising via Tu San Abyss Alley before breaking for lunch at Meo Vac.
Our journey continues to Du Gia where we will spend the night. Along the way, we'll stop for a coffee in Mau Due, marked as the beginning of "the road of children." You'll see many minority children playing by the roadside while their parents work alongside rocks.
In Du Gia, weather permitting, you can enjoy a refreshing swim in a secret waterfall before settling down for the evening in this cozy little village.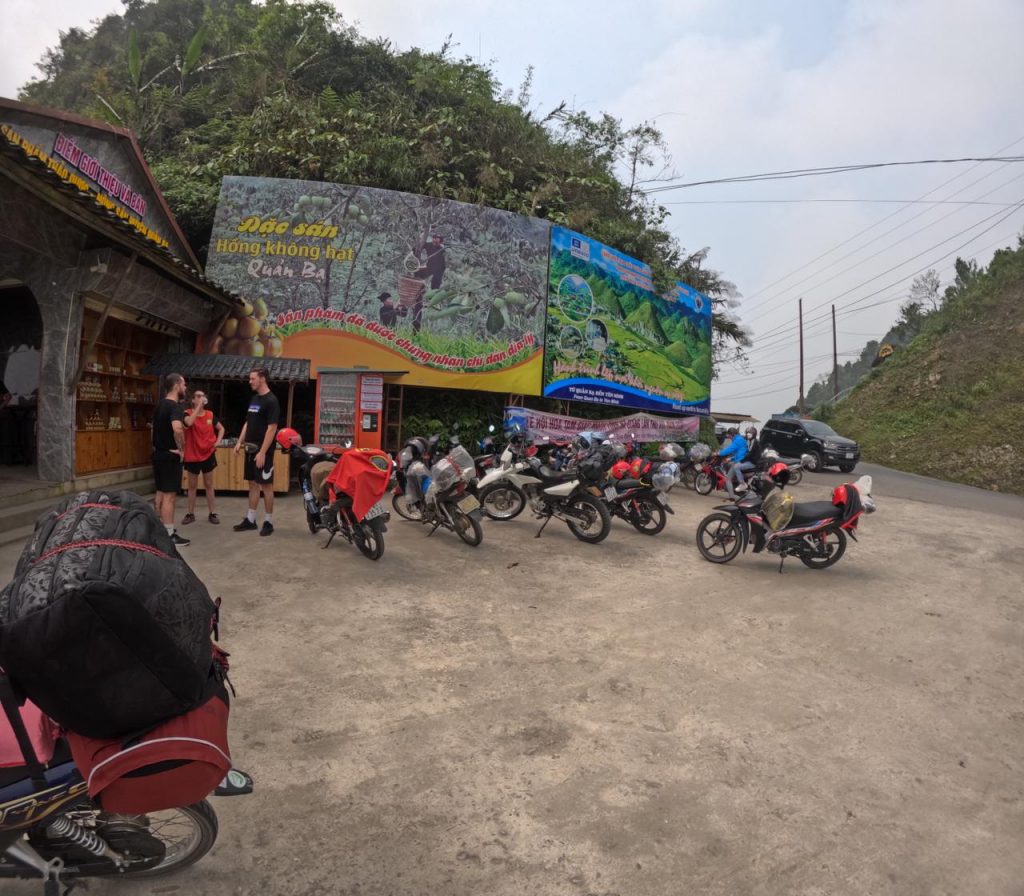 After breakfast, we will embark on our journey to Cao Bang province. This will be the longest day of our trip as we follow a road that runs alongside the Chinese border. The landscapes along this route are quite remote and stunningly beautiful. The road itself also offers an impressive sight with its narrow asphalt lane full of twists, turns, and knots that constantly negotiate the challenging terrain.
During our ride, we will visit Me Pia, the only pass of its kind, which is breathtaking. To ascend this essentially vertical wall of rock, the road passes through 14 consecutive switchbacks, earning it the nickname 'Dragon's Stairway'. We will stop here for lunch and enjoy the most epic pass in Vietnam.
Our next destination is Pac Bo, a historically significant site located in a highly scenic location. This is where Uncle Ho (Ho Chi Minh) re-entered Vietnam in 1941 after being absent for 30 years, and started his struggle for an independent nation. We will spend the night in our accommodation at this location.
After enjoying a lovely day near the Chinese border, we plan to begin our journey towards Ban Gioc Waterfall following breakfast. During our trip, we will witness the picturesque landscape of luscious valleys along with ascending the challenging Ma Phuc Pass that offers breathtaking views of the karst-studded valley. Once we reach our homestay around lunchtime, we can take some time to rest and swim before embarking on our final destination. Later, during dinner, we can enjoy drinks with our host at the homestay.
To start your day, enjoy a breakfast and coffee before continuing on your hike to Truc Lam Phat Tich pagoda. This pagoda was the first to be constructed at the Northern border position in Dam Thuy, Trung Khanh, and Cao Bang. From this hillside pagoda and temple, you can enjoy great views of the Ban Gioc Waterfall and the entire karst valley.
Just 5 km away, visit Nguom Ngao Cave, a must-visit attraction when in the Ban Gioc area. The astonishing cave with stalactites of various shapes is the most famous limestone grotto in the northern mountains. You will be amazed by its beauty.
On our journey back to Cao Bang city, we will stop at a blacksmith workshop in Phuc Sen village where you can make your own knife. Our arrival back to Cao Bang city will be around 2 pm. In case you are catching our transfer back to Hanoi, our van will drop you off around 9 pm in the Hanoi center.