Tham Ma Pass – The winding mountain pass in Ha Giang
The Tham Ma Pass is an iconic s-shaped mountain pass in the mountain region of Ha Giang. It is part of the Dong Van Karst Plateau Geopark  and one of the most impressive mountain passes in Viet Nam
About Tham Ma Pass
The mountain pass is about 5 km long at an altitude of 1500 meters and has a sharp zigzagging road. The pass is located 10 km from Yen Minh between the villages of Lung Thau and Van Chai.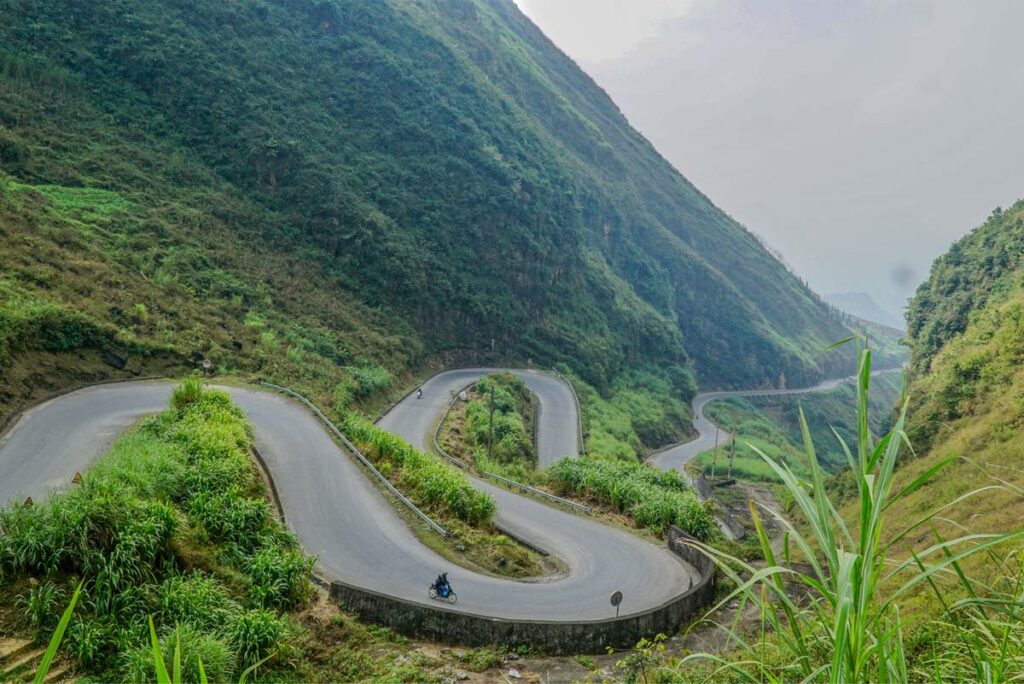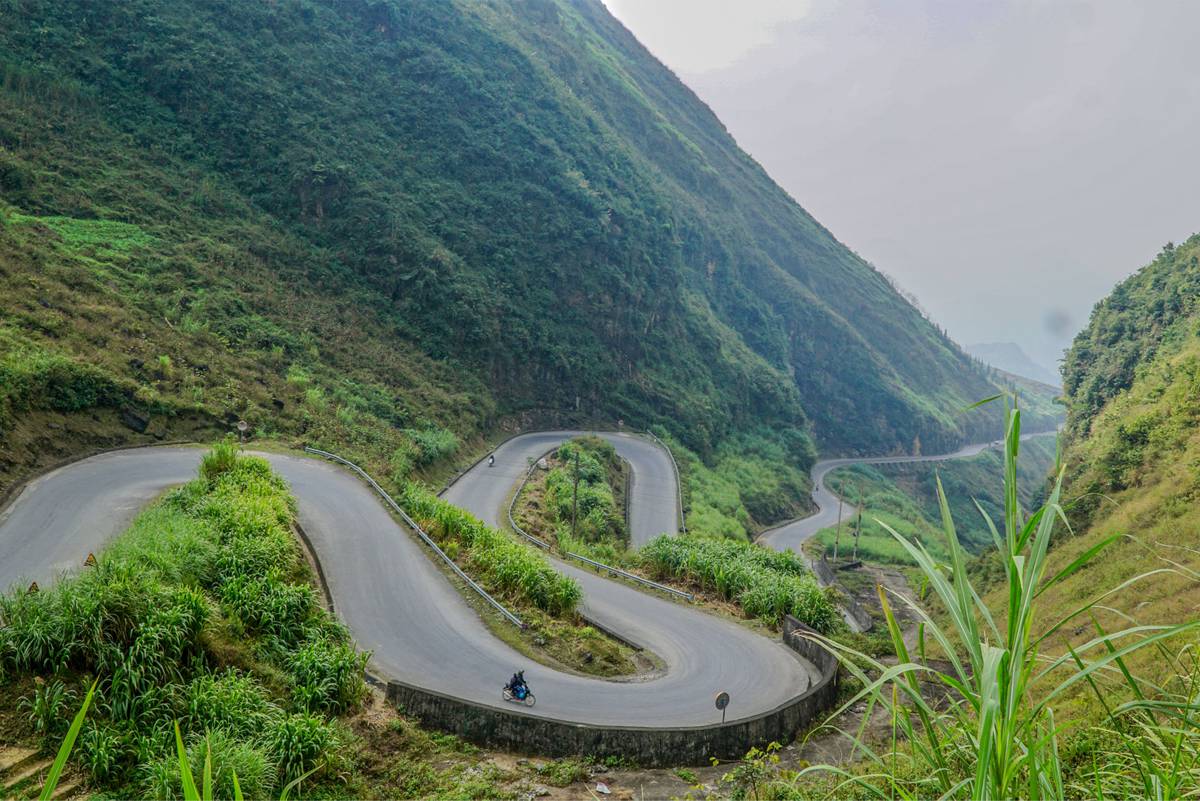 Along this pass there are many interesting geosites, of impressive cliffs and rocks. The Hmong hill tribe, an ethnic minority, have completely adapted to the area. Because it is a rocky area, they know how to optimally use the small amount of soil for agriculture, such as corn, beans and other crops. The stones are used for certain tools and for the houses and they only have livestock suitable for this climate.
There is a good vantage point at the top of the pass where you can take pictures of the winding s-shaped road up. Children of ethnic minorities often walk around here with flowers.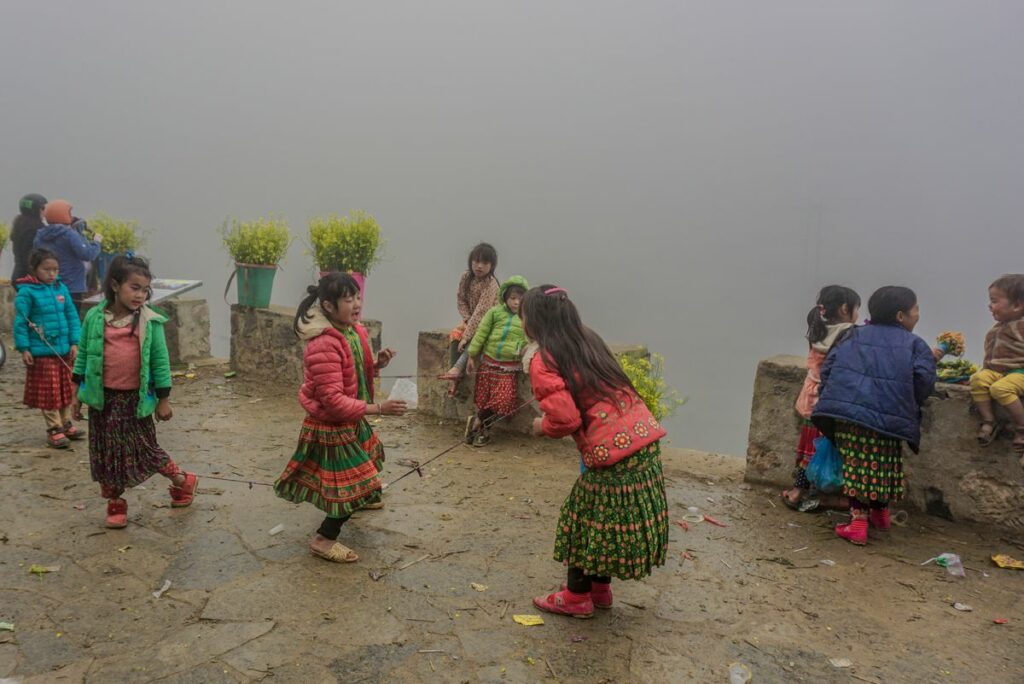 Hmong children on top of the pass
In the past the Tham Ma Pass used by the locals to test their horses. They took their horses up the mountain pass with heavy loads to measure how strong their horses are. If a horse reaches the top of the stride and looks good, they will keep that horse. Otherwise, the horse is slaughtered for Thang Co, a special dish that you can find at every farmer's market in Ha Giang; it is not recommended to try it.
How do you get there?
The Tham Ma Pass is located between Yen Minh and Dong Van. The most beautiful and exciting way to see this mountain pass is by motorcycle; drive yourself or go on the back of a motorbike of an Easyrider. You can also do the Ha Giang loop by car or minibus, stopping at different viewpoints.
Best time to travel
You can visit Tham Ma Pass all year round, however if you have the space, try to plan this pass when it is not raining or foggy. Because you are very high, it often happens that this mountain pass is completely covered in clouds, so you have no view. In the winter months from December to February it can be very cold. In the summer months you have more chance of rain. The best time to travel is often during the autumn and spring.
Other sights around the Tham Ma Pass
There is a lot more to see in this province, so make sure to plan 3 to 4 days to travel around. Before the pass you drive through Quan Ba  where you can see the Twin Mountains and visit a small cave high up in the mountains. After the Tham Ma Pass you head for Sung La valley, whith vast fields of flowers, before driving through Sa Phin, where you can visit the ancient HMong King Place . Before heading to Dong Van you can take a detour to Lung Cu, over a very scenic road with some of the most impressive mountains of the region. At Lung Cu you can visit the Flag Tower, indicating the most northern point of Vietnam.