Bac Ha Market – Travel guide & 7 tips when visiting
Bac Ha is a town in a high valley about 100 kilometers northwest of the popular destination of Sapa  There is little to see in the town itself, except on Sundays when ethnic minorities flock to the lively Bac Ha market.
Bac Ha is not as spectacular as Sapa, but picturesque. It's also not that touristy and feels much more like an everyday busy rural community than a tourist destination in the mountains. It is worth spending a weekend in Bac Ha. Then on Saturday you can experience the atmosphere of the colorful Can Cau farmers market. Bac Ha is also a good base for visits to the surrounding ethnic villages of Ban Pho and Coc Ly .
1. Bac Ha Market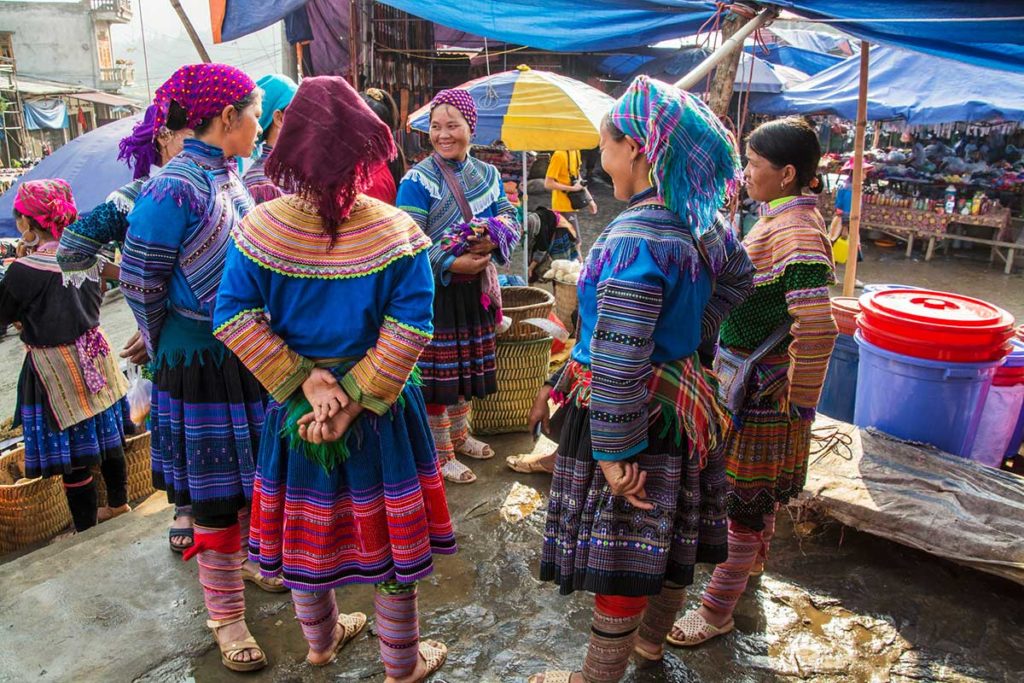 The Bac Ha market has a great contrast to Sapa: you can't find many tourist facilities for example. The Sunday market, the only point of mention, starts slowly between 5 and 8 am, and after that it's a whole color crowd until lunchtime, mainly by the incredibly beautifully dressed Flower Hmong women looking to accessorize their clothes. The Bac Ha market has a cattle market, vegetable and meat stalls, wine and agricultural vendors.
When the ethnic groups return to their villages, the village of Bac Ha is no longer what it looked like on that day. Now that many tourists come to Sapa in search of an authentic experience, Bac Ha is trying to emulate Sapa's success by establishing its own tourism industry around the area's farmers' markets. For the time being, the infrastructure is lacking, which gives this place more charm.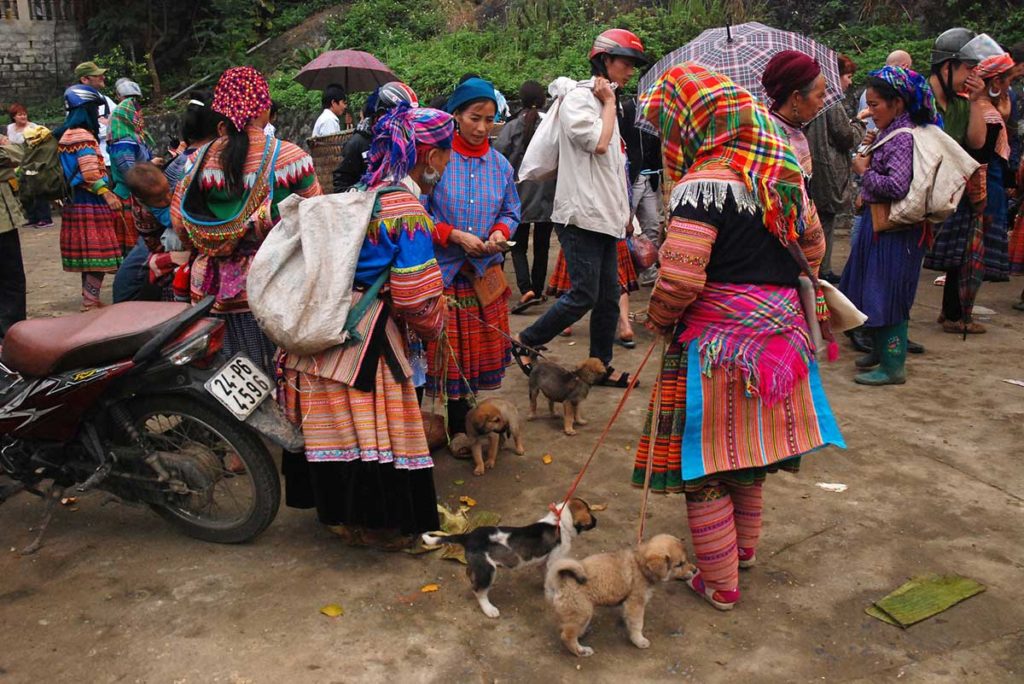 Bac Ha Market is divided into several zones, each with a different category of products.
Clothes & jewerly market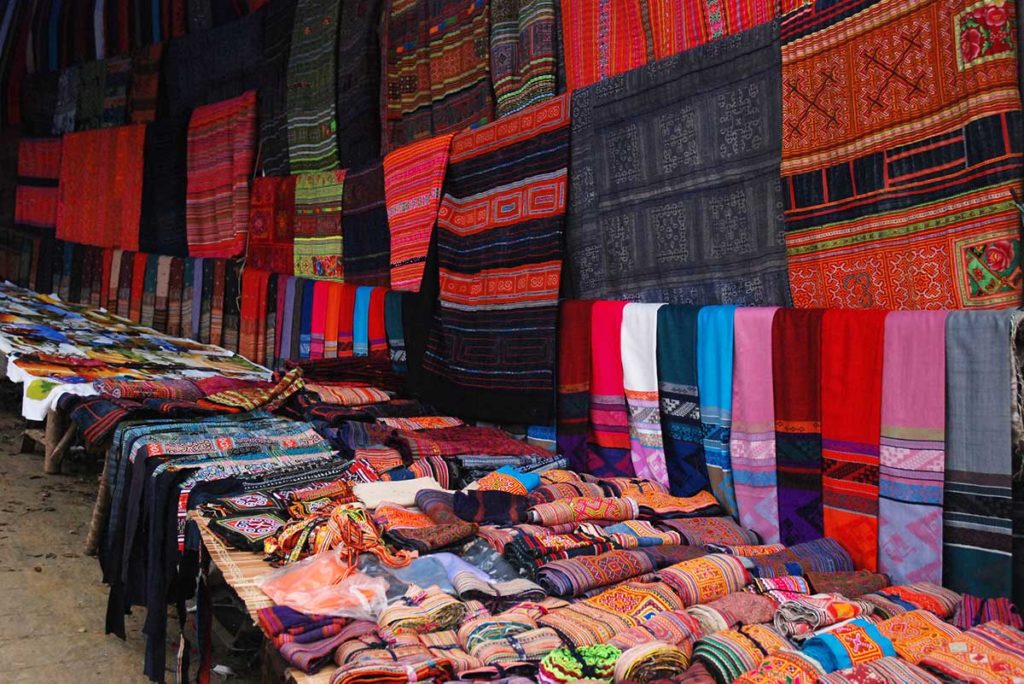 The items sold on the market are very colorful. Take a good look at the clothes and accessories sold in this market. Different colors and items represent different cultures and you can distinguish them by the contrasts in colors and patterns. Each ethnic minority has its own traditional costume, so each stall in the market belongs to a particular ethnic culture and only sells their styles. If you're not sure which item belongs to which tribe, just ask and the seller will be happy to share their culture with you. Each product is made by hand.
Clothes that you can find on the market include costumes, brocade, cloths, bags, blankets, wall hangings, hats and scarves. The colorful fabrics are also sold separately to make your own clothes.
In addition to the colorful clothing, homemade jewelry and other decorative items are also sold. Bronze earrings and bracelets and fine carvings can be great to take as a Viet Nam souvenir for your friends and family back home.
Food market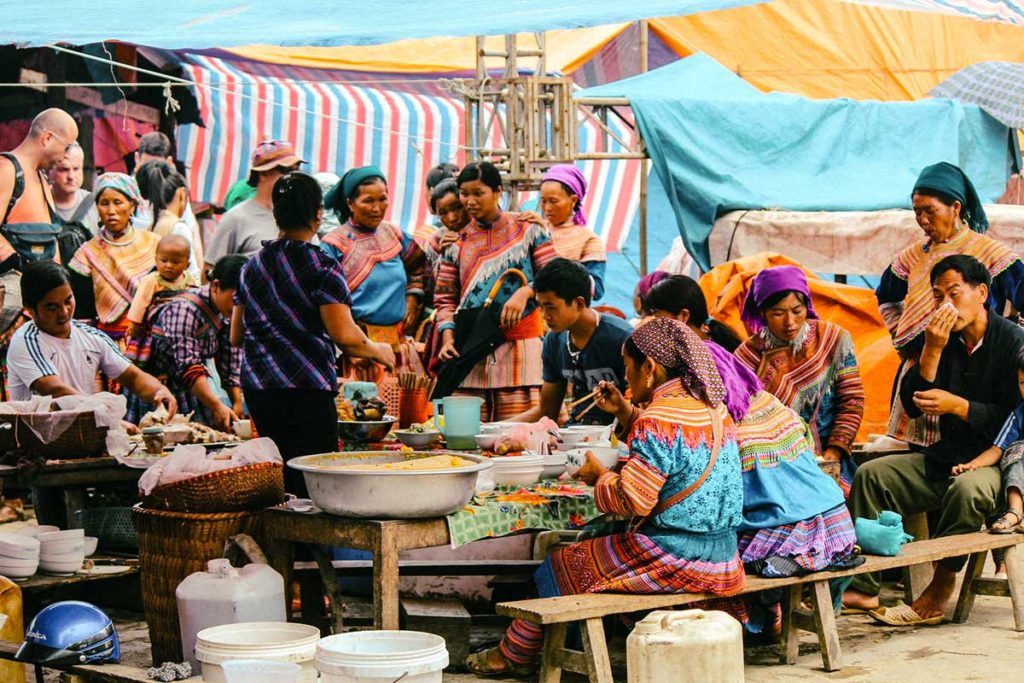 Just like the clothing of the ethnic groups, the food in the market also has different colors. Have you ever tried red pho (noodle soup)? And have you ever seen blue or purple rice? These are colored by local spices and very popular in the region and are sure to make for a colorful meal.
Another specialty of the region are buffalo and horse meat dishes (thang co). You can find these in the market.
Fruits and vegetables here are what you will find in abundance. Sure, you can find these everywhere, but the ones sold in the Bac Ha market are locally sourced, meaning they're fresh and non-toxic. Stop at any stall and ask the seller if you can try it, they won't say no.
You can also find other food here that you can't find in other markets.
Cattle market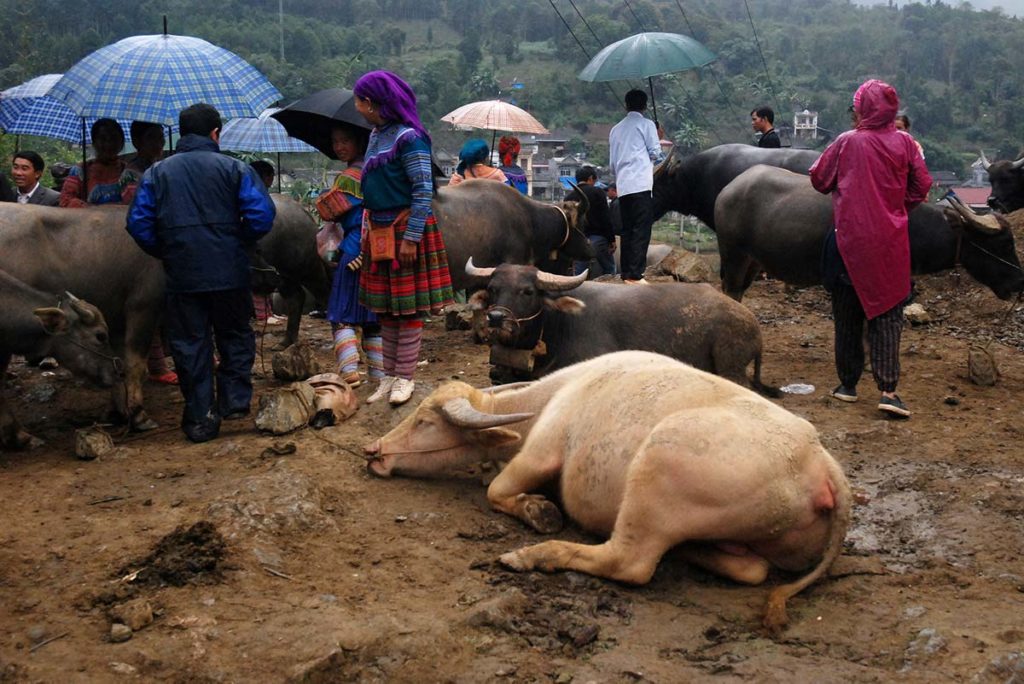 On a hill, separated from the main market, you will find an impressive cattle market, where animals such as pigs, cows, buffalo, chickens and horses are traded. It's great to see each individual animal looked at by color and size and then sold, but not before some serious negotiation. It is the only market in Vietnam that even has a specialized horse market zone. It is estimated that hundreds of horses are sold here every season.
The cattle market is one of the most impressive areas of the Bac Ha market. Just keep in mind that the animals also defecate and pee in the street, so it can smell a bit at times and watch where you walk.
2. Best time to visit Bac Ha market?
Locals from the nearby villages around Bac Ha come to Bac Ha Market just once a week, on Sundays from early morning to noon (6 am – 12 pm). Many of these young and elderly men and women of the Dao and Hmong hill tribes head to the market as early as 4 a.m. to set up their stalls and collect their items to display in an attractive manner.
There are also several festivals held in Bac Ha by the ethnic minorities, as visiting the market makes it even more special. It's great if you can visit the Bac Ha Market during one of these festivals.
Spring is the best time to visit Bac Ha market as it is the time of the beautiful plum blossom season and the time when various festivals are held. The festival Say San and Ruoc Dat Ruoc Nuoc are consecutively from January 2 to 6 and January 15 on the lunar calendar. These festivals are important for the beginning of the new year for prosperity and good weather for a good harvest.
The Horse Racing Festival is held in early June. The last festival is the Bac Ha Temple Festival on July 7 of the lunar calendar.
3. Tips for visiting Bac Ha Market
The drive to the market from Sapa is quite long and it is therefore advisable to combine it with sightseeing around the village.
Bac Ha is also a popular stop for travelers on the way to Ha Giang
It can get pretty chilly at this market, especially in winter, so bring something warm. In the summer you have more chance of rain, so keep this in mind by taking a raincoat with me.
When taking photos of ethnic minorities, ask for permission first. Often with a gesture with your camera, they understand the question.
4. Other things to do in Bac Ha
Hoang A Tuong Royal Hmong Palace
Another highlight of the city is Hoang a Tuong Palace. This used to be the most important building of the northwest region in Vietnam. Before 1945, the region around Bac Ha was ruled by the Tay ethnic minority with French colonial support. This ethnic minority had a kind of king who lived in this palace. They had a monopoly on the trade of mainly medicines, salt and food which were mainly intended for the French rulers. Today the palace is open to visitors.
Bac Ha temple
In Bac Ha you will also find a temple that is worth a short visit. It was built in the late 1800s in memory of two brothers (Vu Van Mat and Vu Van Uyen) for their honor in fighting the enemy and stabilizing the nation's northwestern frontier. Every year on the 7th of July of the lunar calendar, there is the Bac Ha Temple Festival in commemoration.
Trekking and local villages around Bac Ha
There are some less traveled trekking and homestay tours available in the Bac Ha area for travelers who like to get off the beaten track. Trekking tours through the area will take you through rice paddies and give you a unique opportunity to visit a number of ethnic villages from the Hmong, Tay and Dzao, among others.
Thien Long Cave
More than 20 kilometers outside Bac Ha, on very winding roads, lies the Thien Long Cave. It is one of the few caves that you can visit in this part of Vietnam. It is not as special as the caves you find in other places in the country, but if you have the time you can combine it with the Bac Ha market.
5. How to get to Bac Ha market
Bac Ha Market is located in Lao Cai Province, the same province where Sapa is located. There are a number of options to get there from Sapa.
From Hanoi to Bac Ha
It is not difficult to reach Bac Ha from Hanoi, although this is only a small town. It takes at least 6 hours on mountainous roads. The beautiful environment through which you drive makes the journey pleasant. You can go on a tour, rent a car or minibus with a driver or drive your own motorcycle. If you go on a tour from Hanoi, you can expect to spend several days traveling around and visiting multiple destinations such as Sapa or Ha Giang, with activities such as hiking and cycling.
From Sapa to Bac Ha
Many tour operators offer tours to Bac Ha market from Sapa. There are also direct buses from the Sapa bus station. The bus from Sapa to Bac Ha takes three hours. If you are very adventurous, you can rent a motorbike or scooter and drive yourself to the market from Sapa.
Local Vietnam Sapa market tours
Local Vietnam created private tours to the Bac Ha market. If you are not on a Sunday in this region, you can also choose one of the other markets to visit. Combine a visit to a market with for example a trekking, sightseeing per car or homestay experience. You can see all our market excursions in our Sapa tours:
6. Hotels and homestays in Bac Hac
Because Bac Ha is a small town, hotels and homestays here are quite limited, but you can still find accommodation on popular booking websites. Some recommended homestays are:
Nobita Homestay
Address: Bac Ha Town, Lao Cai Province
Cho Family Homestay
Address: Phec Bung Village, Ban Pho Ward, Bac Ha District, Lao Cai Province
Bac Ha Eco Homestay
Address: Nam Cay Village, Bac Ha District, Lao Cai Province
7. Other markets around Sapa
Bac Ha Market is not the only market in Sapa and the surrounding area. Although most alternative markets are also held on Sundays, there are also a number of markets on other days of the week. So if you are not in this area on Sunday, you have other choices, such as Coc Ly market on Tuesday, Sin Cheng Market and Cao Son Market on Wednesday, Lung Khau Nhin Market on Thursday and Can Cau market on Saturday.
Bac Ha market may be the largest in the region, but these alternative markets are much less visited, which may make the other markets a better alternative for some travelers that look for a even more local experience.