Ha Giang loop: 15 highlights, 3 – 5 day route itinerary, homestays, & tips
The Ha Giang province is part of the most impressive area in Vietnam. To see this huge province well you can follow a motorbike route which is also called the Ha Giang loop. With its bizarre karst mountain formations, rice terraces and river valleys, this mountain region between Ha Giang and the Chinese border is one of the most beautiful landscapes in Vietnam. The poor tourist infrastructure is more than made up for by all impressions. The trip can be done in three days, but preferably in four or five. It does require the necessary motorbike driving experience, because the roads are narrow, here andnn there bad and quite winding.
How to get to Ha Giang
You have three options for getting to Ha Giang from Hanoi:
Bus; 6 hour- from 250,000 VND
Limo Van; 6 hours – from 420,000 VND
Tour; including the complete Ha Giang loop
You can buy online bus ticket easily with Baolau or 12go.asia
From Hanoi To Ha Giang by bus
There are a few bus companies that travel between Hanoi and Ha Giang City. The buses depart daily from Hanoi to Ha Giang, and the journey takes 6 to 8 hours depending on the bus providers. You can either choose a normal sleeper bus or the luxury VIP bus, with more comfort and leg space. The sleeper buses leave in the evening and you arrive in Ha Giang City very early in the morning. Some bus companies:
Group tour
Quang Giang
Express Ha Giang
From Hanoi To Ha Giang by Van
For a little more you can also travel by comfortable limo-van. The departure and arrival times are similar that from the bus and additional there are also day transfers.
Tour from Hanoi to Ha Giang
There are several tours to Ha Giang starting from Hanoi. These tours include pick up from your hotel in the Old Quarter and bringing you to all the highlights around Ha Giang.
Our Ha Giang loop tours
Check our Ha Giang loop tours. Select if you either want to start in Ha Giang or Hanoi, with options for private car, limousine bus or (VIP) night bus.
Getting around Ha Giang
Drive yourself or per tour?
Self drive
The sense of adventure feels greater.
It is cheaper than go by tour.
Please note: In Vietnam you are only allowed to drive a motorbike with a Vietnamese driverslicence. Driving without a Vietnamese licence means your travel insurance will most likely not cover your cost in case of an accident. Read more about driving motobike in Viet Nam here.
By tour
Safer and more comfortable
You don't have to navigate.
Pay less attention to the road and more time to see the area.
You know for sure that you see all the sights and places that you would probably never see if you drive yourself.
You can choose either for on the back of a motorbike or car/minivan with driver.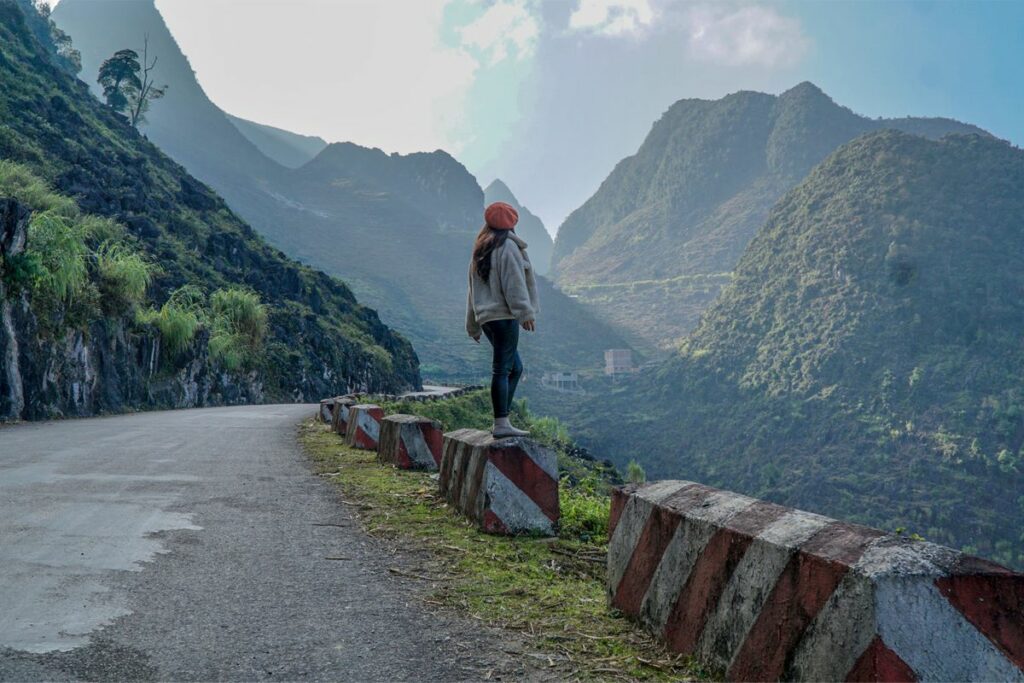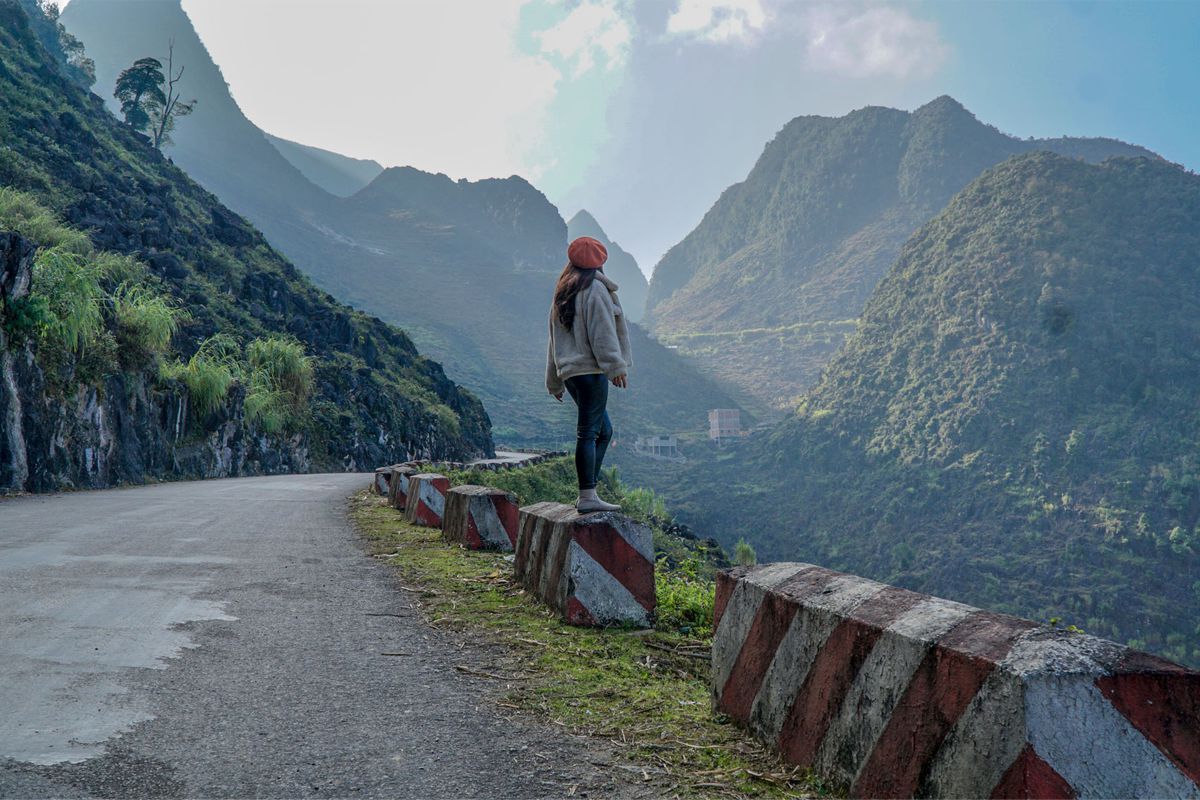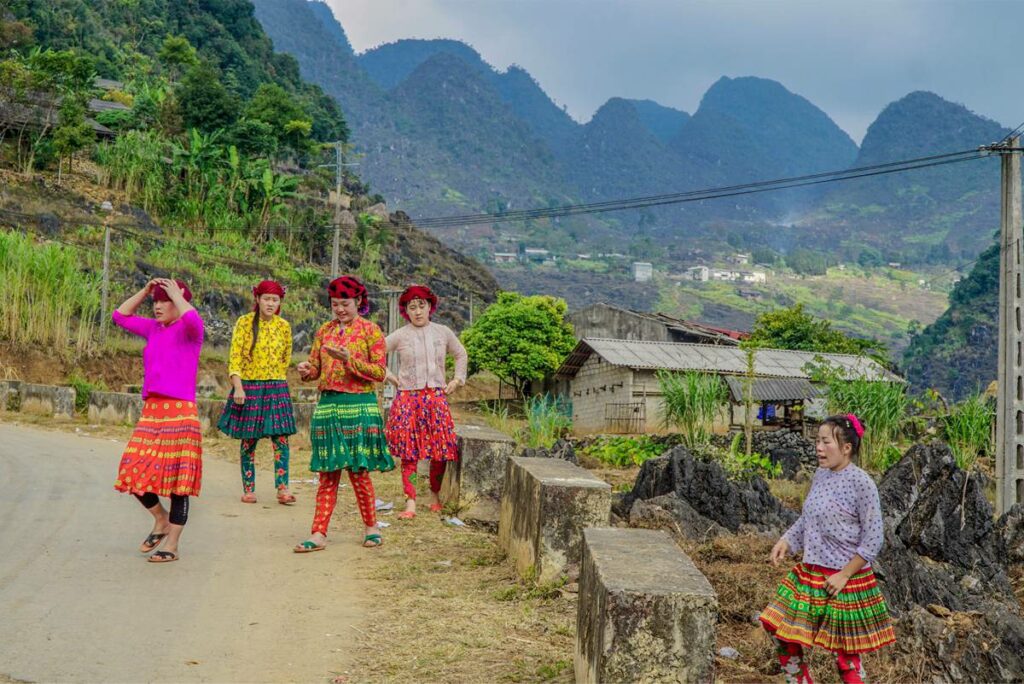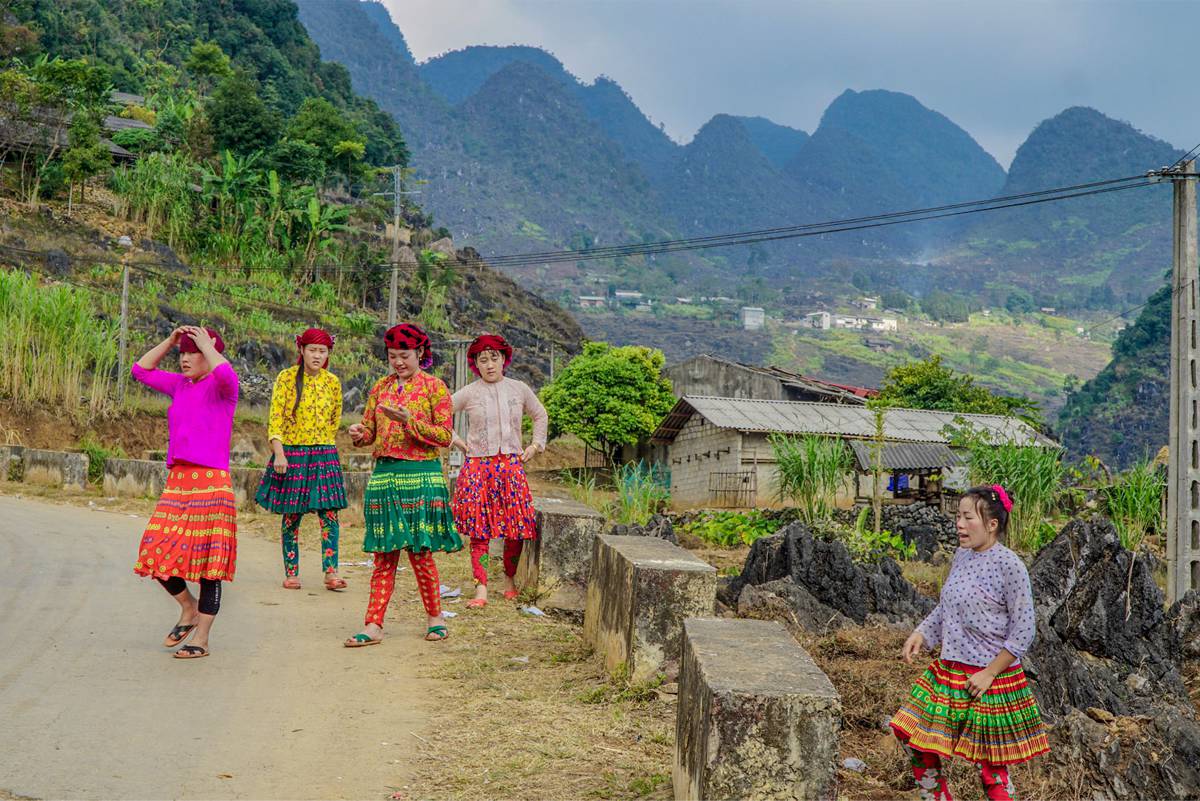 On the back of a motorbike (most recommended)
There are different tours that you can do to do the Ha Giang loop. For the best Ha Giang loop experience it is recommended to go on the back of a motorbike with an experience driver and guide. The big advantage is that you can see more of the area than if you are driving yourself, plus it is a lot safer. The benefits compared with going by car is that you have great views on both sides, can stop easier, more freedom, drive over roads were cars can not drive and an amazing experience as you travel like a local.
TIP! Motorbike tour
Are you excited to go on the back of a motorbike with a highly experience guide around Ha Giang? Check out our unique Ha Giang loop tour.
Renting a motorbike in Ha Giang
Driving around Ha Giang by motorbike is the most incredible adventurous experience you can have in Vietam.
Please note! Only ride a motorbike if you are confident and experienced enough to drive. Ha Giang has some of the most dangerous mountain roads of the country, making it not the best place to start learning how to drive. You also need experience in riding a semi manual or full manual, as driving over steep mountains with an automatic motorbike is not recommended. Even though the local government tolerates foreigners driving, please keep in mind that according to the Vietnamese law, you can only drive with a Vietnamese drivers licence, meaning they can fine you and your insurance will (probably) not cover you in case of an accident. Read more about riding motobike in Viet Nam
Once you arrive, it is very easy to rent a motorcycle in Ha Giang. The number of places where you can rent a motorcycle is even a bit overwhelming. It is therefore smart to read reviews and advice from travel bloggers online in advance. Below are some recommended motorbike rental companies in Ha Giang. Renting a motorbike often includes helmet(s) and a paper route map of the Ha Giang loop where you can stop. Often you can leave your luggage at the rental company or hostel, so that you only have to take the luggage that you need for the loop.
Recommended motorbike rental companies
Important to check for
Motorbike strong enough for driving through the mountains.
Check the lights and direction indicators
Check the tires and the frame
Gasoline must not leak
Check the noise of the motorbike
Stability and control of the handlebars
Check the standard
How much is renting a motorbike in Ha Giang
Honda Blade, Honda Win, Yamaha Sirius: $ 7 – 9 a day
Honda Future: $ 10 per day
Heavier motorbikes: Between $ 15 – $ 30 a day.
The costs depend on which motorbike you choose. These are the prices that you can expect per motorbike, but of course this also depends on which company you rent the motorbike from.
Itinerary Ha Giang Loop
Even though distances don't look that far, driving through the mountains takes a lot more time. A 100 km route can easily take more than 3 hours without stopping. To enjoy the most of it, it is recommended to take at least the 4 day Ha Giang loop. In the 4 and 5 day Ha Giang loop there is also time to do some trekking.
3 day Ha Giang loop
Day 1 (126 km): Ha Giang City – Quan Ba Pass -Yen Minh town – Tham Ma Pass – Sa Phin [map]
Day 2 (45 km): Sa Phin – Dong Van Old Town – Ma Pi Leng Pass – Meo Vac [map]
4 day Ha Giang loop
5 day Ha Giang loop
15 Highlights of the Ha Giang loop
Map of highlights
The 15 highlights of the Ha Giang loop below are listed in order of the route that you travel (not the order of "greatness").
1. Quan Ba Pass and Twin mountains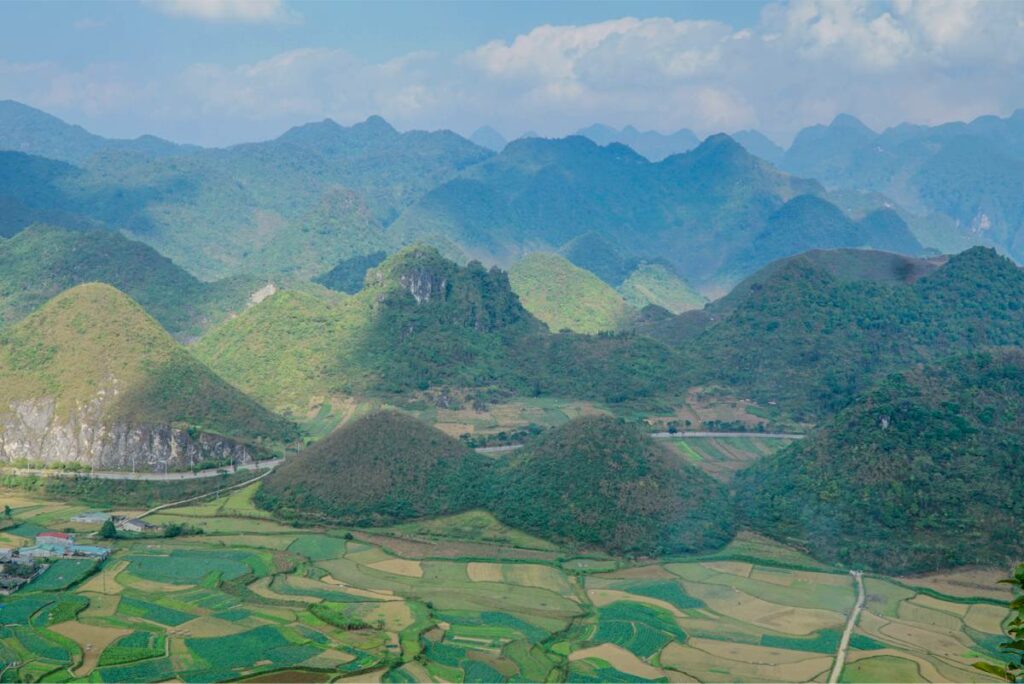 When you leave the city, the first real highlight of the Ha Giang loop is Quan Ba . Driving all the way to the top of the pass brings you to a small café. A great place to have a stop for a drink and toilet visit. But the real reason to stop is for a stunning view over the mountains of Ha Giang. It is the first impression what you can expect for the coming days.
After that you ride down the mountain pass to Quan Ba town and stop half way at a parking area. It is easy to pass it, because there is not immediately something to see. But from here you can climb the stairs up to a viewpoint with a scenic view over the Twin Mountains, also referred as the Fairy Breast mountains.
From here you continue your way to Quan Ba town; a good town to find a place for lunch.
2. Lung Khuy Cave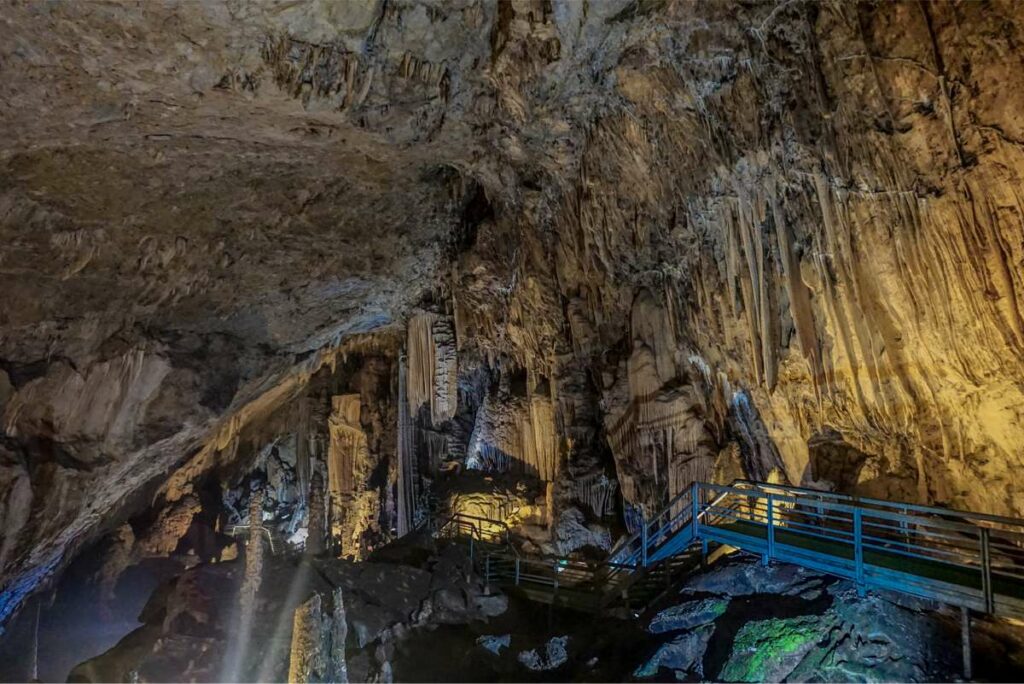 Before you head from Quan Ba town to Yen Minh, you can make a small detour to Lung Khuy Cave. A winding road up through impressive mountains brings you to Lung Khuy Cave. The road to the cave is already worth the trip. Inside the cave you will find beautiful stalagmites and stalactites. It is easy to explore as a path has been laid through the cave. Entrance fee to the cave is 50,000 VND.
3. Tham Ma Pass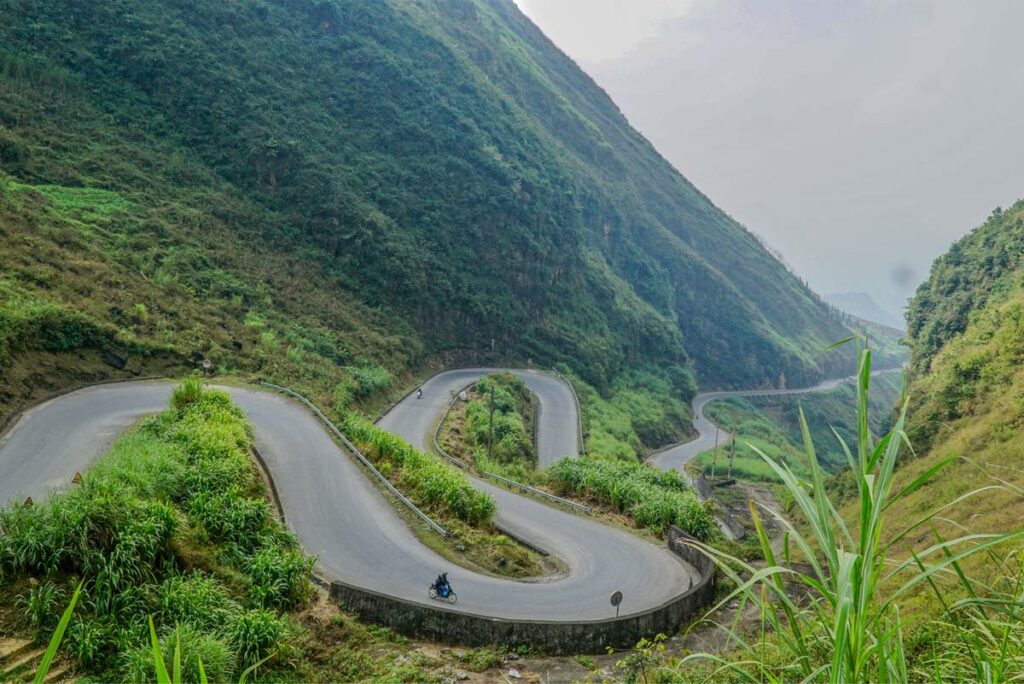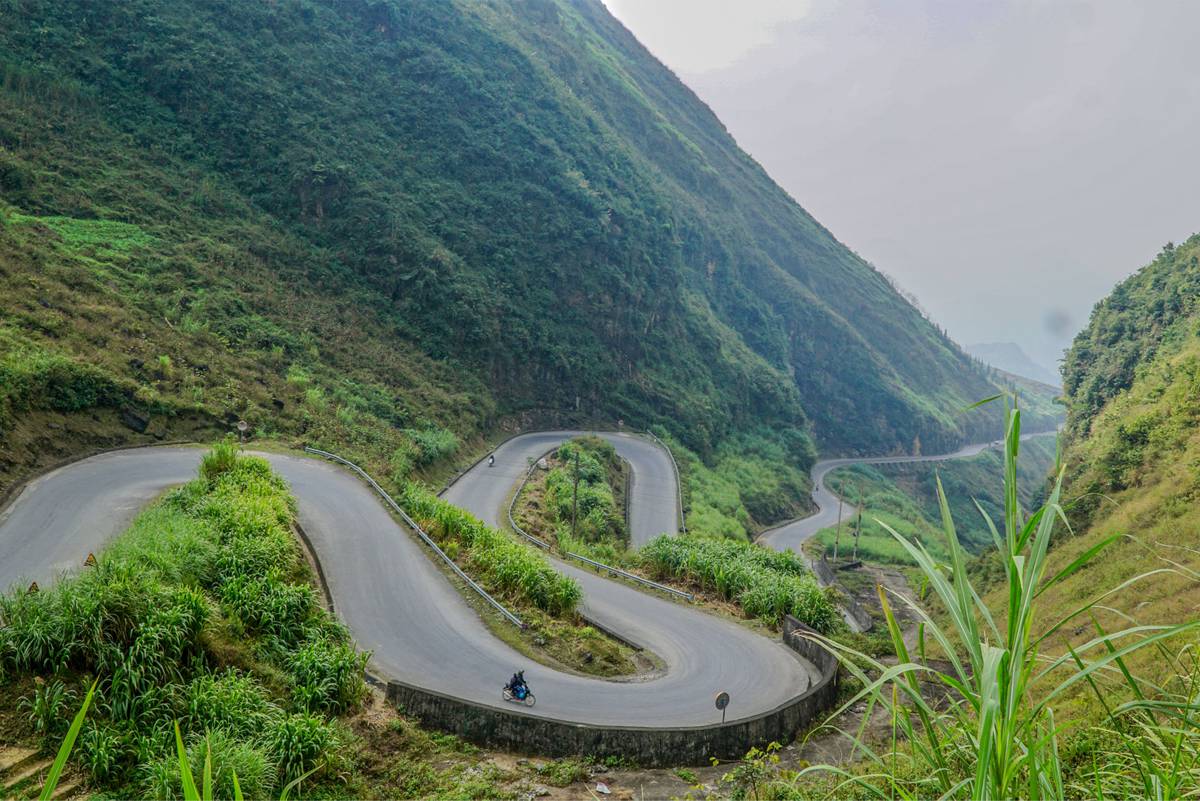 The route from Yen Minh to Sa Phin brings you over the Tham Ma Pass . This mountain pass is one of the impressive mountain passes in UNESCO Dong Van Karst Plateau Geopark. A winding road up brings you to a small parking area were you can take photos of this pass
4. Sung La Valley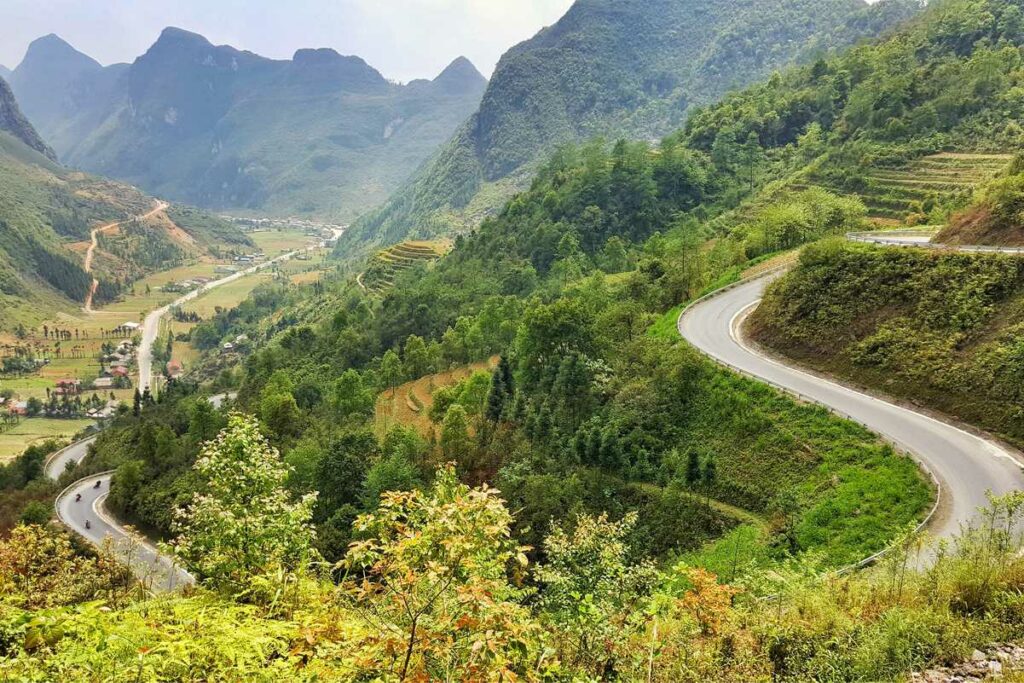 Continuing the road from Tham Ma Pass brings you in Sung La valleyThis valley is known for having the most beautiful highland commune in the whole Dong Van Plateau. Especial during the flower season the valley is very stunning and colourful. For this reason it is also called "Flower of the Plateau".
Lung Cam Village in this valley is very famous, because of Pao's House. This traditional house of the Hmong minority, is used in the movie The Story of Pao, that every Vietnamese knows. You can visit this house to see how an old traditional minority house looks like from the inside.
5. Hmong Kings Palace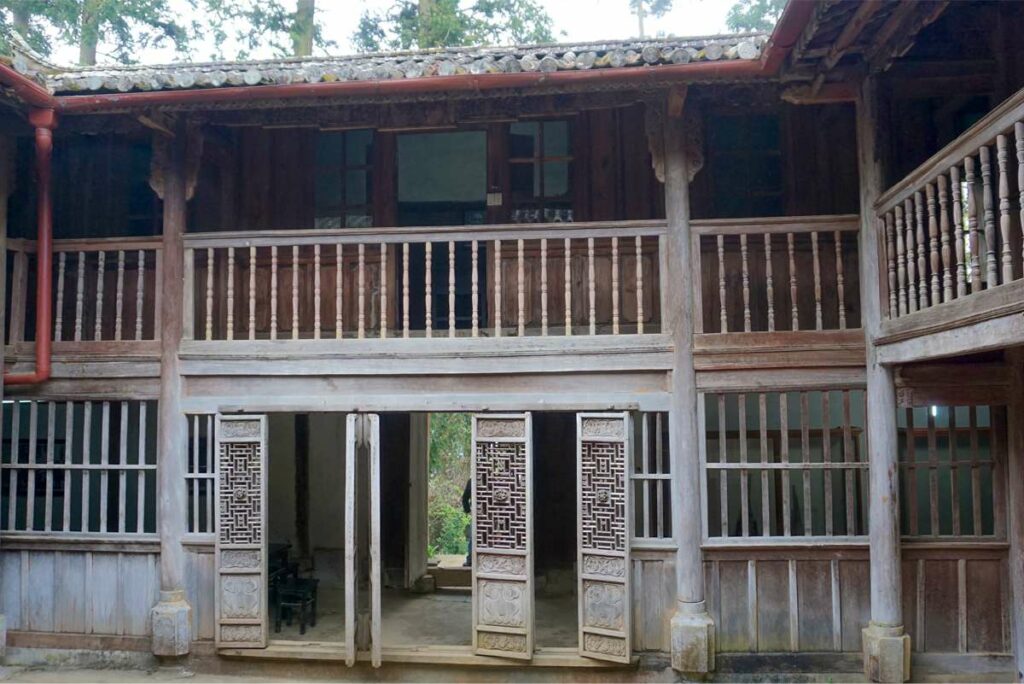 HMong King Palace   in Sa Phin, is a built in Chinese architectural style, with mainly wood, stone and terracotta tiles. It is one of the oldest buildings in the region, used to protect the Vuong family from attacks. This family became rich by dealing goods, especially opium.
6. Sa Phin market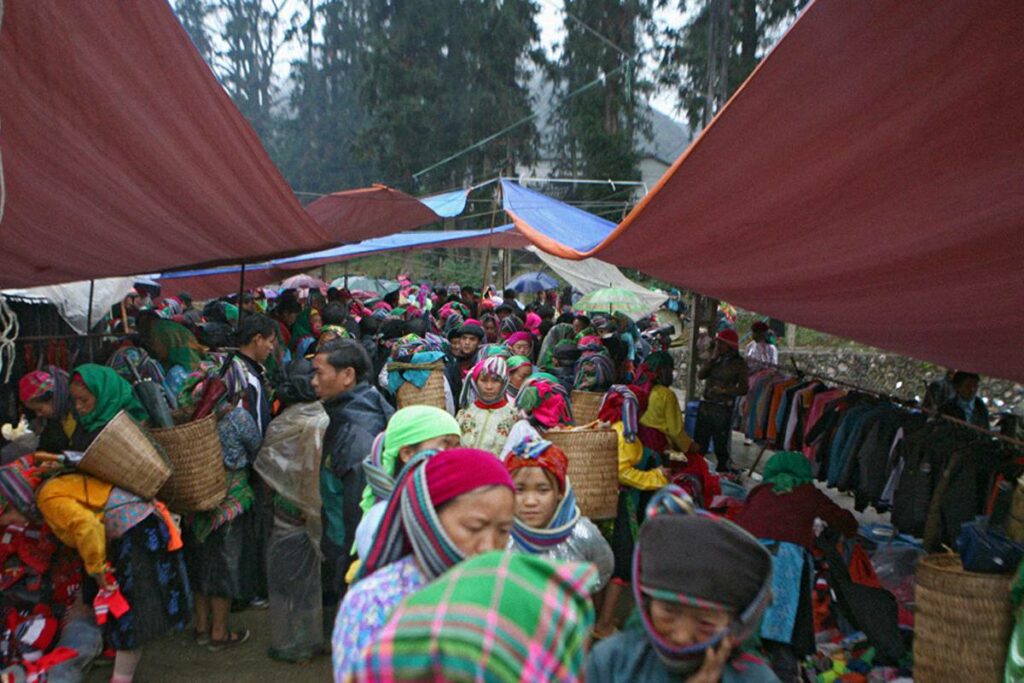 Another highlight in Sa Phin is the Sa Phin market. Here local minorities out the region come to sell and buy goods, but also to socialise with old friends and to make new friends. It is also one of the four backwards markets in Ha Giang. This means for example, this week the market is on a Sunday, next week it is held on a Saturday and the week after on a Friday.
7. Lung Cu Flag Tower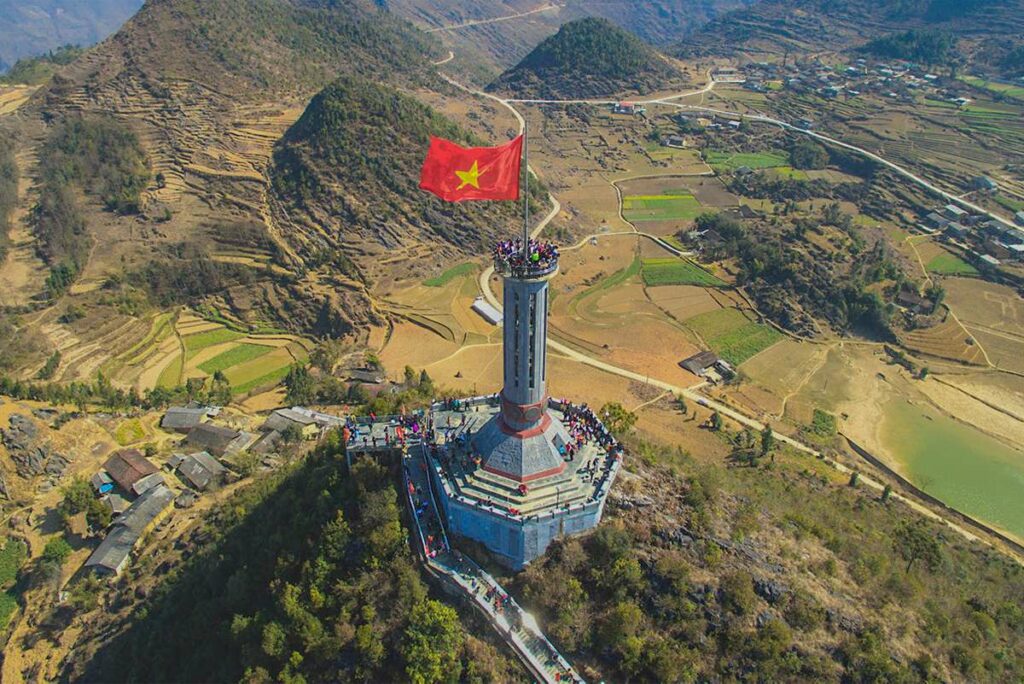 The Lung Cu flag tower  is a very high structure on top of a hill. The huge flag points out that this is the most northern point of Vietnam. From the top of the hill you can see both Vietnam and China. An extra mention is that the way to Lung Cu and the area around Lung Cu is one of the best highlights during the Ha Giang loop. If you are not interested in the flag tower itself, the drive itself it alright worth the trip. Visit also some local minority villages on the way It is also possible to stay in Lung Cu village for a night.
8. Dong Van Old Quarter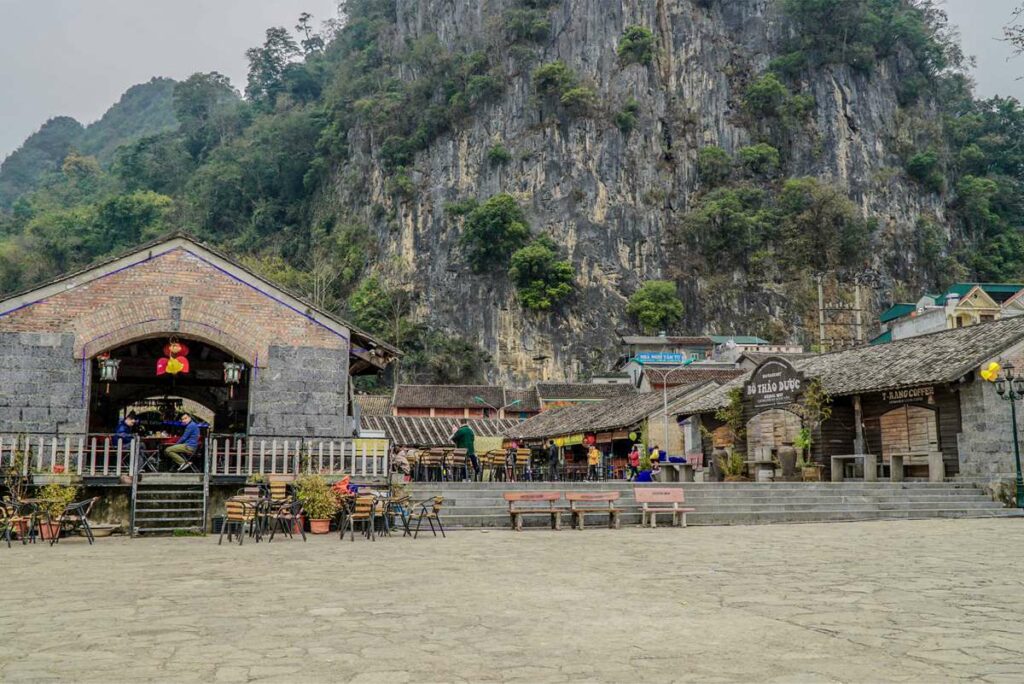 Dong Van  is one of the main towns in Ha Giang. Many travellers choose to stay here for a night during their Ha Giang loop. The historical part of town is called Dong Van Old Quarter, with a preserved architecture dating back hundreds of years. Especially at night it can be very cozy to sit here and enjoy the atmphoshere. Behind the Old Quarter is on old French Fort on top of a mountain, with views over the city and mountains.
9. Dong Van market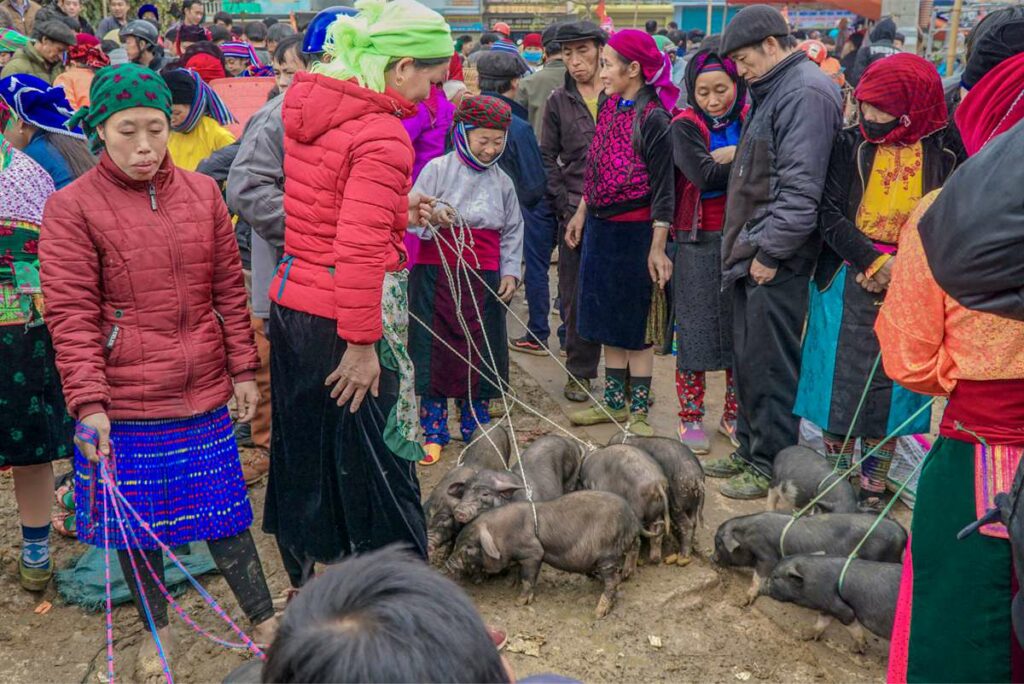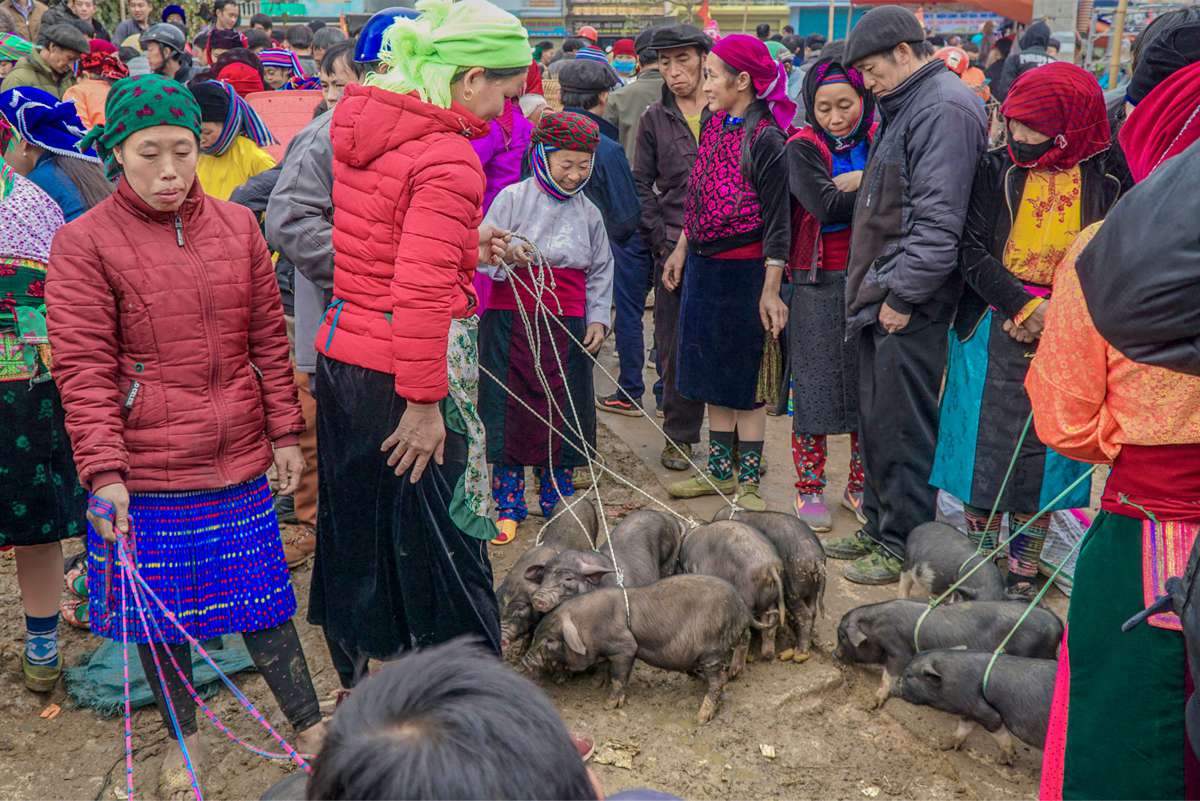 The Dong Van market is one of the many other markets in Ha Giang . But they never get bored visiting. The one in Dong Van is one of the biggest markets. here you can see hundereds of ethnic people with the most bright clothes. Some people are getting a hair cut right at the market, next to trader who is selling is buffalo. The market is held once a week on Sunday.
10. Ma Pi Leng Pass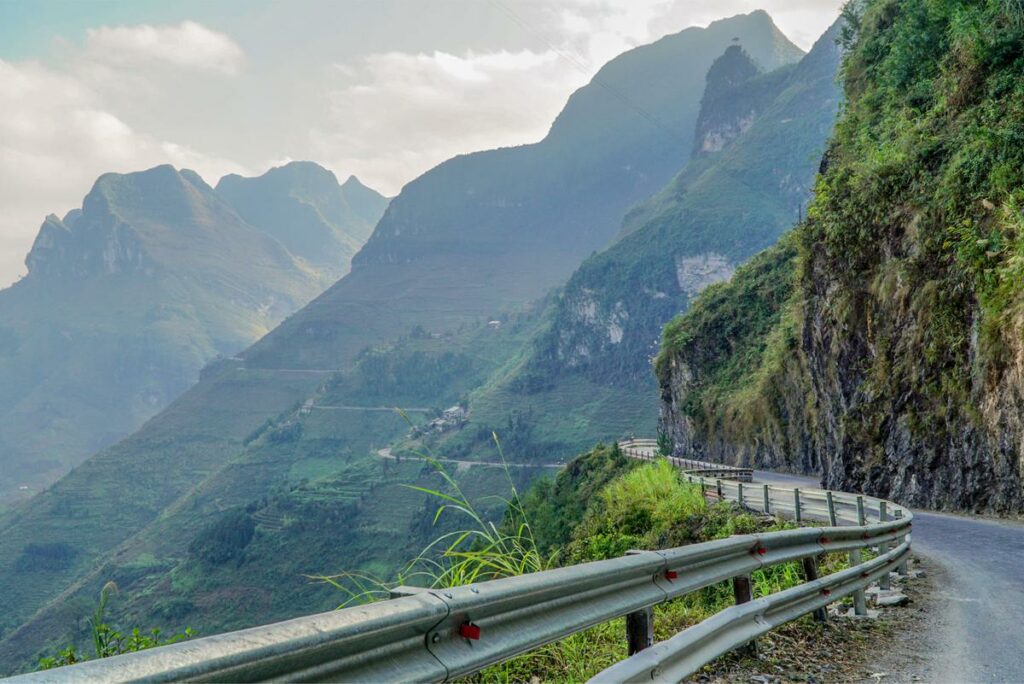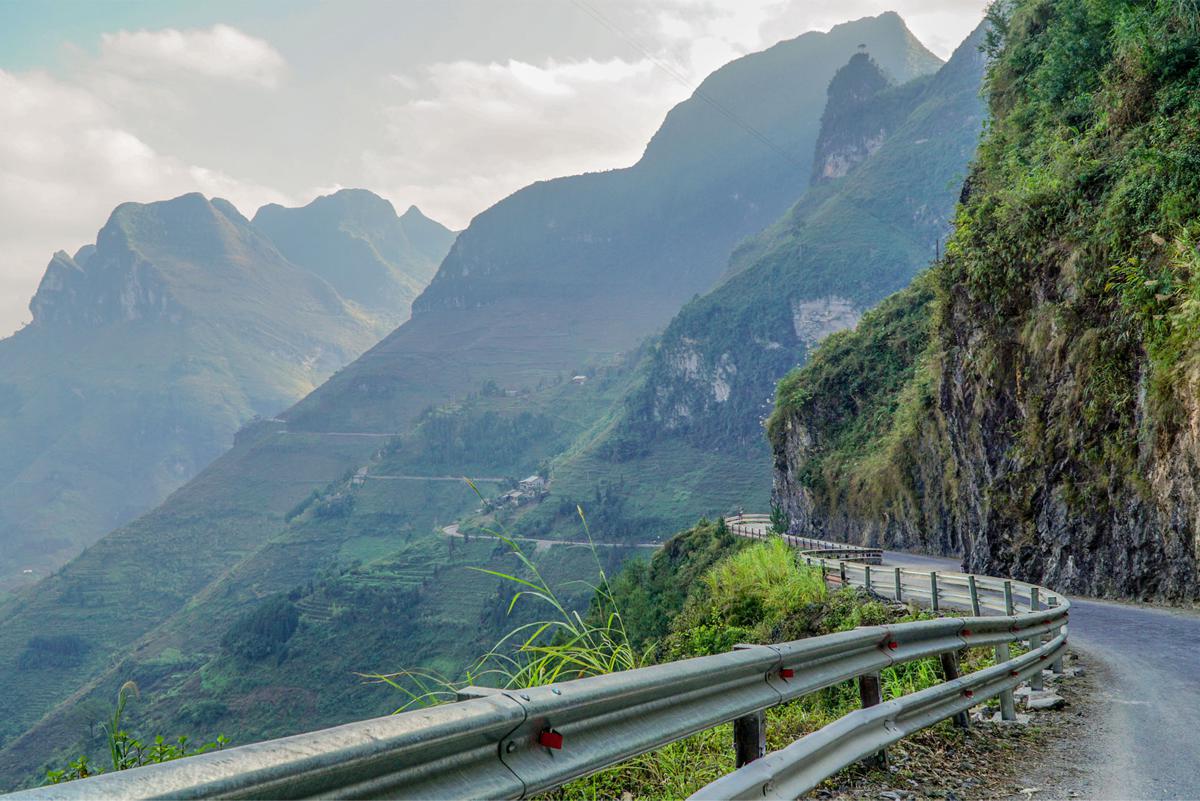 The Ma Pi Leng Pass  is probably the most impressive part of road of the Ha Giang loop. It lies between the towns of Dong Van and Meo Vac. This epic road is directly carved into the side of the mountain, with hundreds of meter high steep cliffs. You can park your motorbike on the top to take a walking path along the ridge to make some amazing photos.
11. Nho Que river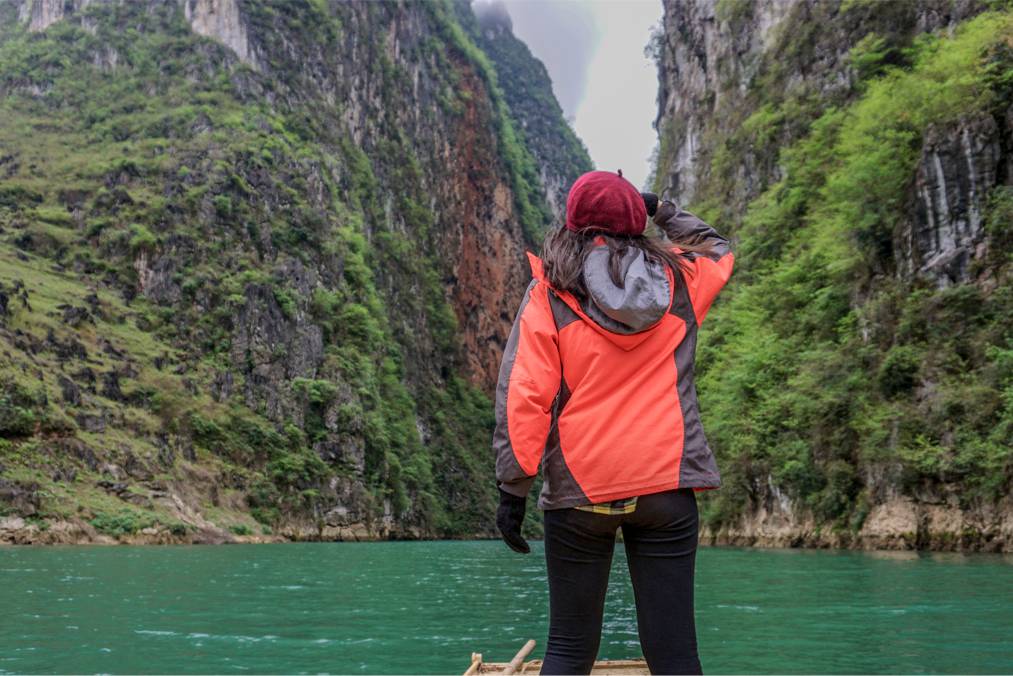 Nho Que river is part of the magnificent view from the Ma Pi Leng Pass. But there are also a few hidden roads that bring you all the way down the river. From here you can take a one hour boat trip between the high cliffs of the pass.
12. Meo Vac market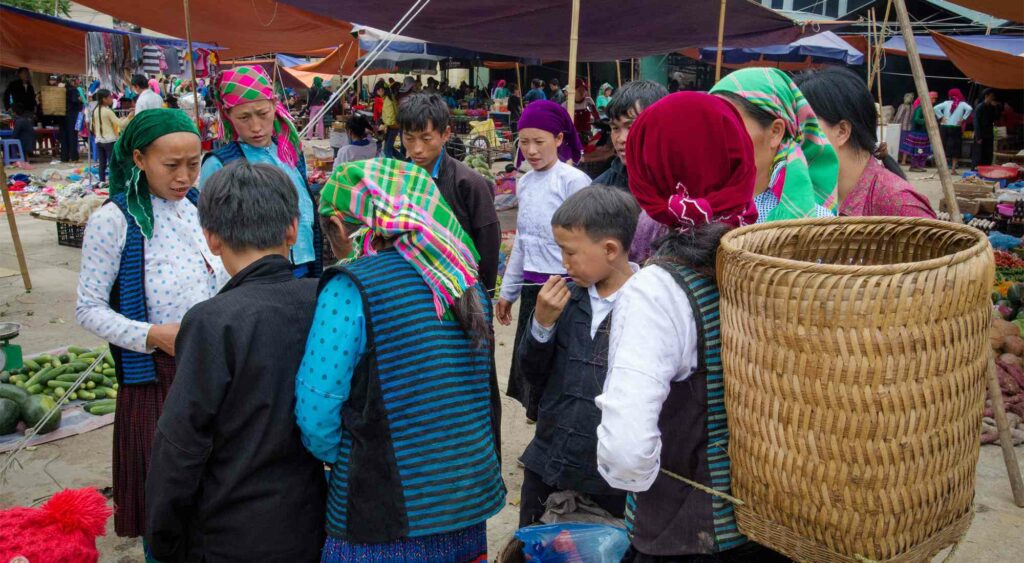 If you are lucky and be in Meo Vac on Sunday, you are up for a threat. The Meo Vac market is the biggest minority market in Ha Giang and one of the most impressive markets in Ha giang . It starts very early in the morning and get less busy at around 11:00 PM. There is a part with live stock, were people bring their animals, not just to sell, but also to show off. Outside in the streets are a lot of stall selling about anything, from local products to even cell phones. The indoor market is used as a large food market, including fresh food and small stall were they prepare the food on an open fire.
13. The road from Meo Van to Mau Due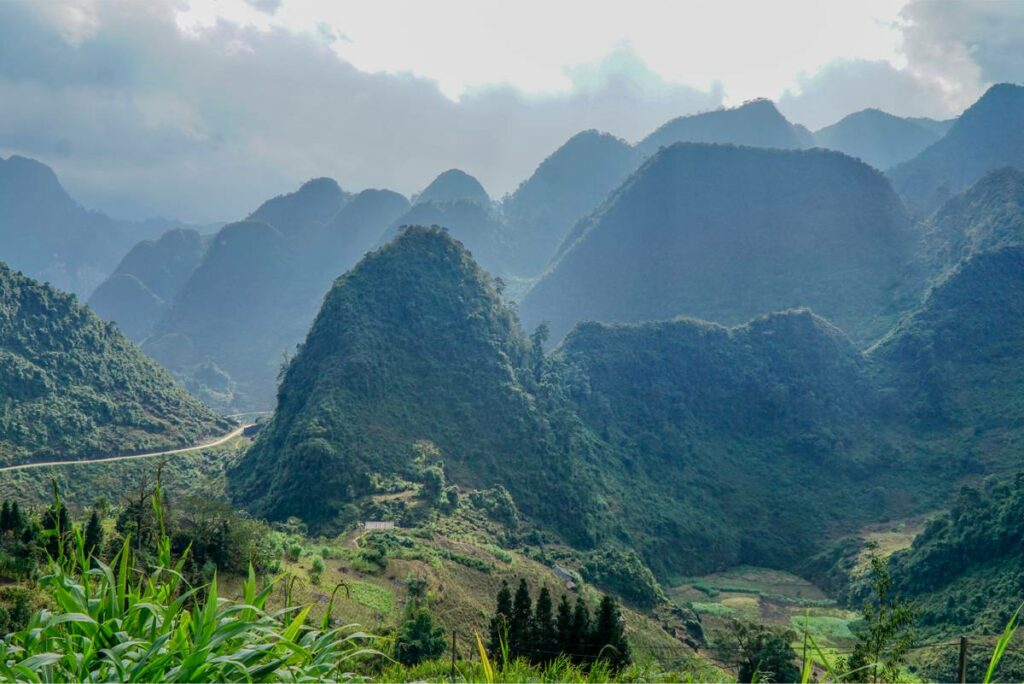 The road from Meo Van all the way to Du Gia, via Mau Due is stunning. In fact, this road isn't anything less than the famous Ma Pi Leng pass. Via zigzagging roads through the mountains you pass through countless of minority villages. You will see lots of colorful ethnic people on the roads and children high fiving you on the way, while having impressive mountains all around you.
14. Mau Due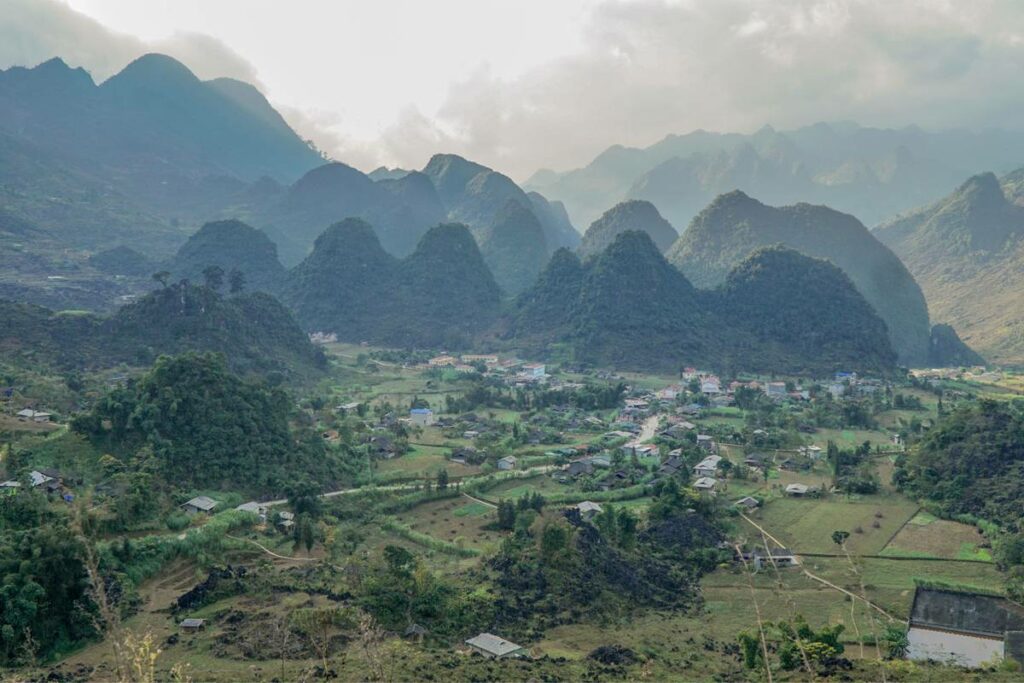 From Meo vac to Du Gia brings you through Mau Due, a road to one of the most impressive landscapes of the Ha Giang loop. Authentic and non touristic road between the amazing mountains and rice-field make Mau Due so special and unique. There are also some hidden waterfalls and rivers in this area, but it takes more then an hour to get to from the main road.
15. Du Gia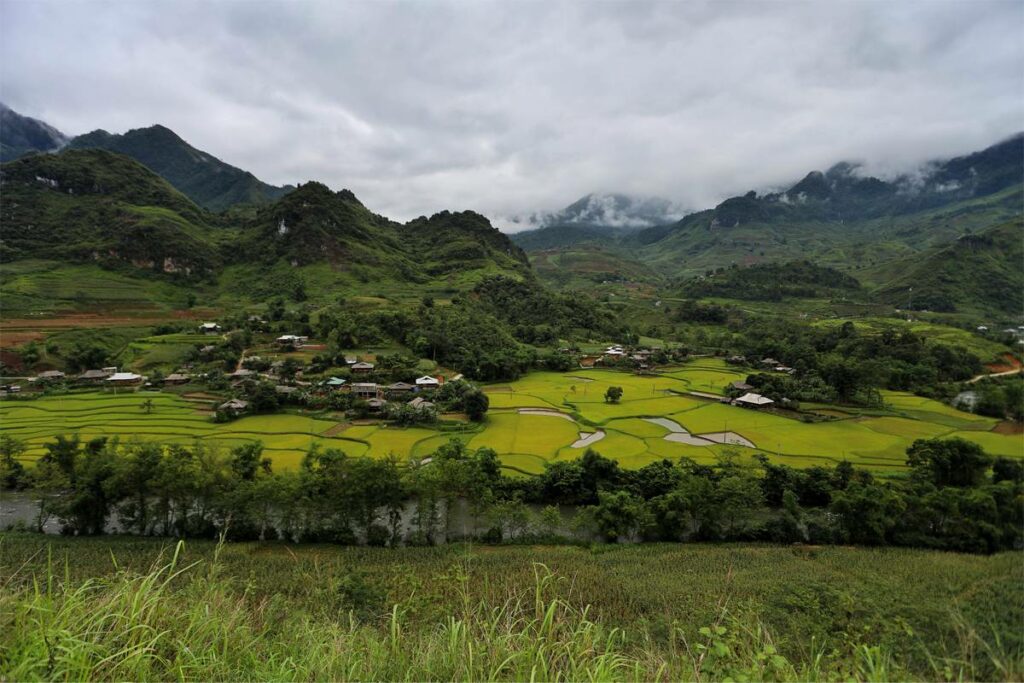 Du Gia is one the most beautiful picturesque villages in Ha Giang. The best of this place is the peaceful and unspoiled beauty with its majestic natural landscape of mountains and rice fields around it. In addition, the local people here are exceptionally hospitable and friendly.
Recommended accommodation in Ha Giang
Hotels & homestays in Ha Giang City
Ha Giang Historic Hotel: Best hotel in town. Great location, nice garden, clean rooms and tasty family diner.
Ha Giang 1 Hostel: Rated as best hostel in Ha Gaing City. Nice staff and great atmosphere.
Ha Giang Riverside Hostel: Rooms are okay, but location is great along the river and close to the bus stop.
Ha Giang City is not the most atmospheric town to stay. As an alternative, you could also stay just outside the city in a local minority village. The two best villages outside the city for a local experience are Nam Dam and Thon Tha.
Hotels & homestays in Yen Minh
Homestay BongBang: Best place to stay in Yen Minh. Great soft beds, good atmosphere with family dinner and campfire at night. Staff speaks English.
Hà Anh Homestay: A nice family dinner and the hostel has a good social vibe. The staff is very friendly and helpful.
Hotels & homestays in Lung Cu
Sister's House: The rooms of this homestay are very basic, but there is a great common area with pool table. Also the hosts are very friendly. It is the best place to stay in Lung Cu.
Hotels & homestays in Dong Van
Green Karst Hostel & Bar: Clean and comfortable, close to restaurants and bars. All you need after a long day's ride.
Hoang Ngoc Hotel: One of the better hotels in Dong Van. Room are clean and tidy. Located in the centre of the town close to restaurants.
Triệu Nghị homestay: A favorite for many backpackers doing the Ha Giang loop. Friendly hosts and great faimly dinner.
Lam Tung Hotel: Very descent hotel right in the center of town, with nice rooms.
Binh Minh Hostel: Located in town. Nice big room with clean bathroom. Perfect for an overnight stop on the loop. Plenty of food options nearby.
Hotels & homestays in Meo Vac
Little Yen's Homestay: One of the highest rated homestays on the loop. Staff speaks good English and great atmoshpere.
Ong Vang Meo Vac Hotel: Nice location, queit and relaxing. Rooms are small but clean.
Va's Homestay Meo Vac: A nice homestay with a very friendly family who loves to cook for you.
Hotels & homestays in Du Gia
Du Gia homestay: The best accommodation in the village. Great athmoshere, perfect location with great views. Dorm rooms are very basic, bathrooms look nice. Family dinner is highly recommended.
Backpacker Garden Homestay: A nice homestay runned by a very friendly family. Nice bungalows in the garden of the homestay.
Eating & restaurants
The restaurants in Ha Giang are very local. Don't expect anything fancy and there is no western food served any where. Usually you eat both breakfast and dinner at your homestay. Breakfast is often either noodles or bread (banh mi). Dinner at homestays is eaten together with the family and other guest. These family dinners are a great local experience, were you will be most likely asked to join them to drink local rice wine (happy water) with them.
Lunch you have to get at local restaurants along the road. Try to plan this wisely, as some parts are just mountains and countryside, without any restaurant close by.
Best travel time to do the Ha Giang loop
All year round you can do the Ha Giang loop. Even during rainy season you can have better clear days than during dry season. In the dry season there is less change on rain, but clouds can still cover the view. The weather in the mountains can be very unpredictable. An overview of the best seasons:
Dry season: From December – April
Wet season: From May – November
Flower seasons
February: In the spring you see the blossom of peach and plum gardens, the most beautiful time of the year.
October – November: Best time to see the buckwheat flowers blooming around the slopes and foothills.
December: The season of the yellow Colza flowers.
Ha Giang loop tips
Driving in bad weather
In the mountains it is hard to predict the weather. If you are doing the Ha Giang loop in 4 days or 5 days, you have enough time each day to drive to your next destination. When you wake up in the morning and it is rainy hard or it is very foggy, you have time to wait a bit longer before you start, until it disappears or get less. Always be careful on the road, but especially after rain.
Taking the night bus or day bus to Ha Giang City
Taking the night bus from Hanoi to Ha Giang City saves you a complete day travelling, but you will arrive early in the city. Too early to start straight away with the loop, so you might still need a place to take a rest before you start.