You will ride on all types of roads (from flat and smooth to gravel and bumpy), dirt tracks and jungle paths. Best of all, any road could easily turn into a dirt road when it rains. In addition, the spectacular view of cloudy mountains is a great memory from a motorcycle trip beyond of that you can spend extra for trekkingvietnam . On our Ha Giang motorbike tours you skirt along the Vietnam/China border, starting in Hanoi to Nghia Lo, Than Uyen and Sapa in Northwest Vietnam and continue to the most beautiful part of the trip in Ha Giang, Dong Van and Bao Lac before descending on Highway 4 to Cao Bang, Quang Uyen and Lang Son.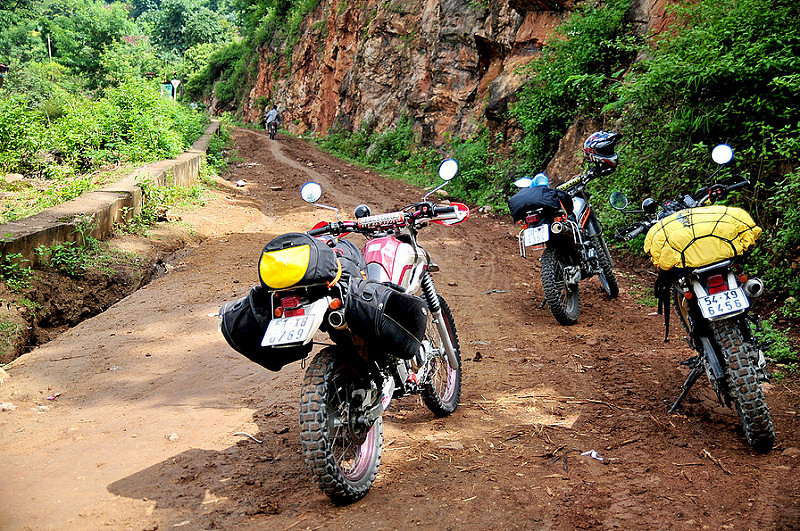 Day 1: Hanoi – Nghia Lo (~250 km, ~7 h). L, D
This is our first day of our 11-day Ha Giang motorbike tours. Before the ride, it takes 30 minutes to double check the bikes and ensure that we have all necessary tools and equipment to guarantee maximum fun.
Then we head out of Hanoi skirting along Red River to Son Tay and then head up the mountain to Nghia Lo. The road is easy and flat from Hanoi to Thanh Son, from Thanh Son to Thu Cuc and then Ba Khe to Nghia Lo is beautiful, snaking the foot of Hoang Lien Range. Nghia Lo is a big mountain town where we stop for the night.
Day 2: Nghia Lo – Than Uyen (~180 km, ~5 h). B, L, D
Wild and bumpy road with Lung Lo Pass as the first challenge. The next one is the higher Khau Pha Pass. We ride through the Mu Cang Chai massif, almost as high as the Fansipan. From the top, it offers one of the most beautiful views of North Vietnam. The ride is challenging but very rewarding.
Night in a hotel.
Day 3: Than Uyen – Sapa (~140 km, ~5 h). B, L, D
The area of Than Uyen is mainly populated by Flower H'mong and Dzao people. Then direction Sapa. Easy track for 100 km and asphalted mountainous road for the last 40 km. Stay in Sapa and you will find out the reason Sapa is one of the most popular places for tourists in Vietnam.
Day 4: Sapa – Bac Ha (~100 km, ~3 h). B, L, D
The drive from Sapa to Bac Ha takes ~3 hours, down from Sapa to Lao Cai (34 km), a border city where we can take photos with China as the background. After lunch, ride up to Bac Ha (70 km) with stunning landscape. Overnighting in Bac Ha.
Day 5: Bac Ha – Ha Giang (~200 km, ~6 h). B, L, D
After breakfast, ride on the track to Xin Man and on many small/back roads with scenic mountain views before joining the main road heading up to Ha Giang where we stop for the night and apply for a permit.
Day 6: Ha Giang – Dong Van (~180 km, ~6 h). B, L, D
After getting the permit to ride in border areas at Ha Giang's Immigration Police, we ride on small challenging mountain roads (but incredibly beautiful) on the land of colourful mountain hill-tribes.
Head up the Ma Pi Leng Pass. Here is yet another amazing place, with cloudy mountain ranges and the poetic Nho Que river winding off in the distance. Ride on a rig-zag track until Dong Van, a remote area and meet the hard-working local people here. It is inspiring to see how they survive as they manage to live in the rocks. When we reach town we will have some extra time to wander the ancient streets lined with H'mong homes of clay bricks and tiles roofs built centuries ago.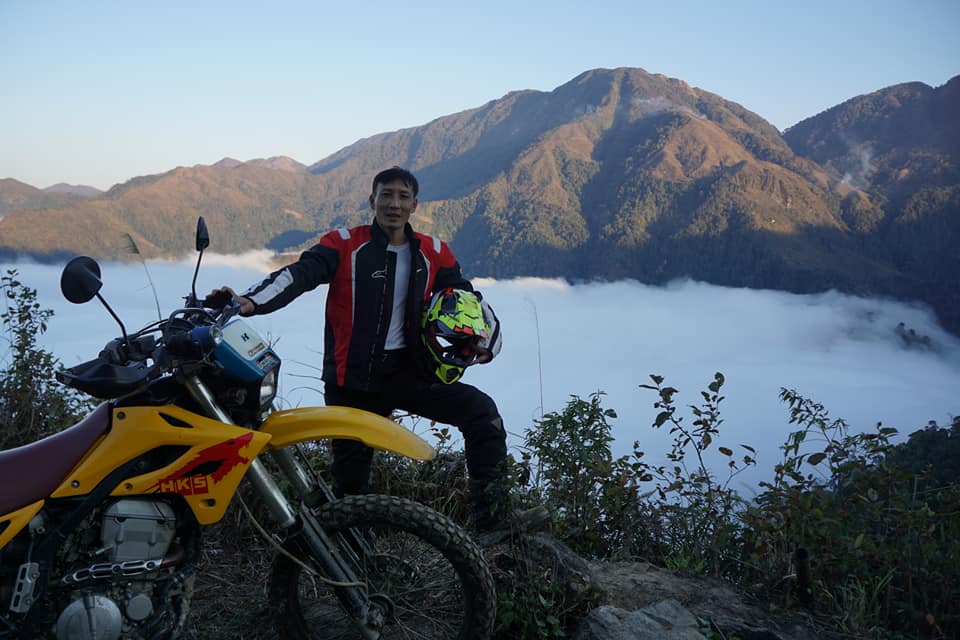 Day 7: Dong Van – Bao Lac (~80 km, ~4 h). B, L, D
The road is still under construction and tracks what make the ride relatively long in spite of few kilometres. The landscape is among the most beautiful of Vietnam, and the slow tempo is only more appreciable.
We cross the wild regions of the mythical province of Ha Giang. Stop for the night at Bao Lac, the ethnic crossroad of North-east Vietnam. Many other ethnic groups on the two sides of the border meet at the market every Sunday.
Day 8: Bao Lac – Cao Bang (~150 km, ~5 h). B, L, D
Beautiful ride down to Cao Bang province. Few passes from where you can dominate the area. The road is easy but there are many blind curves. We can stop very often for photos. Altogether, stop for drinks and food it should be an 8-hour journey. Stay in a hotel.
Day 9: Cao Bang – Quang Uyen (~140 km, ~5 h). B, L, D
Ride in 1 hour and a half to reach the beautiful village of Quang Uyen, in the middle of a mountain cirque. This is the territory of Nung An people. Home stay with a host family and the hostess is a great cook.
We make our way through spectacular scenery to Vietnam's most impressive waterfall, Ban Gioc Waterfalls, 50km from Quang Uyen. Weather permitting we can swim right up to where the 50m high falls hit the river.
Day 10: Quang Uyen – Lang Son (~180 km, ~6 h). B, L, D
Ride from Quang Uyen to Lang Son on the famous historical Highway 4. We will have time to discover this city which has become a big trading post between China and Vietnam. You can shop for cheap Chinese products at the nearby Dong Kinh market.
Overnight in hotel.
Day 11: Lang Son – Hanoi (~150 km, ~3 h). B, L
An easy day back to Hanoi on the new Highway 1B. You can wake up late in the morning as we guess you can be tired after 10 long riding days.
Arrival at Hanoi around 3pm, before rush hours.
B: Breakfast.
L: Lunch.
D: Dinner.