16 days motor bike in Hochiminh trails
By riding our 16 Days Ho Chi Minh Trail motorcycle voyage, you experience the best of Vietnam. In fact, you retrace some portions of BBC Top Gear: Vietnam Special routes. However, you will ride on more beautiful roads and more off the tourist trails than Top Gear presenters.
Day 1: Hanoi – Phu Yen (165 km, ~6 hours riding)
Today is the first day of this 16 Days Ho Chi Minh Trail By Motorbike. To get out of Hanoi safely, we will have a short briefing to let you know about the rules. In addition, the guide will show you how to understand him by his body language. We start around 9.30am after the rush hours.
Ride to Phu Yen on a country road with a stop in Son Tay. On November 20-21, 1970, a joint force composed of USAF Special Operations and rescue personnel and U.S. Army Special Forces, supported by U.S. Navy Carrier Task Force 77, made a daring raid on the Son Tay prison camp located less than 50 miles from Hanoi. The objective was to rescue as many as 100 U.S. captives thought to be held there. The assault troops, in six ARRS helicopters accompanied by two C-130 aircraft, flew 640km to Son Tay from bases in Thailand. U.S. Navy pilots made a diversionary raid while 116 USAF and Navy aircraft from seven air bases and three aircraft carriers flew refuelling, surface-to-air missile suppression, fighter cover, close air support, early warning, communications support and reconnaissance missions. However, there were no prisoners found in camp.
After lunch, ride on the winding mountain road to Phu Yen to take in some of the best mountain views in Northwest Vietnam. Overnighting in a hotel. (L, D)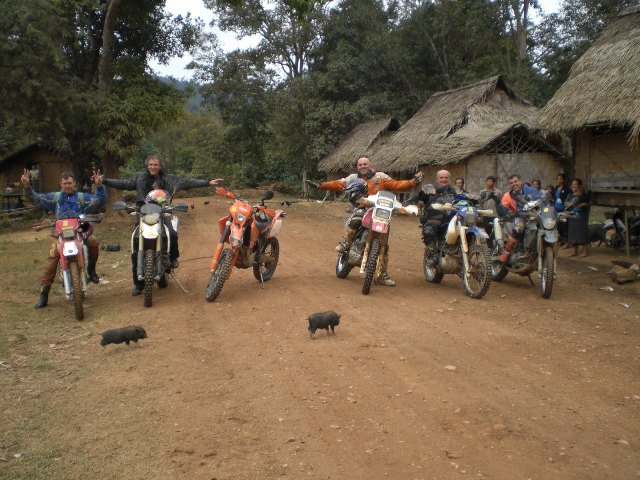 Day 2: Phu Yen – Mai Chau (145 km, 5 hours riding)
There are many small roads that lead to the mountains around Mai Chau so we'll take the chance to ride out to isolated H'mong, Dao and Thai villages. Then you take on the challenge of an old road built by the French army and spend the afternoon exploring nearby villages. Overnight in a Thai ethnicity stilt house in Mai Chau.
During this 16 Days Ho Chi Minh Trail By Motorbike, you don't have many stunning mountain views like Northern Vietnam. In addition, the hill tribes are not as many or authentic like in the Northern part. Therefore, it's always good to include this part into the ride even it has nothing to do with the Trail. (B, L, D)
Day 3: Mai Chau – Tan Ky (290 km, 9 hours riding)
Ride on a small, spectacular and paved trail along the Ma river until Cam Thuy town where we stop for lunch. Then hit the Ho Chi Minh trail (now a newly built highway) all the way to Tan Ky town where we spend the night in a hotel. (B, L, D)
Day 4: Tan Ky – Phong Nha (280 km, 8 hours riding)
Ride on Ho Chi Minh Highway until Pho Chau where we stop to visit the HCM Trail victory monument. In fact, this is the real starting point of the original Ho Chi Minh Trail.
Ride all the way to Phong Nha – Ke Bang, the biggest and also the most beautiful cave in Vietnam and Indochina. Currently, it's a UNESCO World Natural Heritage site. The karst formation of Phong Nha-Ke Bang National Park has evolved since the Paleozoic (some 400 million years ago) and so is the oldest major karst area in Asia. Subject to massive tectonic changes, the park's karst landscape is extremely complex with many geographic features of considerable significance. The vast area, extending to the border of the Lao People's Democratic Republic, contains spectacular formations including 65 km of caves and underground rivers. (B, L, D)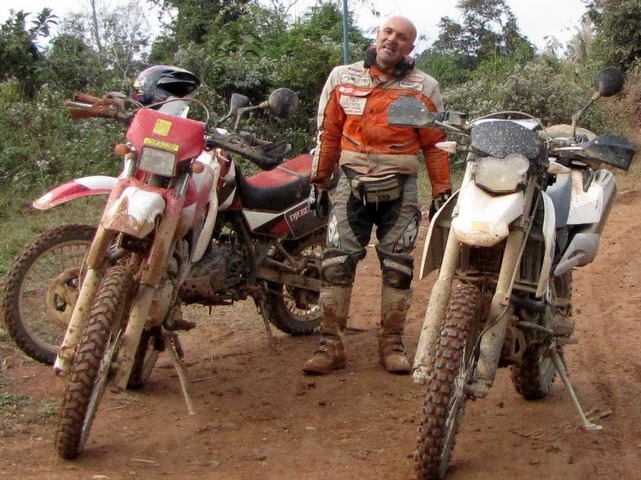 Day 5: Phong Nha – Dong Hoi (60 km, 2 hours riding)
Boating and exploring World Heritage site of Phong Nha where local civilians and military sheltered from incessant bombing during wartime. Then we drive down to the coastal town of Dong Hoi, which was heavily shelled by US warships during the war. At a hotel over looking the beach, we can take in some sunbathing by the beach. Overnight in Dong Hoi. (B, L, D)
Day 6: Dong Hoi – Khe Sanh (200 km, 6 hours riding)
We strike south through foothills which were once sprayed heavily by Agent Orange towards the former DMZ. In fact, there is still much evidence of bombing on the mountain sides. From time to time we will see remnants of the original Trail. Then we take in the Vinh Moc tunnel, the famous Hien Luong Bridge (former demarcation line between North and South Vietnam, the Truong Son Cemetery and finally Khe Sanh (former US Marine base). Overnight in Khe Sanh. (B, L, D)
Day 7: Khe Sanh – Hue (180 km, 7 hours riding)
In the morning we head south over the Da Krong Bridge (built by the Cubans in 1973) into the infamous A Shau Valley, an area of intense wartime activity. Passing Hamburger Hill and mountains still barren due to the extended effects of Agent Orange, we arrive at A Luoi, where there are many Bru Van hill tribe people. Then cruise through green back country down the steep Me Oi Pass, we continue on to the beautiful city of Hue which lies along the banks of the Perfume River. Overnight in Hue. (B, L, D)
Day 8: Hue – Hoi An (145 km, 5 hours riding)
See the Forbidden Citadel in the morning. Then join the National Highway 1 and head up the Hai Van Pass (Cloudy Pass) before the World Heritage site of Hoi An, a major trading centre in SE Asia in the 16th and 17th centuries. Overnight in Hoi An. (B, L, D)
Day 9: Hoi An. Sightseeing day.
Those who wish can ride up to My Khe beach, where US marines first landed. Otherwise, enjoy a free day to explore Hoi An by foot or by motorbike taxi. With fine wining and dining (including a range of Hoi An specialties), impressive architecture, fantastic tailoring, endless shopping, and a glorious beach, there is no shortage of activities to indulge in. This is the most relaxing days of this 13 Days Ho Chi Minh Trail By Motorbike. (B, L, D)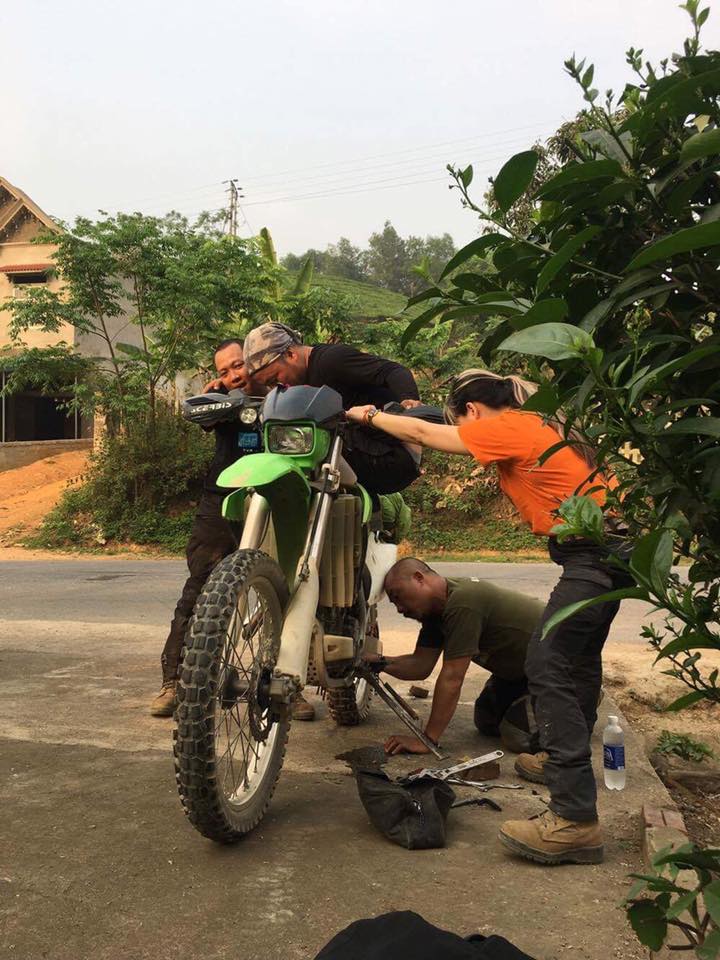 Day 10: Hoi An – Kon Tum (~290 km, ~9 h)
This is another long day on motorbike of this 15 days Ho Chi Minh Trail tour. First, we strike back up to the mountains, then rejoin the Trail at Phuoc Son (also known as Kham Duc). From there we head up the towering Lo So Pass. Then pass through remote areas thinly populated by peoples of the Ba Na ethnicity. Then edging close to the border with Laos, where a number of Trail arteries crossed over in Laos, we continue on to Kon Tum.
Overnight in Kon Tum. (B, L, D)
Day 11: Kon Tum – Buon Ma Thuot (~240 km, ~8 h)
In the morning we head south through the Central Highlands, passing Pleiku and the Ia Drang Valley battlefield, before continuing onto Buon Ma Thuot (also known as Buon Me Thuot), the city where northern forces launched their final assault on the then Saigon. Buon Ma Thuot produces most and best coffee products in Vietnam.
Overnight in Buon Ma Thuot. (B, L, D)
Day 12: Buon Ma Thuot – Nha Trang (~190 km, ~7 h)
We take an easy drive back down off the Tay Son highlands towards the coast, then arriving at Highway 1 some 30 km north of Nha Trang. Taking in this scenic coastal stretch past turquoise waters and scarlet fishing boats, we arrive in the bright lights of Nha Trang and its relaxing holiday options.
Overnight in Nha Trang. (B, L, D)
Day 13: Nha Trang – Da Lat (~180 km, ~5 hours)
This 150km ride shows you some footage of the famous 2008 BBC's Top Gear: Vietnam Special show. Mountainous ride on the Central Highlands. In reality, it reminds you much of the Northern mountains during the first two days of this 16 Days Ho Chi Minh Trail tour. (B, L, D)
Day 14: Da Lat Touring (~50 km, ~2 hours)
Da Lat is known as "The City of Love" and is a favourite holiday resort for Vietnamese as well as the French. With evergreen forests, waterfalls, beautiful lakes, the country's best flower gardens, and delicious fresh produce, Da Lat has always provided a welcome respite from the heat of the lowlands. We can spend the day visiting the highlights of Da Lat – its gardens, cathedral, waterfalls, market, Valley of Love, convent, university, train station and key pagodas. Overnight in Da Lat for the second night. (B, L, D)
Day 15: Da Lat – Cat Tien National Park (~240 km, ~7 hours)
Down on road 20, we ride to Cat Tien National Park. In fact, this forest area used to be the head quarter of Vietnamese army during the war. The park suffered historically during the Vietnam War when it was extensively sprayed with herbicides like the defoliant Agent Orange. To this day these areas have extensive bamboo and grassland cover and trees have not yet grown back. (B, L, D)
Day 16: Cat Tien – Saigon (~160 km, ~4 hours)
This is not so long but is a big day as traffic is very crazy when we enter Saigon (HCM City). We ride straight to the train station. If you need information about places to stay and/or to eat our guide will be able to recommend some.
16 Days Ho Chi Minh Trail motorcycle voyage ends at Saigon train station. (B, L, D)
B: Breakfast.
L: Lunch.
D: Dinner.
Tour Includes
01 motorbike per person
1 full tank of petrol/gasoline per person (First day)
Pre-programmed GPS track (The best back roads and scenery)
Rain gear, helmets
Motorbike jacket
1 night in local stilt house & 7 nights in hotel in twin share room
1 night on the boat in Halong & 1 night at a resort in Cat Ba island
10 Breakfast (B), 10 Dinners (D)
A join tour Halong bay trip 2 days 1nite
Depending on availability 1 night stay at our Flamingo Homestay
Tour Excludes
Visa to Vietnam
Any other transportations are not mentioned in the itinerary
Insurance
Drinks
Meals are not mentioned in the itinerary
Tip for guide
Other personal expenses
What to bring
Passport
Good sunglasses
Good shoes for walking
Other personal needs and some cash for drinks or souvenirs
Motorbike/ Rider

1 rider

2 riders

3 riders

4 riders

5 riders

or over

Single room

supplement

125cc

 1,959
 1,766
 1,675
1,643
1,614
 439

150cc

2,069
1,876
1,785
1,753
1,724
439

230/250cc

2179
1986
1895
1863
1834
 439