Vietnamese cuisine in 2023: Things you shouldn't miss
When asked what they are most proud of, many Vietnamese would choose the cuisine in their country. You often see on television that Vietnamese expats are stopped by customs with all the food they have imported because they cannot survive without it. Also, you must try some of it if you want to travel to Vietnam. Learn everything there is to know about the tastiest foods, whether it's safe to eat on the street, and more!
Eating in Vietnam involves using less food and binders, which makes the food simple to digest. Fresh herbs including basil, mint, lemongrass, parsley, and coriander are used most frequently. Although it is sometimes advised against for tourists, many Vietnamese consume raw veggies as a salad with meals.
In the process of preparing food, nuoc mam is essential. Instead of salt, this dish uses fermented anchovies sauce. Nuoc cham, a sauce used with most dishes, is made by combining sugar, lemon, peppers, onions, and garlic.
The variation in Vietnamese cuisine is enormous. The diverse fish dishes reflect the area's proximity to the sea. For the Vietnamese, fish is frequently the most important source of protein. A sauce of salt, pepper, and lemon is typically served with crustaceans and shellfish. There are also options for pork, beef, and chicken.
The kitchens in the north, middle, and south are different from one another. The food is salty and spicy in the middle, sweet in the south, and the most bland in the north. Also, each region offers unique foods that are only found there.
Specialist eateries offer additional cuisine that you as a Dutchman will probably find less appealing. Dog (thit cho), tortoise (con rua), snake (trang), and bat (con doi) are all pricey delicacies.
Steet food safe or not?
It depends, is the response. Some owners of food carts offer street food without taking the proper hygienic procedures, but some do. Consider this before selecting a restaurant. Check to see if the stall is busy as a starting point. Since many customers would eat there if the stall were busy, this suggests that it is safe. Also, the cuisine is undoubtedly fantastic! Avoid the empty stalls because this suggests the opposite.
Some stalls have glass coverings on all three sides, shielding the food from dangerous microorganisms. If it's your first time here, avoid eating at food stands where the food is kept outside because the ingredients could quickly decay. Your stomach will respond to this more effectively the longer you stay.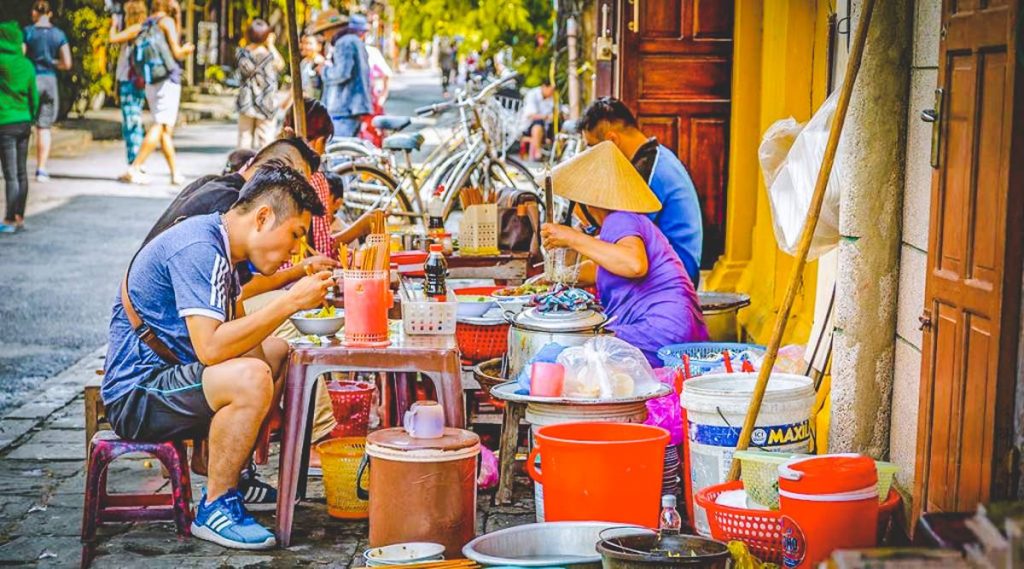 A small tip
If you like to eat food such as phở, bún bò Huế (spicy steak noodle) or another dish that is a combination of vegetables, you can ask the seller to dip the vegetables in hot water in case you are concerned that you may get food poisoning
Restaurants
Do you believe eating in restaurants is more secure than eating on the streets? Both yes and no, is the answer. Due to the preservatives required to keep the food frozen, some restaurants serve food that has been frozen for a long time, which makes it less healthful. Food that has been frozen has more fat than food that has been kept at room temperature. However, dining in restaurants is an excellent start if you want to quickly adapt to eating in Vietnam because the food is typically secure.
Food poisoning
In Vietnam, not all vendors use gloves to grab the food, so that is one of the concerns. When handling food, many bacteria can be transmitted, making people easily sick. Also, due to the warm weather here, food can spoil quickly. That's why you have to be careful when you eat rice or salad. One of the best ways to check is to smell it first. If you think the smell is not good, avoid it.
Water and ice
In Vietnam you cannot drink water from the tap. Here you have to drink water that has already been boiled or for convenience you can buy bottled water at the supermarket. Try to avoid places with blocks of ice, because the water used for this is often not hygienic. If the ice in your glass looks like it has been broken into pieces from a larger block of ice, do not drink it. The only ice you shouldn't have a problem with are small ice cubes.
Tips
Bring hand soap to clean your hands before you eat, especially snacks for which you use your hands.
Avoid large, hearty meals in the beginning. Adjust slowly and once you know you can handle it, you can try more and more.
Bring some medicines from home, in case you get stomach upset.
Food tour
A safe way to get in touch with street food for the first time, eating at stalls on the street, is through a food tour. A tour takes you to the best food stalls in hidden alleys and local restaurants, where you can try different dishes. These places have been carefully selected, so you don't have to worry about the quality. In the larger cities such as Ho Chi Minh City, Hanoi and Da Nang you can do this in combination with a motorbike tour. This means that you jump behind the motor of your guide, who shows you the best places to eat.
Cooking course
One of the best souvenirs you can take home is the ability to prepare some of the dishes that you have tasted during your trip. Cooking classes are becoming more and more popular as a travel activity in Vietnam and you can actually find a cooking course at any location. The most popular city to follow a cooking class is Hoi An , you can find them in Hanoi, Ho Chi Minh City, Hue, Da Nang and even on a cruise in Halong bay .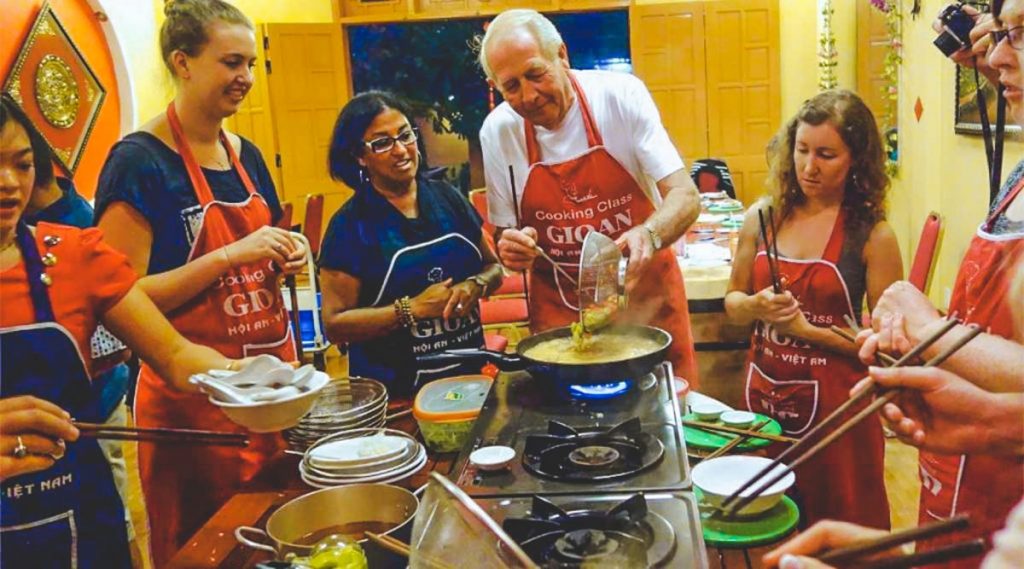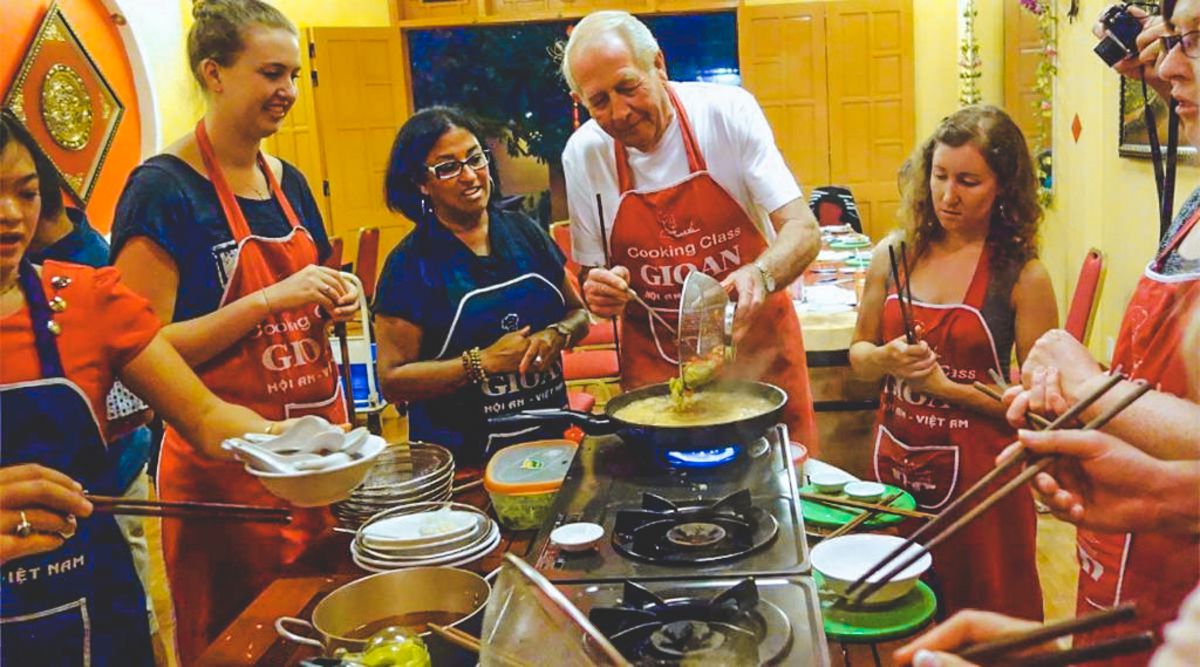 In addition to learning great recipes, you can make delicious food, taste and often visit a local market where you learn more about the ingredients.
Useful words
Knowing a few Vietnamese words is helpful if you're seeking for meals in Vietnam . At restaurants and food stands, dishes that represent the food they provide are frequently hung.
| | | |
| --- | --- | --- |
| English | Vietnamees | Uitspraak |
| Fish | Cá | Ka |
| Shrimps | Tôm | Tom |
| Shellfish | Sò | So |
| Rice | Cơm | Kom |
| Meat | Thịt | Theed |
| Beef | Thịt bò | Theed-bo |
| Chicken | Thịt gà | Theed-ga |
| Egg | Trứng | Trung |
| Duck | Thịt vịt | Theed-vid |
| Pork | Thịt lợn | Theed-lon |
| Lam | Thịt cừu | Theed-kiu |
| Sea food | Hải sản | Hai-san |
| Coffee | Cà phê | Café |
| Tea | Trà | Traj |
| Water | Nước | Nuok |
| Breakfast | Ăn sáng | An-sang |
| Lunch | Ăn trưa | An-trua |
| Diner | Ăn tối | An-toi |
| Chopsticks | Đũa | Dua |
| Fork | Nĩa | Nia |
| Knife | Dao | Daow |
| Spoon | Thìa | Thia |
| Glas | Cốc | Coke |
| I am full | Tôi no rồi | Toi-no-roi |
| Very tasty! | Rất ngon! | Rat-ngon |
| Can I have the menu? | Làm ơn cho tôi thực đơn? | Lam-own-cho-toi-thuk-dern |
| Can I have the menu in English? | Bạn có thực đơn bằng tiếng Anh không? | Ban-ko-thuk-dern-bang-tieng-Anh-kong |
| May I have the bill? | Làm ơn cho tôi hoá đơn? | Lam-own-cho-toi-hoa-dern |
| Restaurant | Nhà hàng | Nha-hang |
Vietnamese dishes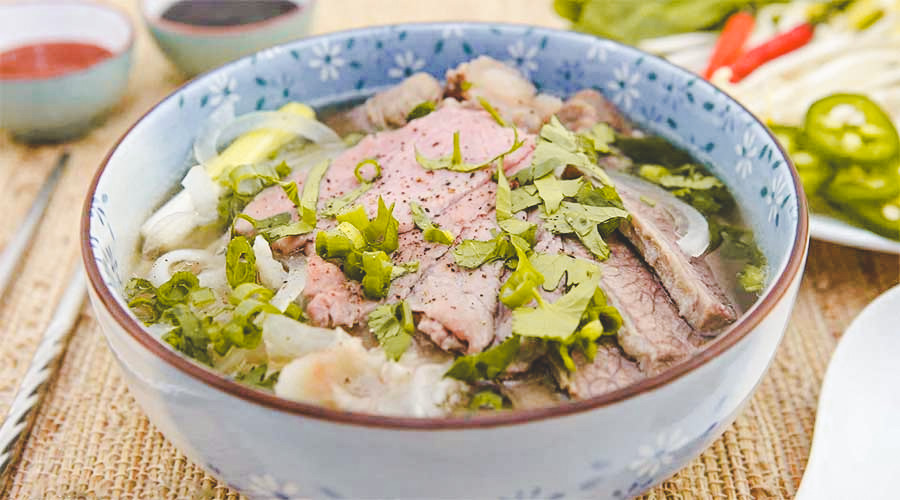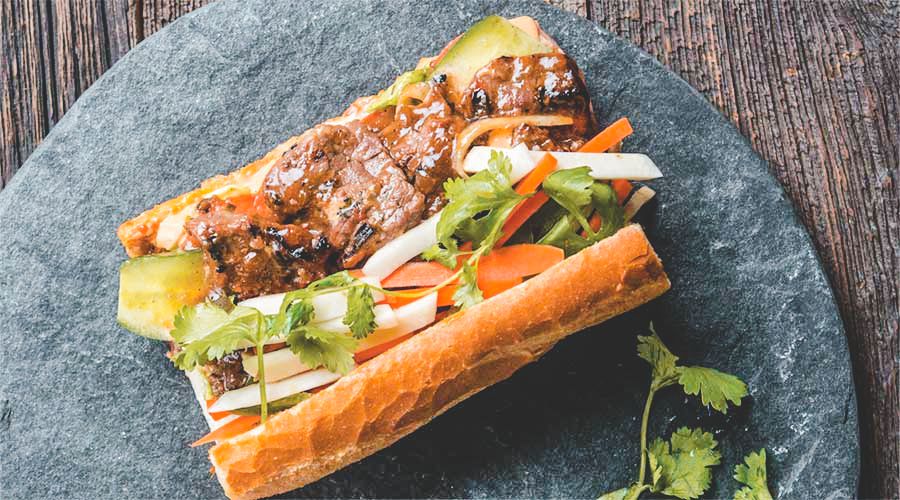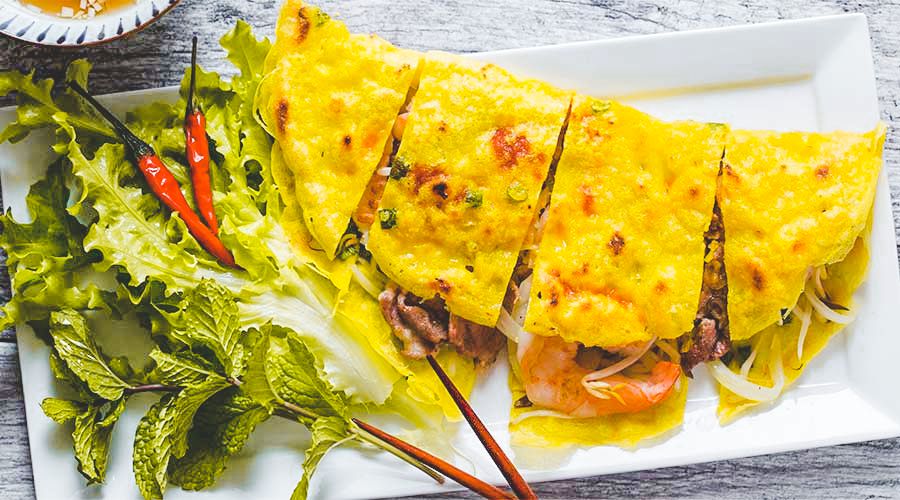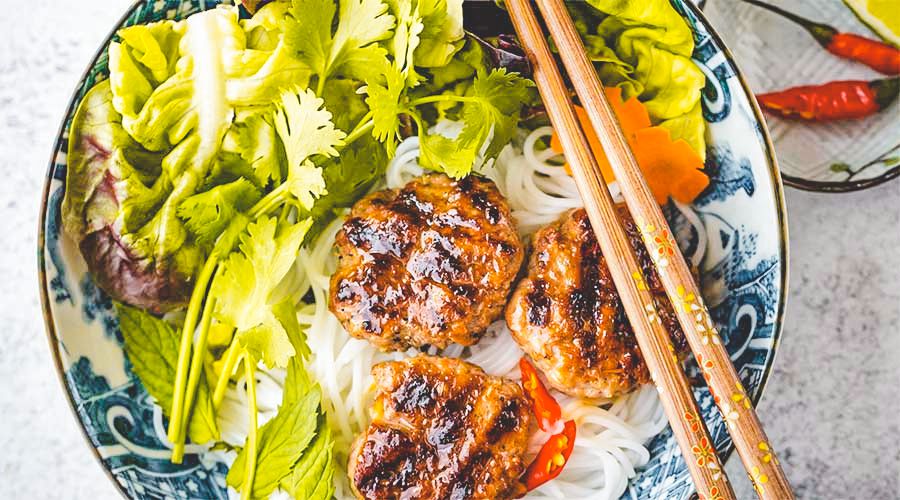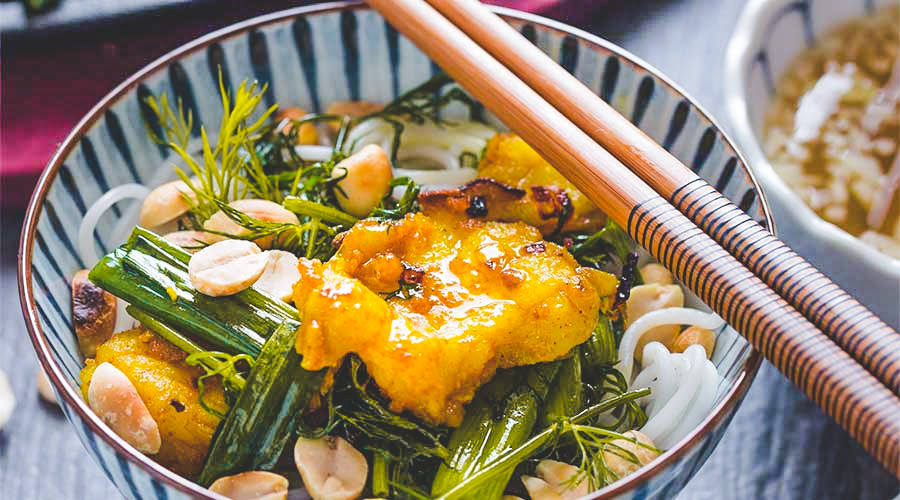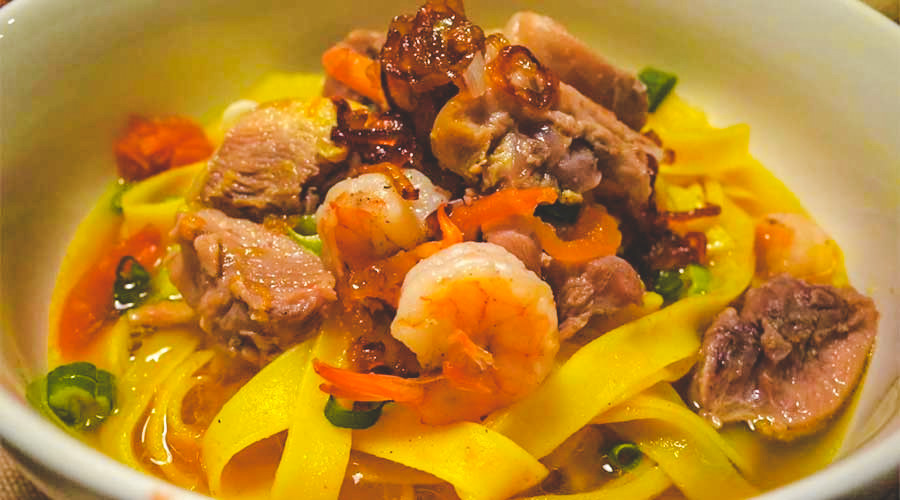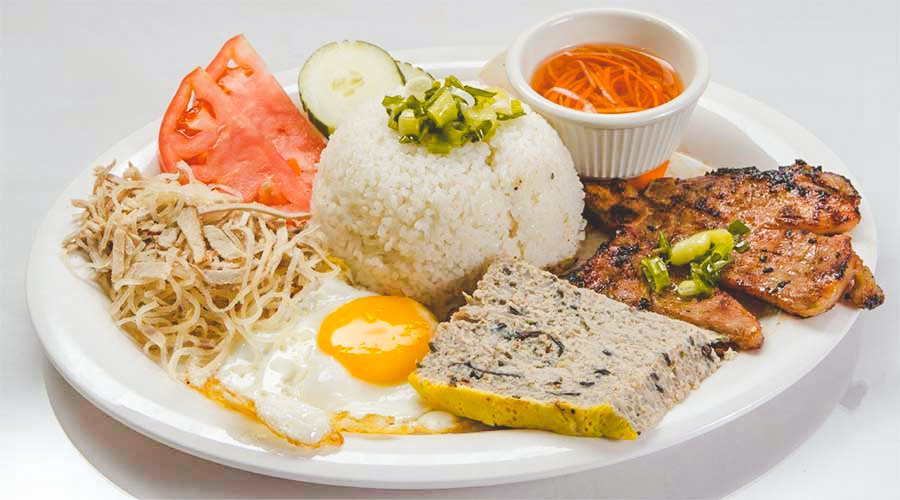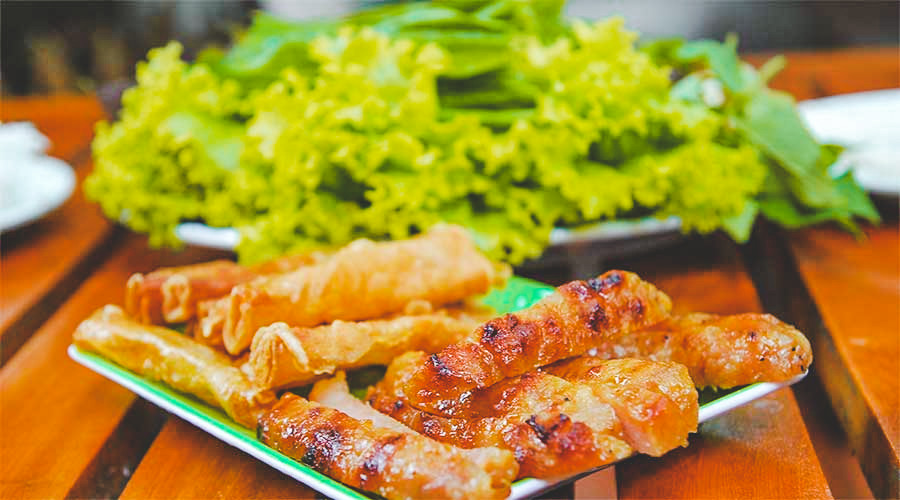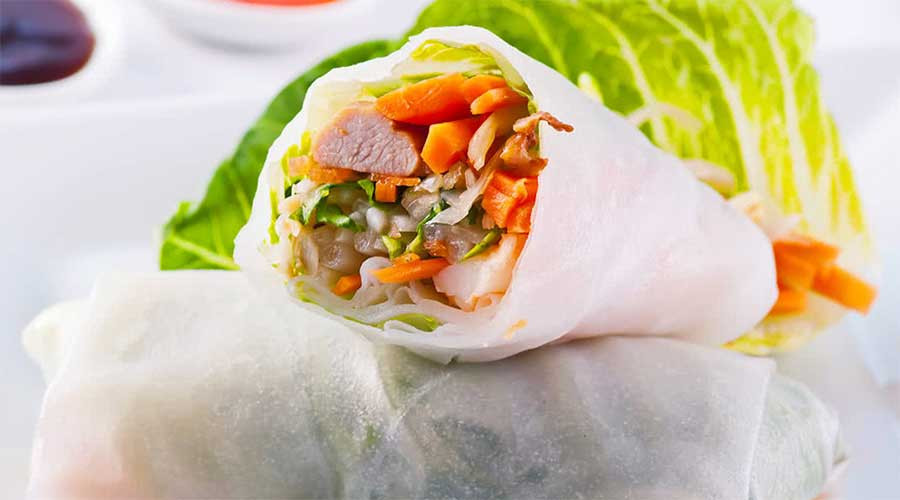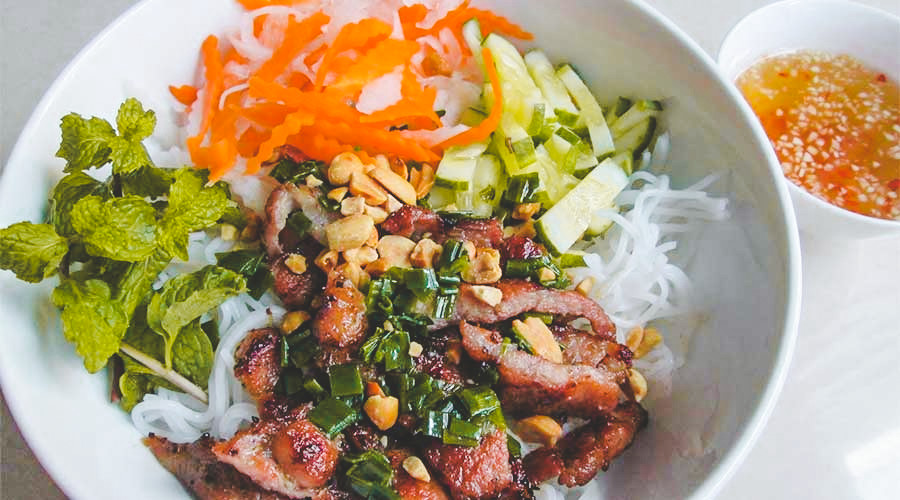 Vegetarian dishes
There is an abundance of delicious vegetarian – or "chay" – meals in restaurants. Below a small selection of vegetarian dishes in Vietnam.