Hanoi – The capital of a thousand years of civilization is not only known for its ancient beauty mixed with modernity, along with many attractive and bustling entertainment places, but it also attracts tourists from all over the world. rich and long-standing culinary background. Hanoi cuisine is full of Vietnamese flavors, dishes that can make you crush from the first taste. Let's follow  to marco polo asia know more about delicious Hanoi dishes!
Bun Cha – Famous Hanoi delicacy
Referring to Hanoi's delicious dishes, it is mentioned that vermicelli, bun cha is considered as a specialty of the capital land, which when you come here, you can see it everywhere. There are many varieties of vermicelli, but bun cha seems to offer food connoisseurs the most endless appeal.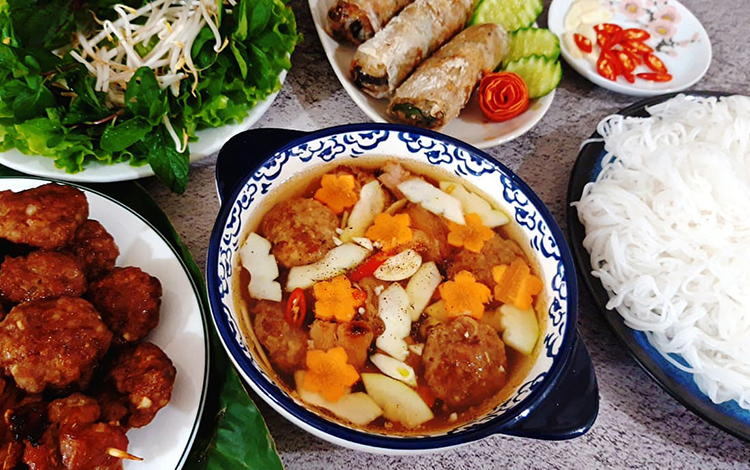 Delicious restaurant suggestions:
Bun Cha 74 Hang Quat (only open at noon)
Bun Cha Huong Lien, No. 24 Le Van Huu
Bun Cha Dac Kim – No. 1 Hang Manh
Bun Cha Sinh Tu the original address is 57A Nguyen Khuyen
La Vong grilled fish is one of the names that is extremely familiar to Ha Thanh people, because the dish gives people an irresistible delicious taste. This place is like a paradise of fish enthusiasts. You will enjoy delicious pieces of fish and are guaranteed to be caught 100% from Hoa Binh – that is Hoa Binh salmon. Along with that, fish cakes are processed in a sophisticated and new way.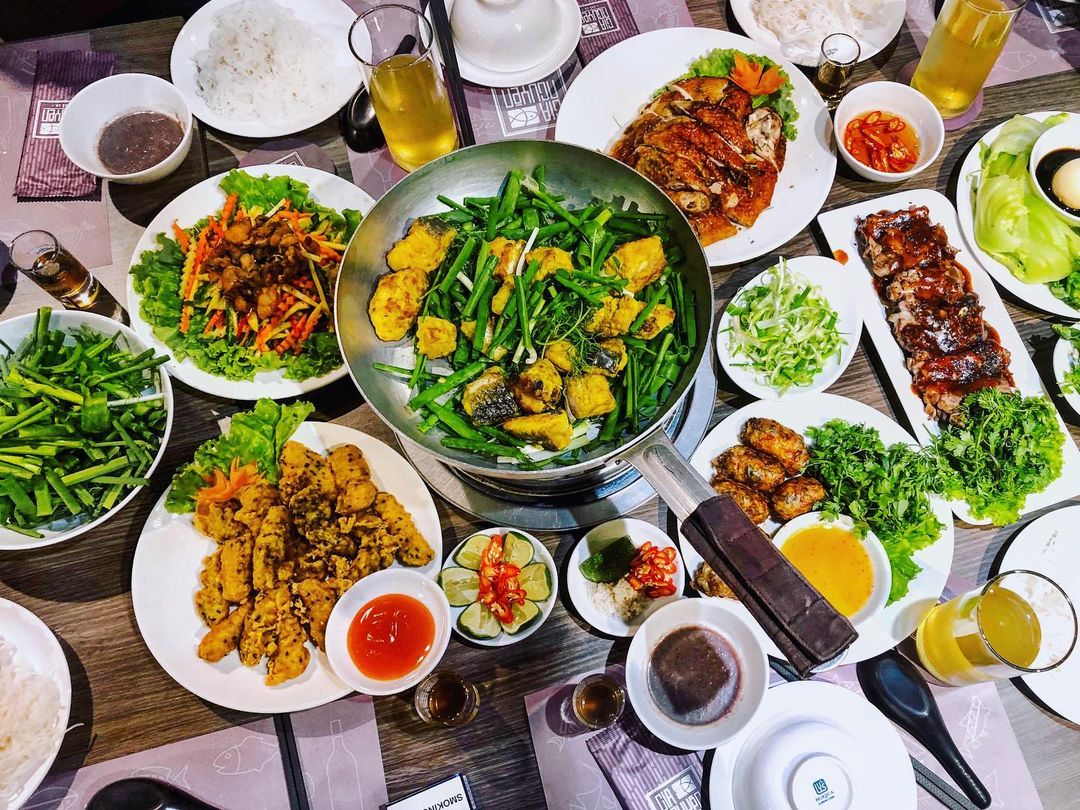 Certain delicacies you cannot miss are braised lentils with bananas; grilled lentils with salt and chili; Salmon spring rolls, salmon hotpot; spring rolls with lentils… all processed extremely sophisticatedly and beautifully, you can be spoiled for choice.
Delicious restaurant suggestions:
Cha Ca La Vong 18 Lo Su (Floor 1, Hanoi E Central Hotel, No. 18 Lo Su, Hoan Kiem, Hanoi)
Vong Ngu grilled chopped fish – 29 Nguyen Chi Thanh
Ha Thanh grilled chopped fish – Address: 20 Nguyen Van Huyen, Cau Giay
Cha Ca La Vong Duong Thanh (19-21-2D Duong Thanh, Hoan Kiem, Hanoi)
Beef Noodle Soup Hanoi
Beef noodle soup is a famous dish not only in Hanoi but also in Vietnamese cuisine. Pho contributes to bringing the culinary symbol of Vietnam to the world, because of its delicious taste, easy to eat and easy to crush right from the first time. enjoy first. Coming to Hanoi, you can see beef noodle shops everywhere and you can enjoy it at any time.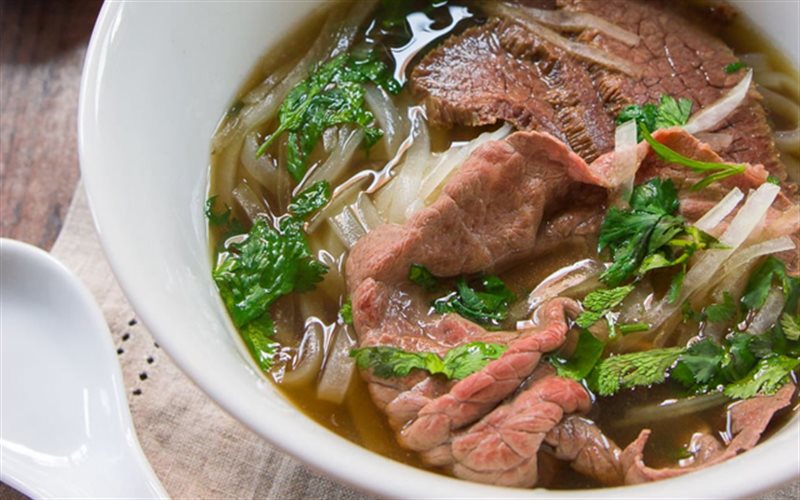 Pho gives diners a clear sense of the new smart combination of Vietnamese cuisine. It is a bone broth with anise, cinnamon served with meat, noodle soup, herbs and chopped onions on top, served with thinly sliced beef.
Although the method is meticulous, but the price of a bowl of pho is not too expensive, only ranging from 30,000 VND to 50,000 VND depending on the size and topping you choose, perhaps that is why Pho is chosen by many people. instead of my main meal like that.
Delicious restaurant suggestions:
Pho Bat Dan: 49 Bat Dan
Pho Thin : 13 Lo Duc
Pho Thin Bo Ho : 61 Dinh Tien Hoang
Hanoi Mixed Noodle
Ha Thanh traditional noodle soup is delicious, now with Pho Mix, it is no less. This is a unique and interesting Hanoi delicacy created long ago by anonymous Hanoi chefs. Now mixed pho has become a popular dish of the cuisine here.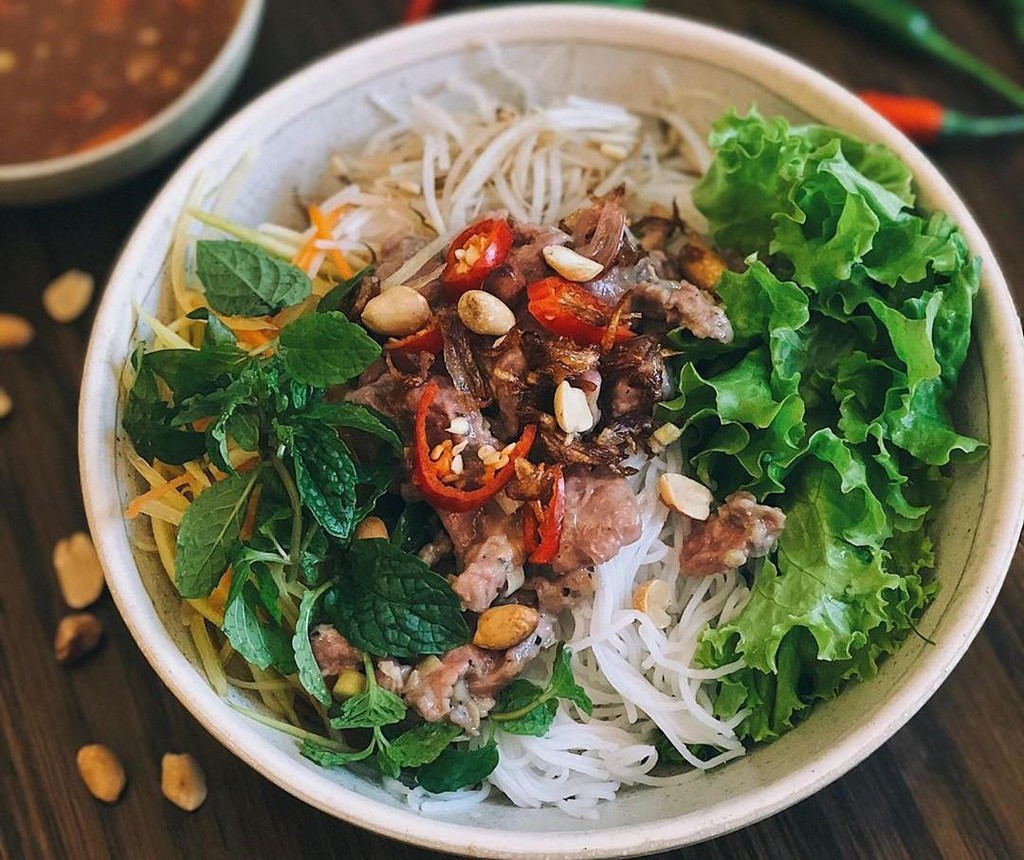 The dish is a combination of soft and chewy noodle soup, crispy but not too hard, crispy chicken topping that is delicious to the mouth, mixed with a rich sauce filled with topping, sweet and sour taste, along with the taste of peanuts. A bowl of pho mixed with a full range of colors and flavors makes you irresistible just by looking at it. If you come to Hanoi's delicious dishes, don't forget to enjoy this special and attractive variation!
Delicious restaurant suggestions:
Gia Ngu mixed pho at the intersection of Gia Ngu and Dinh Liet streets
Ma May Mixed Pho – 47 Ma May
Lan Ong Mixed Pho – 65 Lan Ong
Mixed Pho Le Ngoc Han – 38 Le Ngoc Han
Banh mi – A delicious Hanoi dish
Banh mi is an extremely neat – cheap – delicious street food for Vietnamese people, originating from Western cuisine, when bread was introduced to our country, it has a familiar rustic flavor of the people. Vietnamese. Today, Vietnamese Bread has become the pride of the nation, representing the quintessence of Vietnamese cuisine and gradually leaving its mark on the world cuisine.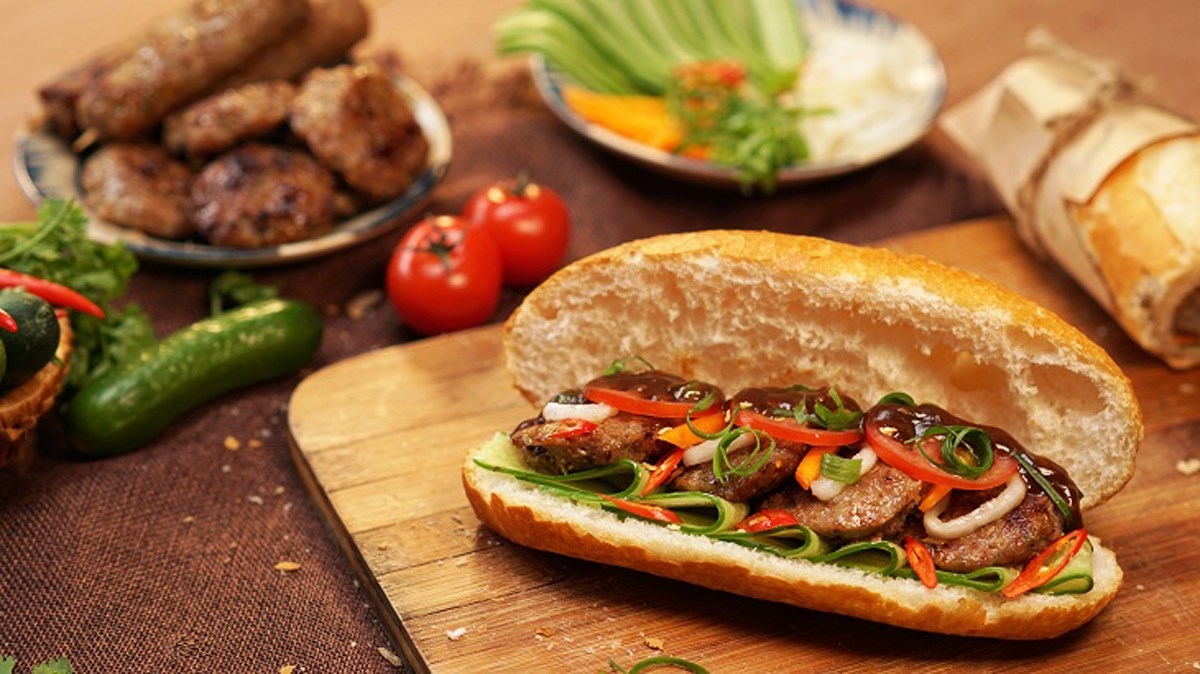 Crispy bread crust, soft and fragrant bread, along with hundreds of thousands of delicious toppings create familiar names such as: omelette bread, grilled meat bread, shumai pate bread, chicken bread More than that, it's pan bread, spicy bread, filtered flour bread, etc., which is considered a new culinary sublimation of Hanoi bread.
You can enjoy delicious and scrumptious banh mi at any street vendors on the streets of Hanoi, with great prices from only 10,000 VND – 30,000 VND.
Pho Cuon Hanoi
Another variation of traditional pho, Pho cuon is a dish that appeared not long ago but captured the hearts of diners at first taste. Pho cuon is a combination of soft and flexible noodle soup made from fine rice flour, the filling includes meat, crispy ram, carrots, cucumbers, raw vegetables, …
A variety of culinary flavors blend in a piece of noodle roll, dipped with sweet and savory dipping sauce to create a typical taste of Hanoi. Eat a lot without getting bored.
Delicious restaurant suggestions:
Pho Cuon Huong Son Ba Dinh
Pho Cuon Ngu Xa
West Lake shrimp cake
Shrimp cake is a perfect combination of sweet and fragrant shrimp meat wrapped in a crispy outside, soft inside, cockroaches submerged in lard, so it won't be as greasy as oil. Referring to the shrimp cake, the people of Ha Thanh will immediately remember the shrimp cake in West Lake, the shrimp cake here has the strongest flavor, the sauce of the shrimp cake is not too salty.
A shrimp cake is the size of a palm, with the price from 10,000 VND – 15,000 VND depending on the area of West Lake. There's nothing better than enjoying a few delicious shrimp cakes with your loved ones on a winter day, going around West Lake late at night.
Sweet Bo Bia Hanoi Cake
Sweet Bo Bia Cake, also known as Bo Bia Cake, is a sidewalk snack that is loved by many young people. As a dish originating from Southern cuisine, Banh Bo Bia was introduced to Hanoi and created by the anonymous chefs of the capital according to the taste of the people here. Made from rice paper made from flour, a little grated coconut, candy bars, a little bit of black sesame rolled up. The sweet-loving diners certainly cannot ignore this favorite dish.
If you want to enjoy this dish, you just need to come to Hanoi on the sidewalks, school gates, etc., which can be easily found anywhere. Over the years, it has contributed to the already rich street food life of Hanoi. The price of a bar of beef cake only ranges from 5,000 VND – 10,000 VND.
Hanoi hot pot of all kinds
Hotpot is one of the delicious Hanoi dishes you cannot ignore, Hanoi hotpot has a rich flavor, not too spicy like Thai hotpot, nor too sweet, it is a natural harmony between flavors and flavors. together to produce a hot pot dipping sauce that suits the taste of Hanoians. Hanoi offers diners a variety of different types of hotpot, which can be mentioned as: Uyen hot pot, Giang leaf chicken hot pot, seafood hot pot, beef hot pot, crab hot pot, crayfish hot pot, etc.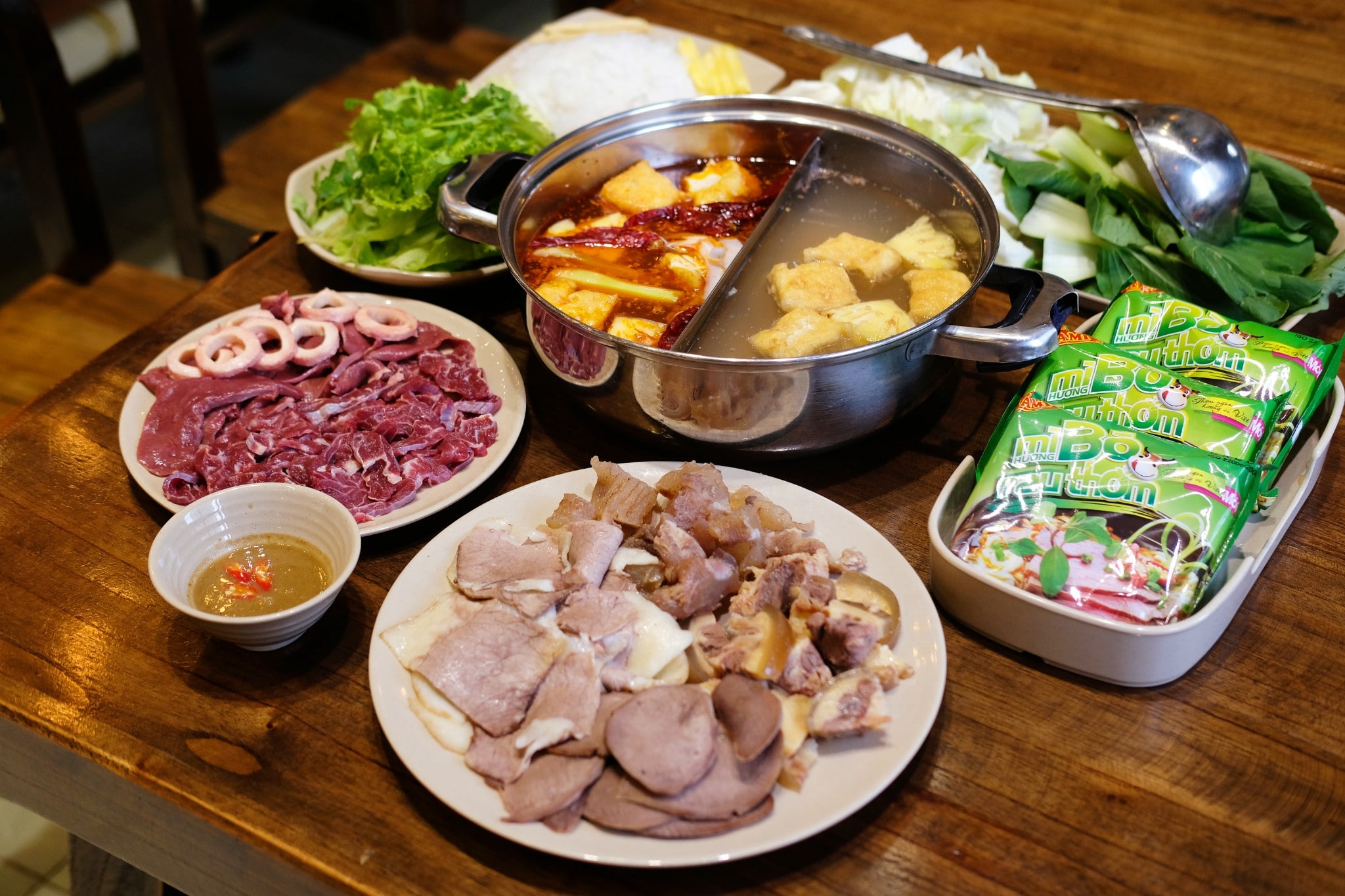 Especially the hot pot buffet in Hanoi, you will enjoy unlimited food according to your own preferences with the price depending on the combos at your request. great experience not to be missed when you enjoy delicious Hanoi food.
Banh cuon – An attractive Hanoi delicacy
Hanoi meat and shrimp roll cake is one of the delicious Hanoi dishes that cannot be ignored of the capital land, because it is easy to eat but unforgettable, delicious and extremely suitable for the wallet. Hanoi rolls are coated with smooth rice flour to create a soft, flexible cake, served with shrimp, minced pork, wood ear, minced onion, dipped with sweet and sweet fish sauce mixed with papaya salad topping. carrots are absolutely correct.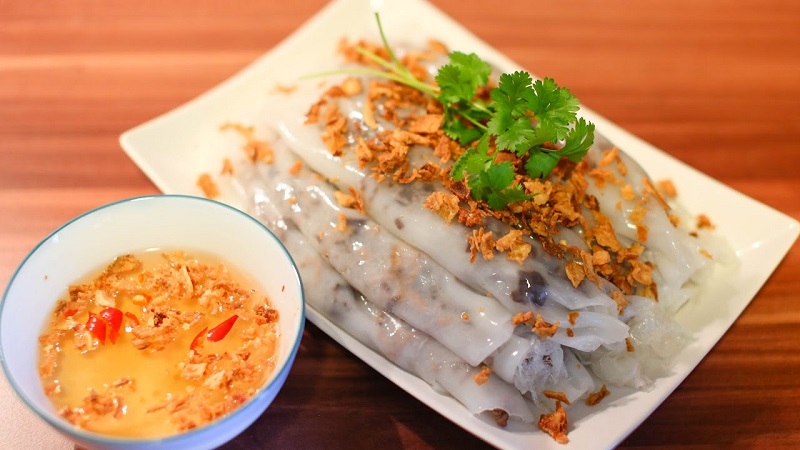 This promises to be a favorite dish on every cold winter morning, enjoying a plate of hot rolls while blowing and eating is nothing compared. The price of a plate of hot rolls only ranges from 20,000 VND to 40,000 VND depending on the amount you order, this is a worthy price for a great experience, isn't it!
Delicious restaurant suggestions:
Ba Hanh roll cake, No. 26B Tho Xuong
Ba Xuan roll cake, No. 16 Hoe Nhai slope
Ba Hoanh To Hien Thanh roll cake.
Thanh Van heirloom roll cake.'