7days north east trekking and 2 days Halong bay
7 days Northern Explorer and 2 days Halong bay
Northeast Vietnam includes Halong Bay, one of the region's biggest draws. Reasons to linger after your boat trip include the lesser-known but stunning Bai Tu Long Bay, the intersection of nature and culture that is Ba Be National Park, the otherworldly karst landscapes outside of Cao Bang and the urban options in Haiphong
Hanoi, Ba Be Lake, Cao Bang, Bai Tu Long Bay, Hanoi.
This trip from Ba Be Lake to Bai Tu Long Bay is diverse and adventurous, offering out-of-the-way experiences that many travellers miss out on: We visit Pac Po, trek through hill tribe villages and explore Bai Tu Long Bay.
Day 1 Hanoi / Ba Be Lake
Departing from Hanoi, we embark on a route up into mountain areas north of Hanoi.
Then onwards to Ba Be Lake National Park, one of the largest natural lakes in Vietnam, home to many kinds of bird, scenic valleys, towering rocky outcrops, underground tributaries rivers, a gigantic cave and local ethnic minorities, including the Tay, Red Dao and Hmong.
Following a relaxing boat trip, we stroll along the river front. The night is spent in the traditional stilt-house of a Tay family. (Lunch and dinner are included).
Day 2 Ba Be Lake / Cao Bang
We take to the road again for a 90 km drive, arriving in Cao Bang town around lunch time.
The rest of the day we go to the border village of Pac Po, home to the local Nung ethnic minority and visit Coc Bo (the Source), the tiny natural cave lived in briefly by Ho Chi Minh when he returned to Vietnam after thirty years of self-imposed exile.
We hike along a rocky path, take in the cave and explore its stunning visual neighborhood, before we return to the town for an overnight stay in a hotel. (Breakfast, lunch and dinner are included).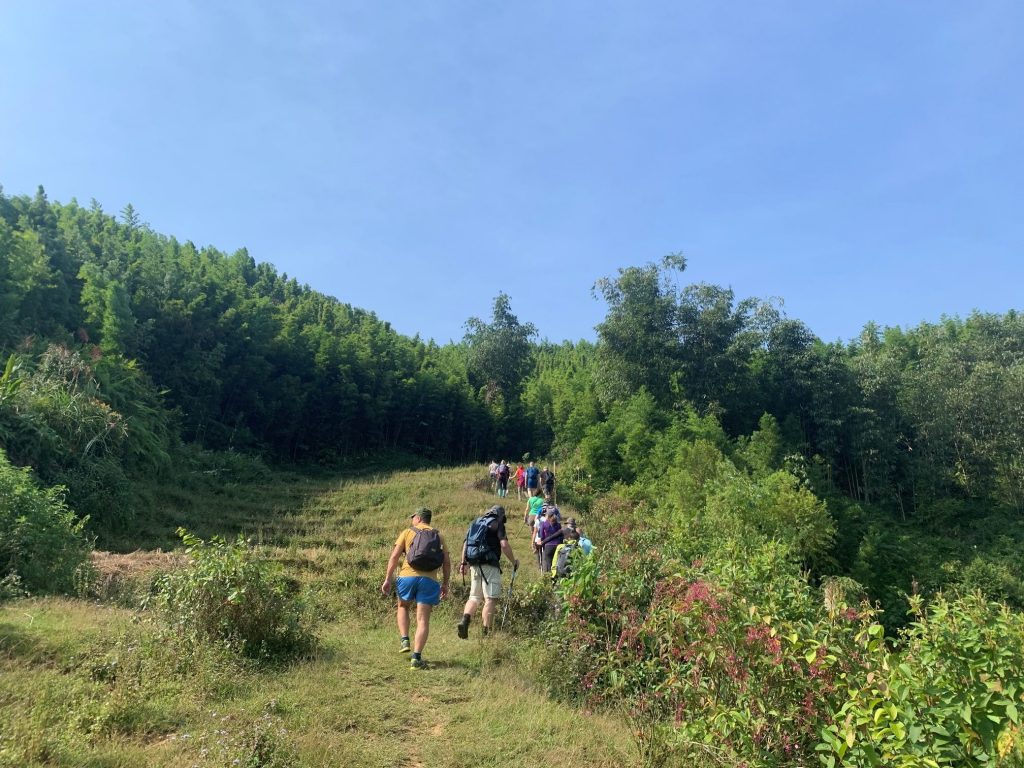 Day 3-4 Cao Bang Trek
The day begins by driving to the border town of Ta Lung, in an area marked by massive limestone cliffs jutting out of the rice fields, spotted by scenic hill tribe hamlets. We begin our adventure with a trek.
We trek for 15 km per day, with breathtaking scenery, staying in simple village accommodation with our friendly hosts of the Tay ethnic minority people. (Breakfast, lunch and dinner are included).
Day 5-6 Cao Bang Trek
Another serious day's trekking through several minority hamlets. We stop for lunch at the village of Dong Khe before venturing on to the Red Dao settlement of Pac Khoang.
The following day we cover a 17 km trek to the Tay village of Na Pang where we stay overnight. (Breakfast, lunch and dinner are included).
Day 7 That Khe / Lang Son
We leave our hosts this morning and trek for a further 12 km until we reach the village of That Khe. After lunch in a local restaurant we meet up with our vehicle for a 2-hour drive to the border town of Lang Son. This town has become a booming trading town since the normalization of relations between China and Vietnam in the early 1990s. Keep driving to Halong city  , arriving there at around 6pm. Check in hotel.
(Breakfast and lunch are included).
Day8 : Halong boat cruise
12:30
Check in aboard with Welcome Cocktail from crew member while manager introduce the safety briefing and the boat cruising forward to the Bai Tu Long bay.
13:15
Let your vacation start with a delicious lunch set menu in restaurant
15:30
Visiting Vung Vieng floating fishing village, one of the biggest village in HaLong Bay, you will have chance to learn about the living of fishermen and feel free with some option activities: bamboo boat or kayaking. Beside having experienced daily life of a fishermen, guests will stop over Pearl Village and cannot keep their eyes out of lovely jewelry made from pearl.
17:30-19:00
Enjoy your time with the beautiful sunset on the bay and join "Happy Hour" – 30% Discount off all drinks onboard
18:30
Cooking class on sundeck with the Deep Fried Spring rolls, one of the unique flavor of Vietnamese food.
19:30
Dinner will be served on sundeck.
21:00
Feel free to relax on boat, join Squid fishing at the area of Reception deck or singing karaoke on sundeck.
Day9 : Halong bay- Hanoi
06:30
Start your day with the Taichi on sundeck.
07:00
Light breakfast serve in dining room.
07:45
Discover Thien Canh Son cave where located on top of mountain, contain the long history of geological value and the natural beauty. Recommend you bring camera and wear sport shoes for hiking.
9:00 – 9:30
Back to the main boat for relaxing and check out at the reception, please put all your luggage at the outside of your cabin door, crew member will help to bring luggage on land.
09:30
Brunch is served in the restaurant while  the boat heads back to the harbor.
11:00
Disembark at the harbor
Meet a car then transfer back to Hanoi
Our itinerary includes walks, hikes and treks with:
– a 3-5 km hike on Day 1.
– a 5-7 km hike on Day 2.
– a 12-14 km trek from Day 4.
– a 14-16 km trek on Day 5.
– a 10-12 km trek on Day 6.
– a 15-16 km trek on Day 7.
– a 1-2 hour kayak ride on Day 8.
We need to be reasonably fit as the hikes and the treks can be challenging sometimes, depending on the weather conditions.
From July to September, the climate is usually humid and hot. From October to June brings cooler and more pleasant weather.
Transport:
– vehicle.
– boat.
– kayak.
Tour Guides: 
Our experienced and friendly Tour Guides speak excellent English or French.
They are extremely knowledgeable about local cultures, history and the environment.
Accommodation:
– hotels (3 nights).
– homestays (4 nights).
– Overnight on boat in Halong Bay
Clean and comfortable homestays with mosquito nets provided.
Meals:
– 6 breakfasts.
– 6 lunches.
– 5 dinners.
-2 lunch + 1 dinner+ breakfast on boat
We choose local ingredients, typical of the way people eat in the area, at local restaurants, markets or homes.
We also cater for Vegetarians please request this at time of booking.
Trip cost: contact : marcopolotravel@gmail.com  or marcopoloasia@yahoo.com 
The cost of the trip includes: 
– accommodation.
– transportation.
– meals listed on the itinerary.
– Tour Guides.
– entrance fees.
– permits during guided excursions.
The cost of the trip does not include: 
– travel insurance.
– expenditure of a personal nature, such as drinks, gratuity etc.
What to take:
Pack essentials for 9 days, including light comfortable clothes suitable for outdoor activities, comfortable walking shoes.
Take a small day pack for walking, hiking and trekking.
It is essential to bring your passport on this trip.
We also recommend packing: towel, swimsuit, personal articles, insect repellent, sun cream, raincoat and sun hat…