12 most beautiful islands in Vietnam
Vietnam has a coastline of 3,000 kilometers and 2,800 Islands. And there are a number of gems in there. Swaying palm trees, blue seas, pearly white beaches and a wonderful vibe; you can find it all on the islands in Vietnam. One of the reasons that more and more travelers travel to Vietnam are the many tropical islands here. From large, popular islands where you will find backpackers and holidaymakers to the smaller bounty islands where you hardly encounter any tourists.
Overview of the islands in Vietnam
Most and most beautiful islands in Vietnam can be found in the south and central part of the country. The southern tropical climate provides beautiful palm tree beaches and warm temperatures all year round. Some of the best-known islands can be found in Kien Giang Province, part of the Mekong Delta, such as Phu Quoc, Hai Tac and Nam Du.
Islands can be found all along the 3000 meter long coast, as far north as the famous Halong Bay, where you can find thousands of islets. The most popular islands in Vietnam, such as Phu Quoc, Cat Ba and Hon Tre, have undergone massive tourist developments, including the construction of various hotels, resorts, roads, restaurants and even complete amusement parks. Other islands are still wonderfully local and authentic or even not accessible to foreign tourists.
A couple of things you should know about the islands in Vietnam:
Not all islands in Vietnam are accessible for foreign tourist. Before you head to a more off the beaten island in Vietnam, make sure to check if you are allowed on it.
Unfortunately, many islands in Vietnam, especially the smaller ones, have problems dealing with the waste. Many islands are therefore very polluted. As beautiful as some white beaches with palm trees look from a distance, unfortunately there can be a lot of trash to be found. In any case, make sure you always atleast take your own waste with you after a visit.
Map of the islands in Vietnam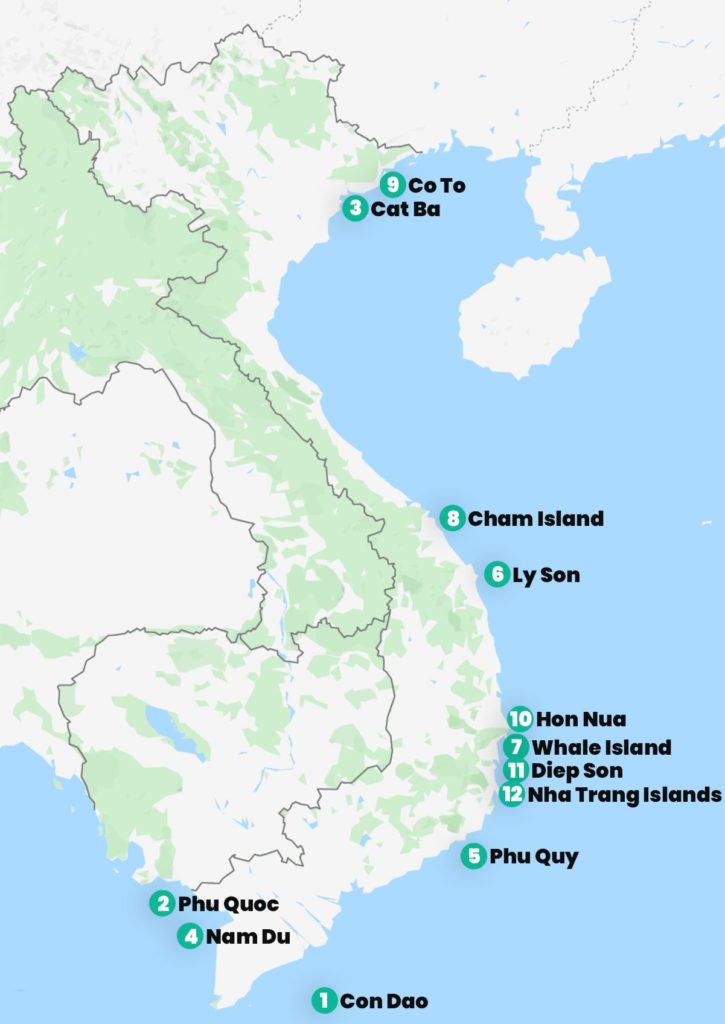 1. Con Dao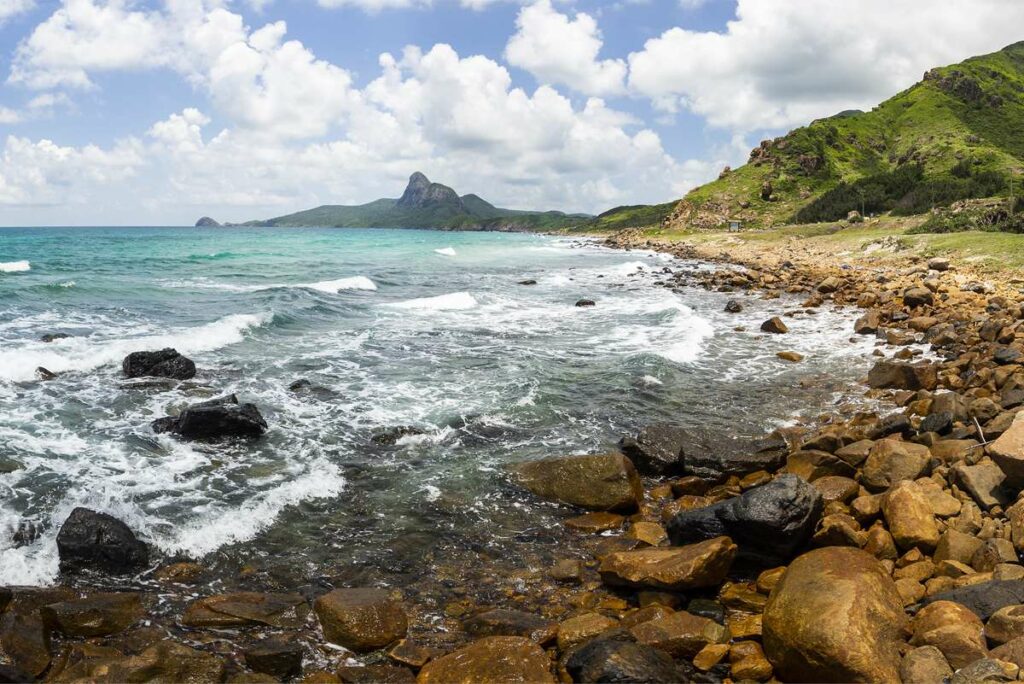 The most beautiful island in Vietnam is Con Dao. It has beautiful white sand beaches that spread for miles along the crystal clear ocean. Along the beach are long rows of coconut trees that create the real tropical feel.
Miles of pristine beaches await to be discovered. If you go to the Con Dao, you can admire the stunning of landscapes, but there is also plenty to do, as is often the case with more famous islands. There are so many things to do on the island. Diving in Con Dao is great and you can even spot sea turtles and dolphins. In addition, the island also has a special history. During the French colonization and in the Vietnam War, it was used as a prison island housing several camps where politic prisoners where detained and sometimes even tortured. Fortunately, that time has passed and you mainly come here to enjoy!
2. Phu Quoc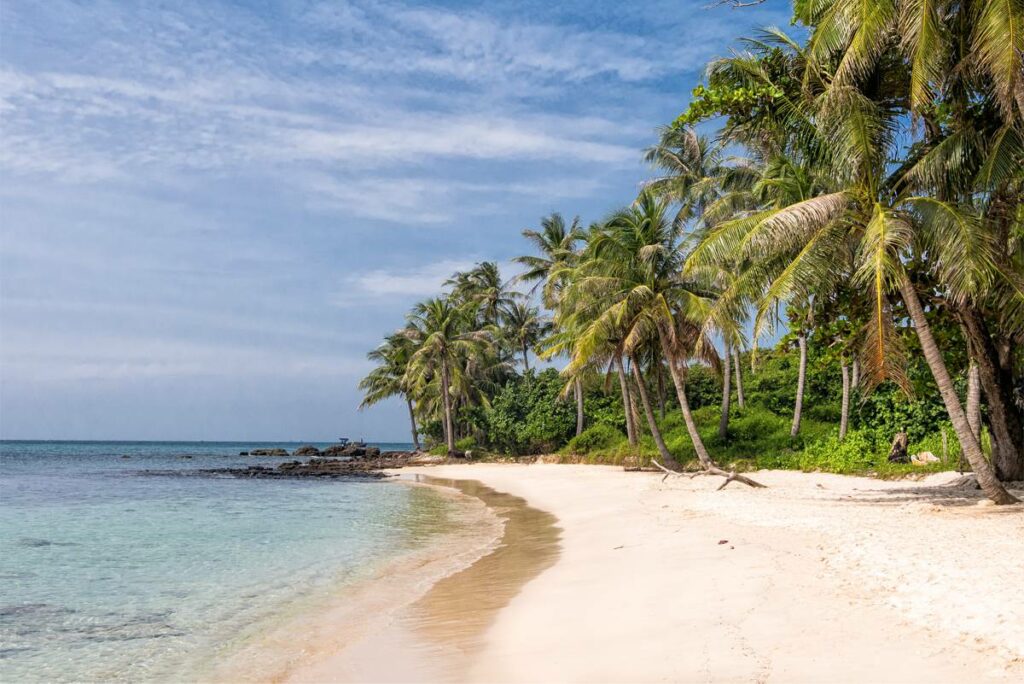 While Con Dao is still quite untouched (because it is also more difficult to reach), Phu Quoc Island is a bit more crowded and a lot further developed. This is the holiday island in Vietnam. Because of a natural protection by islands of the coast, the water here is wonderfully calm. And that with impressive white sandy beaches. Further inland, the tropical forests spread even further across the island.
Many travelers also say that on Phu Quoc you will find the best  beaches in Vietnam. It is a great place to relax and end your maybe tiring trip with a lot of traveling through Vietnam. Enjoy the peaceful atmosphere far from the hustle and bustle of everyday life in Vietnam. The crystal clear sea, the white sand and the green palm trees provide an unforgettable experience.
3. Cat Ba island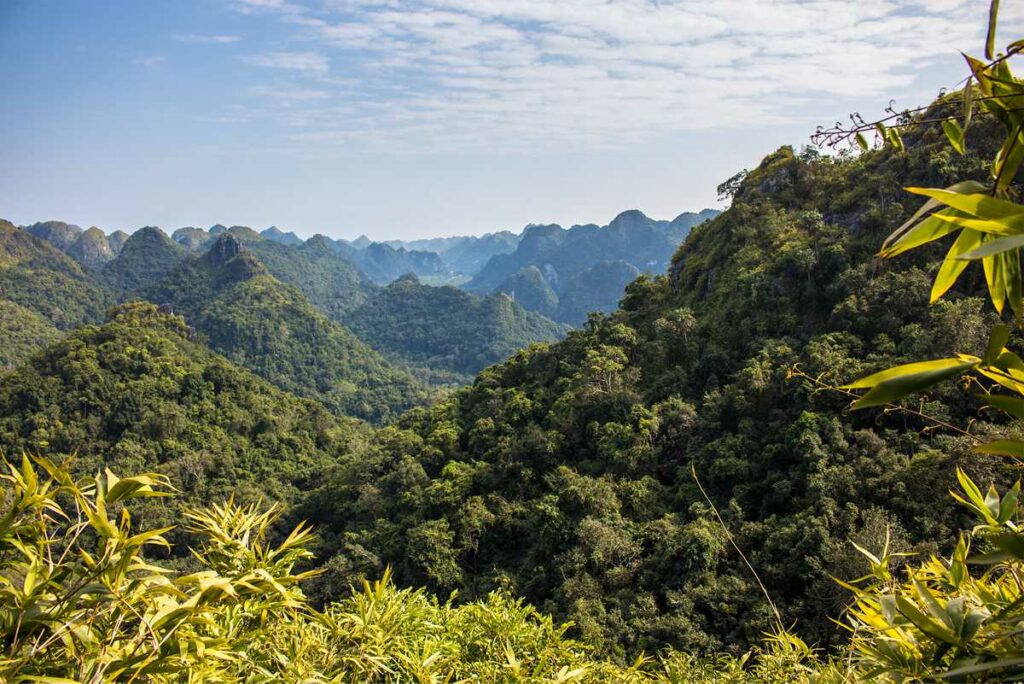 Cat Ba Island is one of the most famous islands in Vietnam. It is close to Halong Bay and often serves as the gateway to this world famous bay. This bay consists of 367 islands, including the island of Cat Ba. The island has two beautiful beaches with Cat Co 1 and Cat Co 2 making it loved by most travelers.
It is a rugged island covered with jungle. Travelers who come here are looking for adventure and tranquility. Apart from Cat Ba Town, with concrete hotels, the island is otherwise unspoilt with the idyllic Halong Bay just off the coast. The nature here is so beautiful is also because half of the island has been declared a National Park.
4. Nam Du island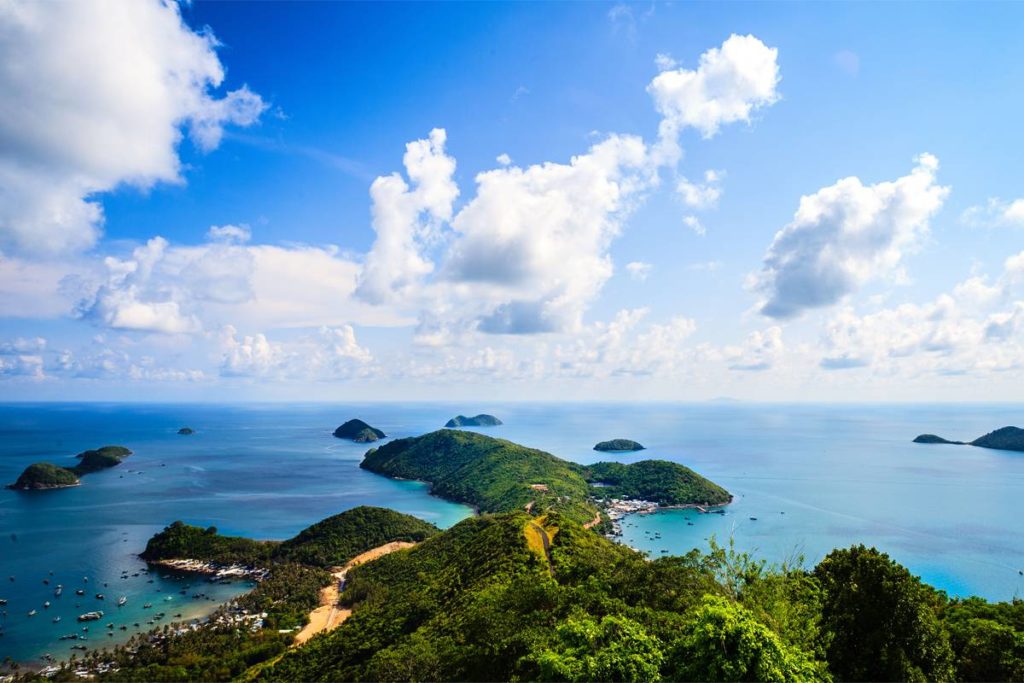 The Nam Du islands are located just south of Phu Quoc and are among the most beautiful islands of Vietnam. It is much less known than its neighbor Phu Quoc, but in recent years more and more travelers have come to find this unspoiled paradise. The population of about 10,000 people is mainly engaged in fishing rather than tourism.
It is a beautiful green island with beautiful white sandy beaches and wooded mountains. More and more people are discovering the natural beauty of Nam Du as an alternative to the busier islands such as Phu Quoc and to a lesser extent Con Dao.
When you come here don't forget to visit the lighthouse. This is the highest point on the island and from here you have a panoramic view of all the islands. Not to mention the beautiful sunset.
5. Phu Quy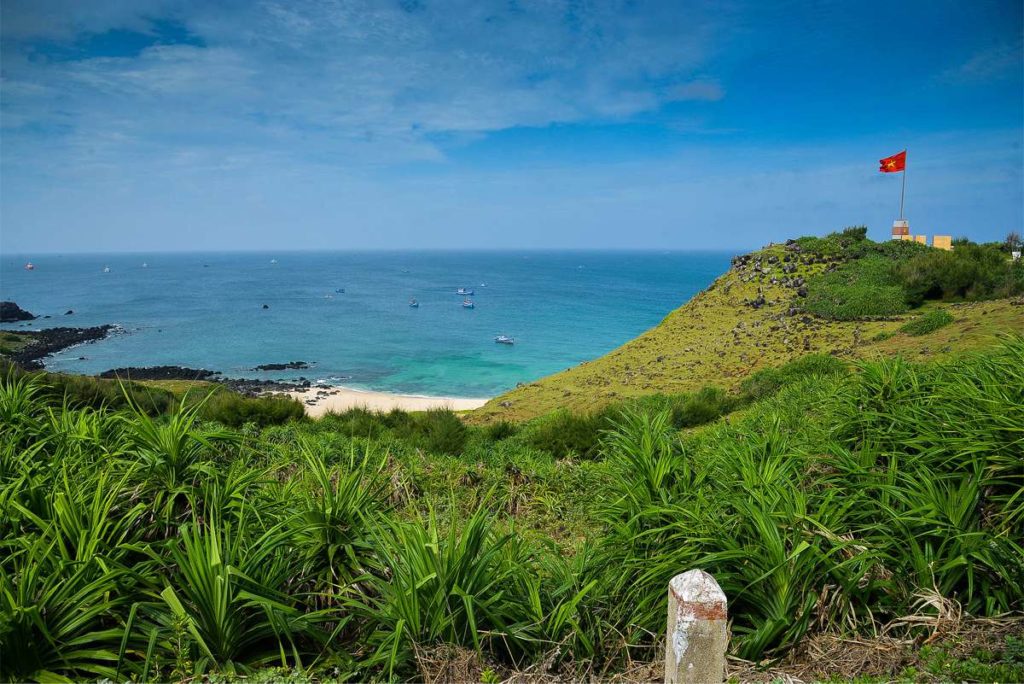 About 100 kilometers off the coast at Phan Thiet / Mui Ne lies the island of Phu Quy. The island has recently been gaining popularity among Vietnamese backpackers and is a fun trip for the adventurer.
Electricity on the island is only available at certain times and the homestays are very simple. However, the visitor is rewarded with an island that is still pure and unspoiled.
From Phan Thiet you can take a boat to the island for VND300,000.
6. Ly Son island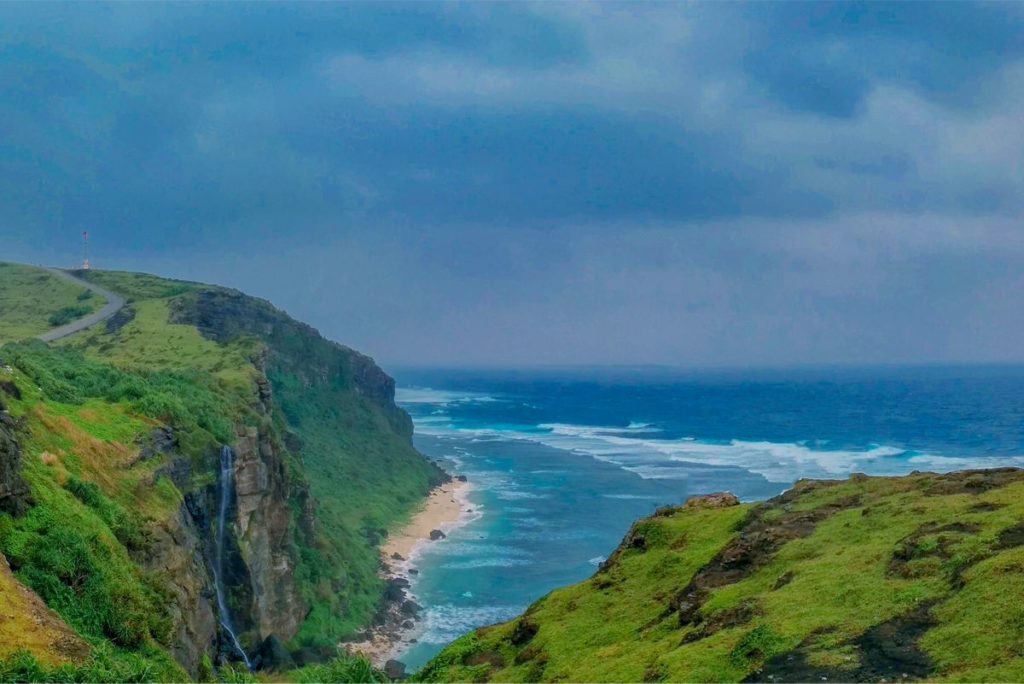 The Ly Son Islands are several islands below Danang. There are hardly any tourists here and that is quite strange with white sand beaches, emerald green waters, wonderful waves and a relaxed vibe. The natural landscape is so unspoilt that it has a tremendous appeal.
The island has beautiful rocks and crystal clear water. And there is plenty to do. You can enjoy the sunset at the top of ThoiLoi or the To Vo Gate. This island is one of the most impressive tourist attractions of the Quang Ngai region, and you probably have it all to yourself!
7. Whale Island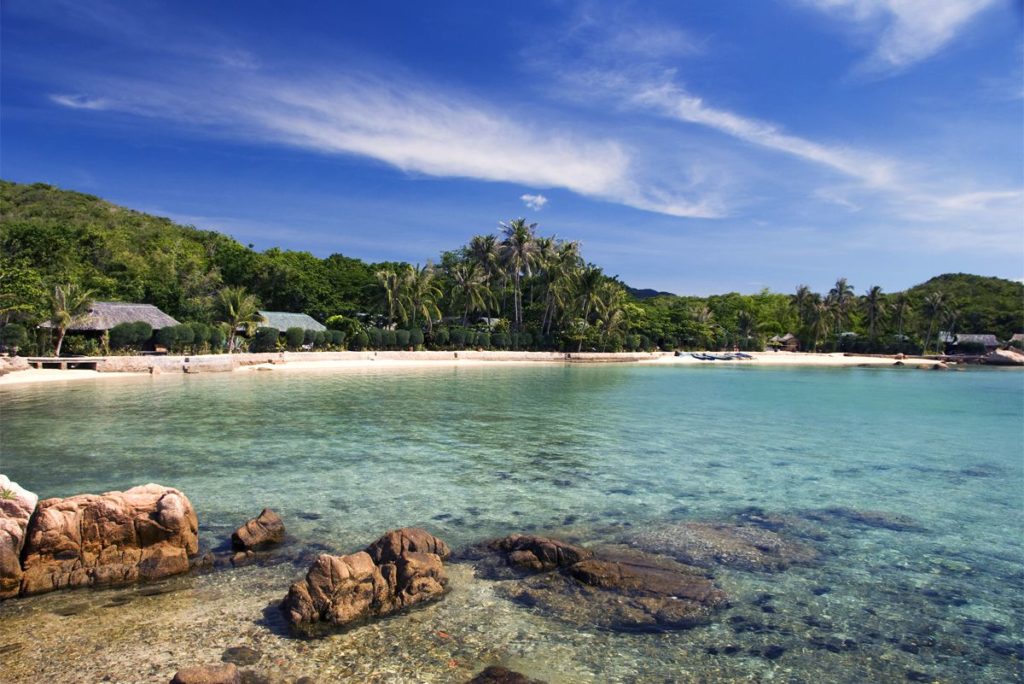 Strangely enough, Whale Island is one of the least known islands of Vietnam, and that while they also call it the Maldives of Vietnam. A guarantee of beautiful beaches. If you are looking for a beautiful bounty island in Vietnam, you have to go to Whale Island. This mini island is full of waving palms, white beaches and a beautiful blue sea. The best thing is that there are almost no tourists.
It is located about 80 kilometers from Nha Trang and the island owes its name to the whales that you can spot here. The island is perfect for diving and snorkeling enthusiasts with the deep, clear water. The landscape underwater is just as beautiful as it is above water. You can read more about this island on our page.
8. Cham Island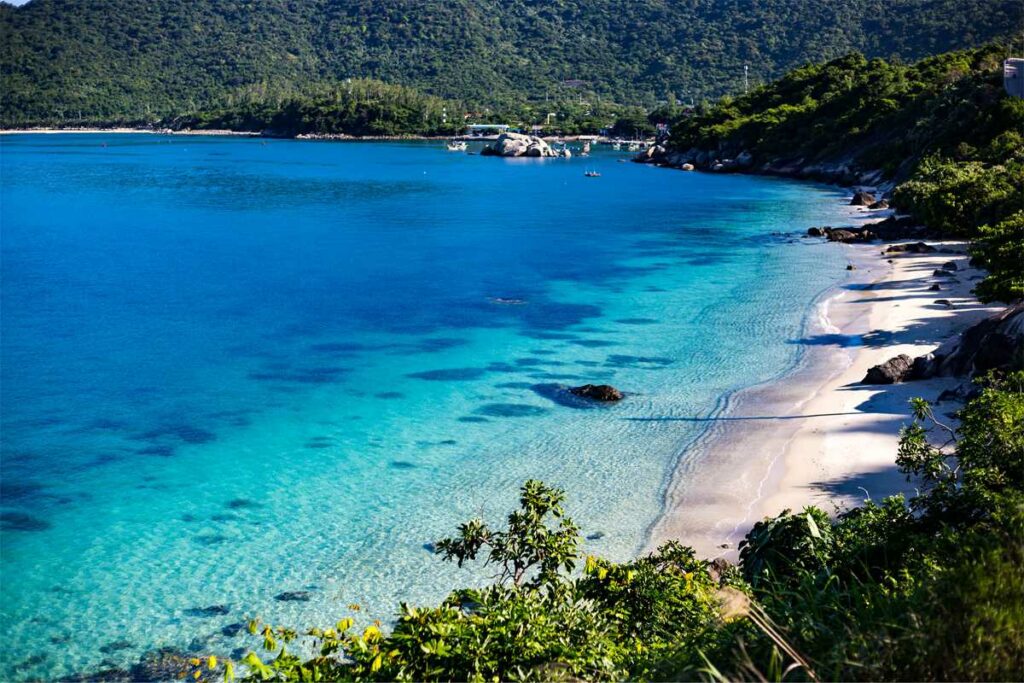 Cham Island, like Whale Island, is not very well known among travelers in Vietnam. This country is also not really known for the islands, many travelers prefer to visit the islands of Thailand. Strange, because the islands of Vietnam are also beautiful. And the Cham Islands are also easily accessible. They are located off the coast of Hoi An.
The biggest advantage is that it is not very touristy yet. That's not surprising, because you couldn't even come here before. Actually it is a national park; Cham Island National Park. With 135 species of coral, this island is also very popular with snorkelers and divers.
9. Co To Island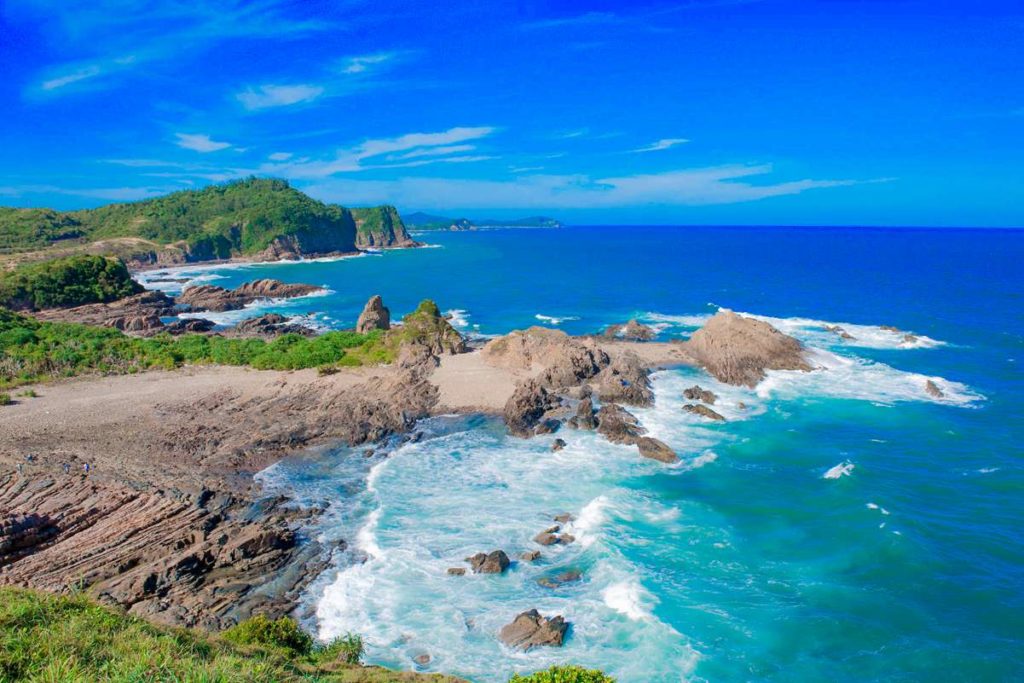 Co To Island is a beautiful island in northern Vietnam. The island is popular with local tourists, but is relatively undiscovered by foreign travelers until now. You will find beautiful beaches, clear water and impressive rock formations. While Van Chai beach is particularly beautiful for kicking back and relaxing, adventurous vacationers can also rock climb or hike in the interior of the island. With plenty of accommodation and dining options to suit every budget, Co To Island is an easy and attractive place to visit.
10. Hon Nua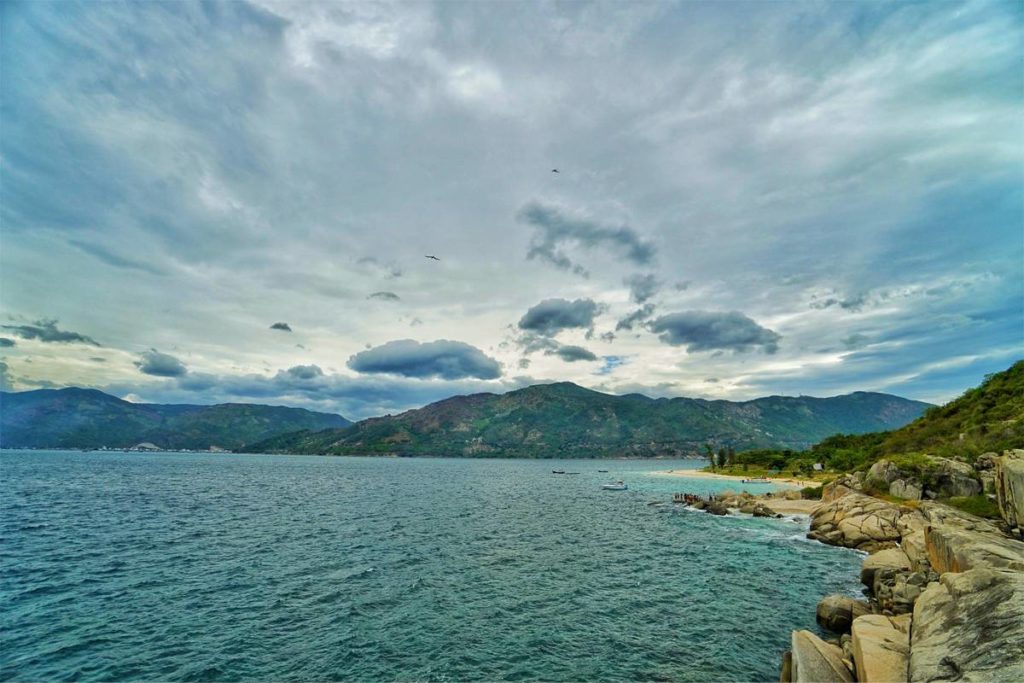 Hon Nua is a 105 meters high island and isolated on the sea border between the provinces of Khanh Hoa and Phu Yen. The island has an unique topography with high arched cliffs that look as if they embrace the very fine yellow sand. The huge turquoise ocean surrounds the mighty, rugged and majestic mountains. Because the island is not developed and frequently visited by tourist, the ocean here is still blue and crystal clear and free from pollution. On Hon Nua island there is only one house and there is no fresh water on the island.
11. Diep Son Island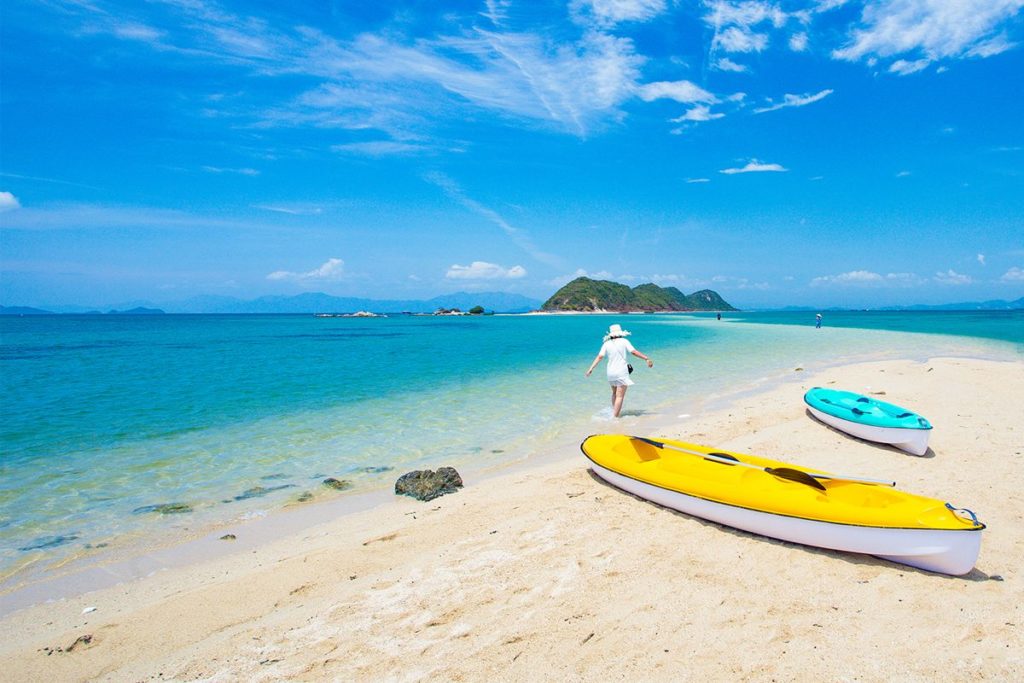 Close to Whale Island and the lovely Doc Let Beach, there is another gem in Khanh Hoa province. The island of Diep Son is unique because of the 1.5 meter wide beach bridge that connects two small islands. Diep Son consists of three islands with a number of beautiful white beaches. The water is crystal clear and the island can be visited almost all year round.
12. Nha Trang Islands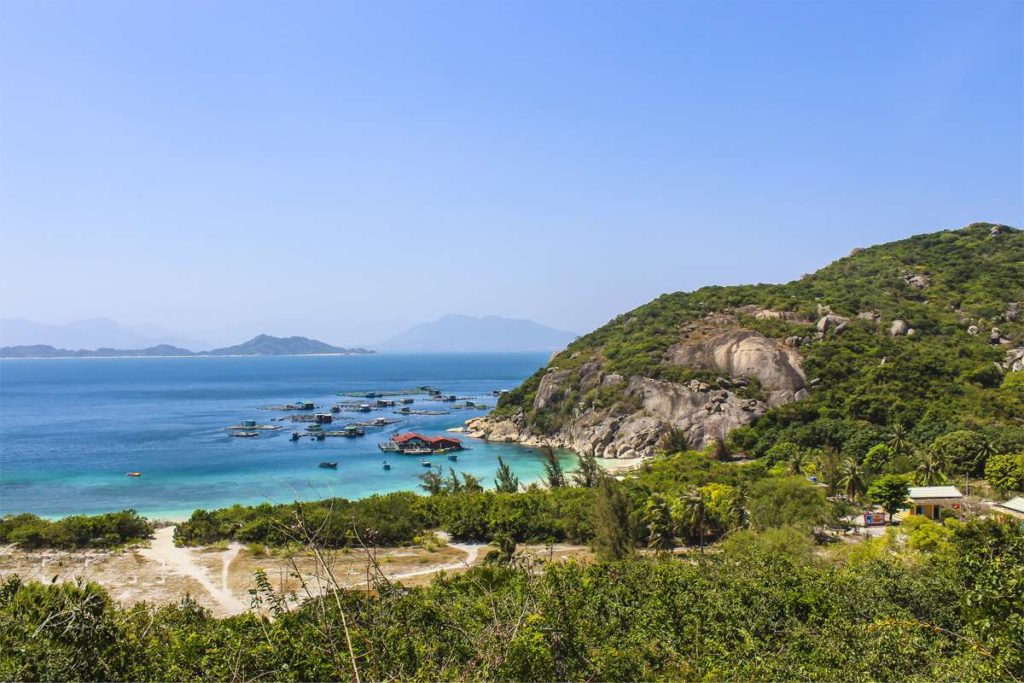 The seaside town of Nha Trang has traditionally been the most popular beach destination in Vietnam. Off the coast are a number of beautiful islands where you can dive and snorkel.
On the island of Vinh Nguyen, which is connected to the mainland by a cable car, you will find the luxurious Vinperal Resort. A nice place for families and lovers of luxury resorts.
For the independent traveler with their own transport, it may be worth heading south from Nha Trang. There are also a number of beautiful islands around the lesser-known Cam Ranh Bay, of which Binh Ba is the largest. A little further south you can visit the small island of Binh Hung.