Day 01: Hanoi – Mai Chau. (Distance: 180 km). 
In the morning we take a short bus drive the Ho Chi Minh Trail Museum on the outskirts of Hanoi. The museum is a great place to learn about the historic trail which we will ride on. After the visit to the museum we will jump on our Minsks and spend sometime to get familiar with the bikes.
Now, let's begin our adventure. We will ride on Highway 6 passing extensive farming lands comprising a sea of paddy fields split by tree-lined roads punctuated by limestone karst scenery.
After a light lunch in Hoa Binh Town, the capital of Hoa Binh Province, we cross two short mountain passes then descent to the mountain valley settlement of Mai Chau. Dinner and overnight in a traditional stilt house of the Thai people. (B
Day 02: Mai Chau – Vinh. (Distance : 268 km). 
Say goodbye to the villagers we then head south on a beautiful winding road which follow the banks of the Ma River. After some hours riding on undulating quiet road we join the new Ho Chi Minh Highway. This newly carved route leads us due south, through remote back country , not far from the Laos border. Lunch will be on the way with local foods. In the afternoon we cut eastward towards the coast and stay overnight in the peaceful city of Vinh, which is close to where Ho Chi Minh was born. Dinner in local restaurant and overnight in hotel. (B)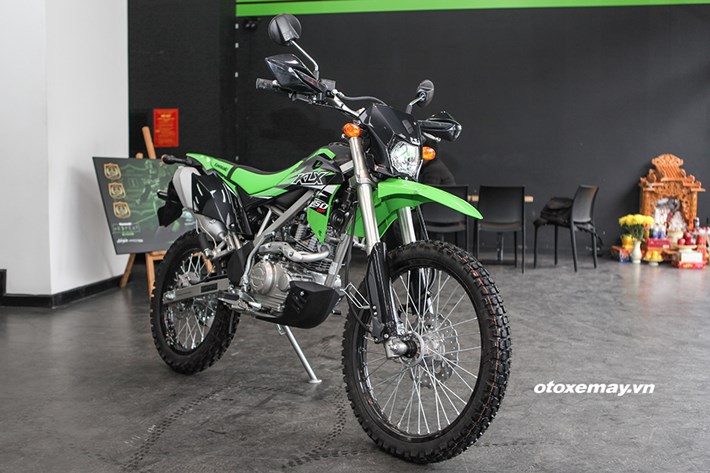 Day 03: Vinh – Huong Khe. (Distance : 160 km ). 
This morning we head inland towards the Laos border after 40min riding we can reach the birthplace of Ho Chi Minh in Kim Lien Village. The place is truly a shrine to the Vietnamese and visited by few westerners.
After paying respects to Uncle Ho, we head to the HCM Highway via Thanh Chuong District. You cross the Lam River on the Ro Bridge and then drive primarily on the beautiful new highway of Ho Chi Minh. Lunch break in Pho Chau Town, a tiny town about 40km from Thanh Chuong.
After lunch, we continue on the quiet highway to Dong Loc Intersection, (main junction for supply lines during the war) which is widely regarded in Vietnamese eyes as the beginning of Ho Chi Minh Trail. We then pass through renote back country , close to the border , as the scenery steadily becomes dominated by karst limestone rock formations. We will reach our overnight spot, Huong Khe Town, around 5pm. Dinner in local restaurant and overnight in a mini hotel. (B)
Day 04: Huong Khe – Phong Nha – Dong Hoi (Quang Binh). (Distance: 210 km). 
Today's ride is on a very quiet section of the new highway. En route, you will come to Khe Ve Intersection and Pheo – the very first branch of the Ho Chi Minh Trail into Laos.
Continuing on from Pheo, we will arrive in Phong Nha around noon. After lunch in local restaurant, we board a dragon boat to explore the famous Nature World Heritage Site of Phong Nha cave.
After the exploration of Phong Nha, we ride 30km eastward to the costal town of Dong Hoi, our today's overnight spot. Dinner and overnight in hotel. (B)
Day 05: Dong Hoi – Dong Ha (Quang Tri). (Distance: 176 km). 
Today's ride is also on the new, quiet highway. Along the way, we will have a short stop at Truong Son National Cemetery to pay respect to the soldiers who fought and died on the trail during the American War. After here we head to Dong Ha Town passing Ben Tat Bridge, built by the VC over the Ben Hai River.
Arriving in Dong Ha, we will check into the hotel, and have some lunch. In the afternoon, we dride to the mystic Vinh Moc Tunnel and the famous DMZ, Doc Mieu fire base and the historic Hien Luong Bridge. (B)
Dinner and overnight in Dong Ha town.
Day 06: Dong Ha – Khe Sanh – A Luoi (Thua Thien Hue Province). (Distance : 200 km). 
Continuing west on Highway 9, we will climb into the Truong Son foothills. About 16km from Khe Sanh is the Dakrong Bridge and the road turns winding and narrow. A bit further, we will come to Huang Hoa, once known as Khe Sanh Base, which was established as a forward base by General Westmoreland near Laos to secure Highway 9. About 3km from Khe Sanh is Ta Con Airbase.
Lunch in Khe Sanh and then head out across the famous Dakrong River Bridge on Rte. 14 Near the town of Ta Rut, we will stop for a visit with the Pa Co people and a walk through their village.
From Ta Rut, you head over scenic Pe Ke Pass and then down to A Luoi for the night.
Dinner in local restaurant and overnight in a simple guesthouse. (B)
Day 07: A Luoi – Hien – Thanh My – Hoi An . (Distance: 240 km)
Today's riding is the best riding of the whole route. For the first 110km, we cross one of the longest and most stunning pass on new and quiet road, through stunning scenery of primitive forests backed by the imposing Truong Son mountain range. There are also two long tunnels and very little traffic. The next 68km from Hien to Thanh My are on good road with some gentle climbs. Lunch on the way in local restaurant. The last 40km of the day are on an older, bumpier road all the way from Ai Nghia to the charming ancient town of Hoi An. Dinner and overnight in Hoi An. (B)
Day 8: Hoi An – Beach leisure.
Free time on beach.
Overnight at the hotel in Cua Dai/ Hoian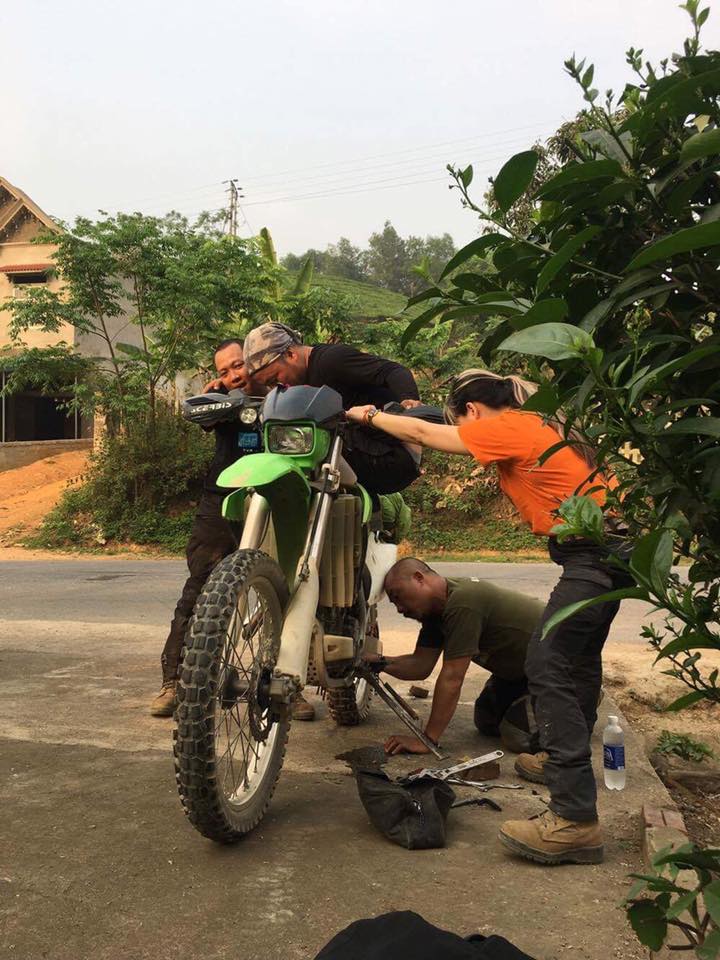 Day 9: Hoian city tour.
Hoi An, nestled on the banks of the Thu Bon River. Before the river silted up, Hoi An was one of the most important trading ports in Southeast Asia, and a center for East-West exchange and trade. The rooftops of Hoi An retain a magical old world Oriental feel and are a favorite subject for Vietnamese artists. In the early 1980s Hoi An's ancient quarters and historical monuments came under the protection and restoration efforts of UNESCO and the Polish government.
Overnight at the hotel in Cua Dai/ Hoian
Day 10: Hoi An – My Son – Dong Phu – Kham Duc (Phuoc Son) – (Distance: 200 km)
Time to hit the road again! We leave Hoi An in the morning and head to My Son, a world heritage site that is the Cham version of Angkor Wat.
Most of the temples are dedicated to the Hindu god, Shiva, considered by the Cham as the founder and protector of their dynasties.
From My Son, we will continue along the highway, busy at first, until the road shifts and becomes smaller, although paved. Then the drive becomes challenging, but a lot of fun and progress is far slower.
We will continue driving along the river, but the road itself, new and not very busy, climbs up along a very steep valley with the river rushing below. The river below is dotted with unique rock formations and there are waterfalls along the way. Lunch will be in Dong Phu.
Leaving Dong Phu, eventually, we will come to the town of Kham Duc or Phuoc Son. Overnight in Kham Duc Hotel.
Day 11: Kham Duc – Kon Tum (Distance: 190 km)
After breakfast in local restaurant we continue Vietnam motorbike tour to the north on Highway 14 today on a bit of a bumpy section of the road to Kon Tum.
Today is really a day to visit different minority villages. We will drive over Lo Xo Pass, making lots of stops along the way to meet De and Trieng minorities, who live along the Dak Po Ko river. Along the river are many amazing hanging bridges, built by the local people to cross to the opposite shore. Lunch will be in Tan Canh, and we can visit a village of Se Dang, before driving on to Kon Tum.
Along the way, we also pass one of the key towns and battle sites of the Vietnam War – Dak To and outpost Charlie.
In Kon Tum we can visit the Catholic church and the orphanage, based behind the Catholic Church in town and run by a group of French nuns. If time permits, you can also visit a beautiful Bahnar village near town.
Overnight in Kon Tum at the Dac Bla Hotel.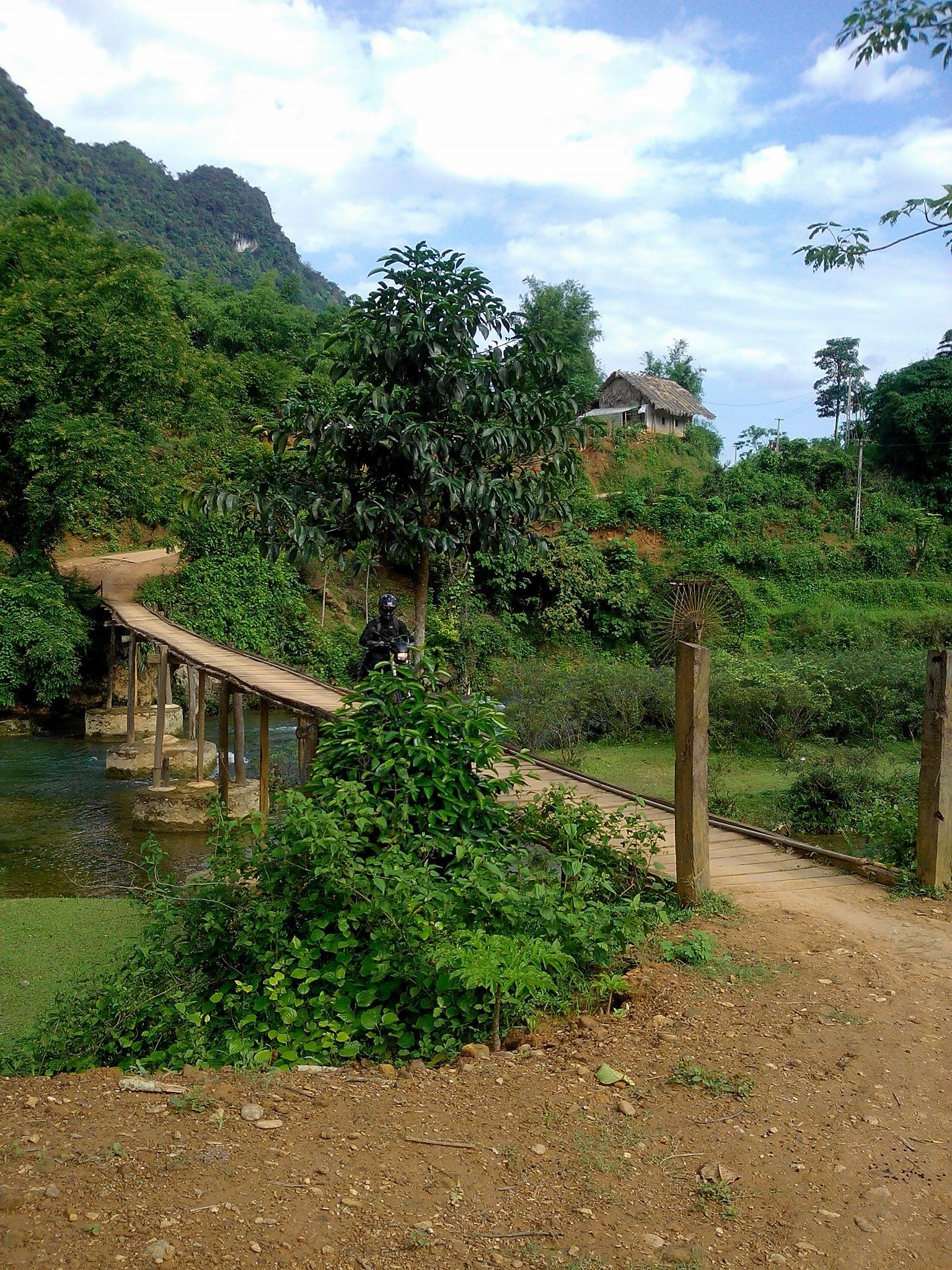 Day 12: Kon Tum to Buon Ma Thuot (240km)
This day we stop in sea lake near Pleiku, see rubber tree and coffee plantations, green pepper crops. Boun Ma Thout is famous for making the best Coffee in Vietnam, so this is the place to stock up and maybe enjoy a cup or two at a side walk cafe.
Day 13: Buon Ma Thuot to Lak Lake (150km)
In the morning we go to the majestic Dray Sap waterfalls, then in the afternoon we go to lak lake. Check in to the hotel then we visit the local Mnong Ethnic hill tribe. That evening enjoy a traditional music performance of the Mnong ethnic people.
Day 14: Lak Lake to Dalat (170km). 
In the morning you have free time to perhaps ride an elephant or take a local boat across Lak Lake. Then we spend the rest of the day enjoying the beautiful landscape along the road to Dalat, arriving in the late afternoon. The tour ends on arrival at your hotel.
Day 15: Dalat – Muine
Today we travel to the beautiful Mui Ne with its stunning sand dunes
Overnight in Muine.
Day 16: Muine beach leisure
Overnight on beach.
Overnight in Muine.
Day 17: Muine- drive to Saigon.
Today we head to Saigon. On the way, we will stop for lunch in Bao Loc, where we can also see the impressive Dambri Waterfall. In the afternoon, we will finally arrive in Ho Chi Minh City
Overnight at the hotel in Ho Chi Minh.
Day 18: Saigon – departure.
Free time till transfer to the departure flight.
| | | | | | |
| --- | --- | --- | --- | --- | --- |
| Motorbike/ Rider | 1 rider | 2 riders | 3 riders | 4 riders | Single room supplement |
| 125cc |  959 |  766 |  675 | 643 |  239 |
| 150cc | 1069 | 876 | 785 | 753 | 239 |
| 230/250cc | 1179 | 986 | 895 | 863 |  239 |
| 400/650 cc | 1289 | 1096 | 1005 | 973 |  239 |
Note: To make a reservation you are required to pay a 30% reservation deposit. we accept credit/debit card payments via Onepay our secure online payment system. We also accept a Western Union or a bank transfer. However, we recommend you pay via Onepay, as it's quick, convenient, it's simple to use and is the cheapest way of making a payment. You can pay the remaining balance in our office by credit/debit or cash before you depart on your tour.
Note: Prices include – Twin shared rooms. Single room supplement is available for people who prefer to have their own room. An additional fee is required and must be booked in advance.