Ha Giang loop by Motor cycle
This 4-Day Ha Giang Loop Tour is perfect for those who want to truly experience all the Ha Giang loop has to offer. With added excursions such as trekking in Tay minority village Thon Tha, exploring Lung Khuy Cave, and visiting the northernmost point of Vietmam marked by Lung Cu Flagpole.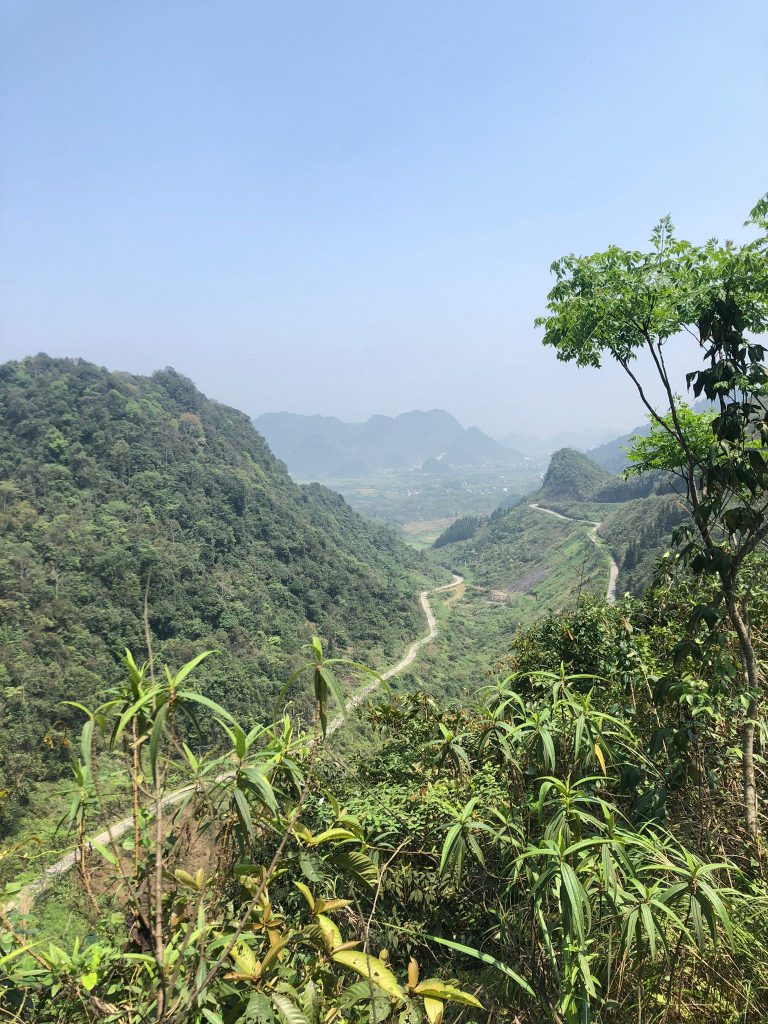 Night 1: Transfer to Ha Giang from Hanoi, Sapa or Ninh Binh
7:30 PM: Get on premium Sleeper bus to Ha Giang. Free bed for you in our homestay upon 3 AM arrival for a nap and breakfast before the tour starts.
AY 1: HA GIANG CITY – THON THA VILLAGE – LUNG KHUY CAVE 

– NAM

 DAM VILLAGE
(Ha Giang Loop Tour Highlights: Trekking at Thon Tha Village – Bac Sum Pass – Heaven Gate – Lung Khuy Cave – Nam Dam Village)
Mee your Ha Giang easy rider tour guide at 8:30 AM  then our brilliant Ha Giang Motorbike Tour adventure begins. Your first stop on the Ha Giang Loop will be Thon Tha village, an ancient and traditional village, where the Tay minority people live. We will spend roughly two hours trekking in the village, surrounded by incredible mountains and rice fields. Lunch in Thon Tha Village. The road leads you to Bac Sum Pass, up to Heaven Gate, where you can enjoy the beautiful scenery of the twin mountains and Tam Son town. After that, you will go to the Lung Khuy Cave. The short walk leading to the cave will show you some beautiful views of the countryside. Finally, you will stop at Nam Dam village, where you will spend your first night. It is a charming and peaceful place surrounded by mountains. You will get the chance to discover the Dao ethnic culture and try some delicious local food.
(Transport: Motorbike with easy rider 95 km – Meal: B, L, D – Sleep in local homestay in Nam Dam Village)
DAY 2: NAM DAM VILLAGE – KING H'MONG PALACE – LUNG CU FLAGPOLE – DONG VAN TOWN
(Ha Giang Loop Tour Highlights: Chin Khoanh Pass – H'mong King Palace – Lung Cu Flag Pole)
The breakfast is served by the host family. Say goodbye to the local people then we drive towards Dong Van, through the picturesque Chin Khoanh Pass, home to major geo-heritage site Dong Van Karst Plateau. The landscape is composed of seemingly endless rice fields, thousands of limestone rocks and breath-taking views. It also gives you the chance to experience the life of hill-tribe villages where local people work on the rice fields. Next, you'll visit Hmong King's Palace, the home of Vuong's family in Sa Phin. After lunch, you'll head up to Lung Cu Flagpole, a monument to mark the northernmost point and a symbol of 54 ethnic minorities in Vietnam. Arrive in Dong Van family-owned hotel in early evening, where you'll enjoy a local Vietnamese dinner and live music after a long day of mind-blowing landscape views. At night time, relax before another day of adventures.
(Transport: Motorbike with easy rider 140 km – Meal: B, L, D – Sleep in Hotel in central Dong Van)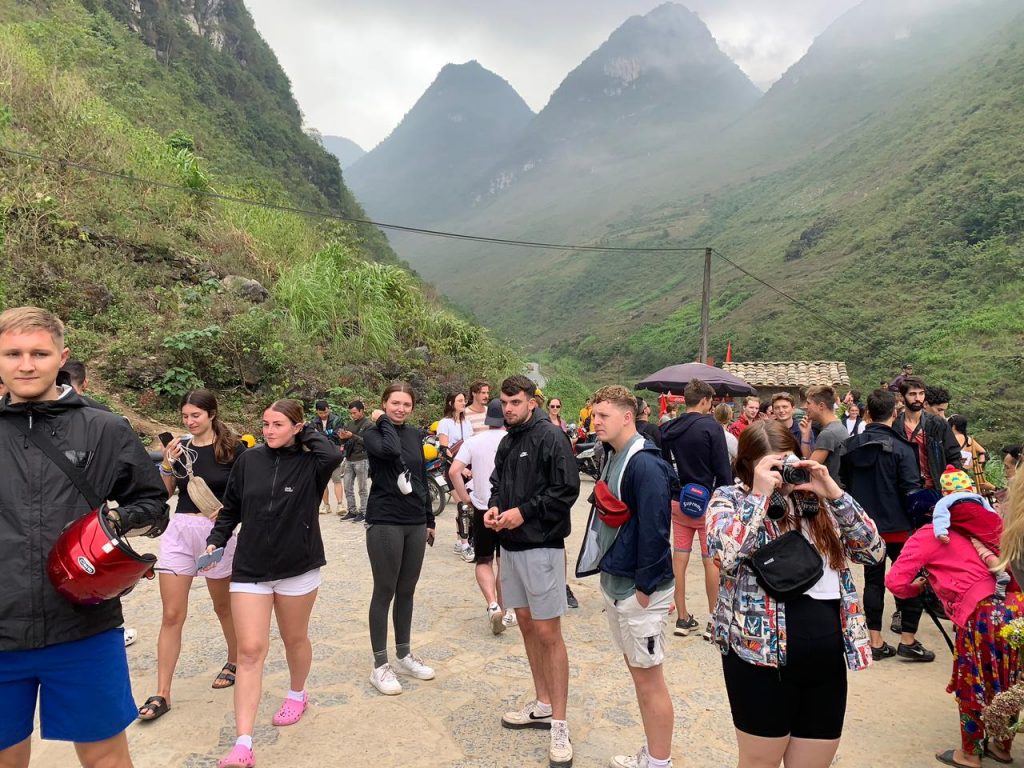 DAY 3: DONG VAN TOWN – MA PI LENG PASS – NHO QUE RIVER – DU GIA LOCAL VILLAGE
(Ha Giang Loop Tour Highlights: Exclusive Kayaking on Nho Que River – Happiness road – Ma Pi Leng Pass – Sky Walk – Meo Vac Town)
After breakfast we leave Dong Van Town to enter the highlight of the journey, the Ma Pi Leng Pass. This Vietnam mountain pass is famous for its abrupt cliffs and breath-taking views. With an altitude of 2,000 meters, it is often referred to as the "king" of the passes in Vietnam. Kayaking on Nho Que river will be an unforgettable experience offering some serious bragging rights! As you experience how spectacular the Ma Pi Leng Pass is, we will trek the Sky Path to have a closer look at the whole valley and Nho Que river. From the top view, there is a picturesque 360° panorama of Ma Pi Leng Pass and its overwhelming mountains and river views. We continue to drive through the villages of Meo Vac, Mau Due and Lung Ho, where our break for lunch is served. In the afternoon, we pass through the epic mountainous to Du Gia rural homestay, located amongst magnificent green rice fields. In the evening, enjoy a delicious family dinner with the locals, where you can try their "Happy Water" (local rice wine).
(Transport: Motorbike with easy rider 120 Km – Meal: B,L,D – Sleep in local homestay in Du Gia Local village) 
DAY 4: DU GIA-LUNG TAM VILLAGE -HA GIANG-HANOI
(Ha Giang Loop Tour Highlights:  Morning nature – Swimming in waterfall-  Lung Tam village) 
After breakfast, you'll visit a local waterfall for swimming and views. Next, you'll experience H'mong tribe textile weaving first hand in Lung Tam village, where H'mong ethnic women work skillfully to produce incredible textile products. You have the opportunity to visit the shop where you can bring a woven product home. We then cross Quan Ba town and view Nui Doi mountain. After crossing Sky Gate, we pass back by Bac Sum Pass and arrive in Ha Giang city late afternoon, before getting the 4:30 PM Comfort Limousine bus back to Hanoi. Arrive in Hanoi Old Quarter about 11:00 PM.
(Transport: Motorbike with easy rider 120 Km, limousine bus to Hanoi – Meal: B, L ) 
TOUR COST:  $269 / person
WHAT'S IN IT FOR YOU?
Full Transfer: Ha Noi ⇒ Ha Giang (sleeping bus) & Ha Giang ⇒ Hanoi (Limousine)
Hotel pick up & drop off
Good Motobike with gas and easy Rider (driver)
Experience Tour Guide
Swimming on waterfall
All accommodation (1 night on bus, 1 night in  Hotel in Dong Van, 2 night in homestay in Du Gia and Nam Dam Village)
Entrance fee, and selected activities,
Meals: 4 breakfast, 4 lunch, 3 dinner