Cycling in the Mekong Delta is one of the best activities to do. This region is one of the best places for cycling in Vietnam because of the quiet roads, friendly people and beautiful scenery.
Why cycling in the Mekong Delta
The Mekong Delta is a very flat region, almost the same size as the Netherlands and has 13 provinces. You will find many villages, rice fields and fruit orchards here, which are connected with local quiet roads. The beautiful surroundings, the quiet roads and the flat landscape make cycling in the Mekong Delta extremely popular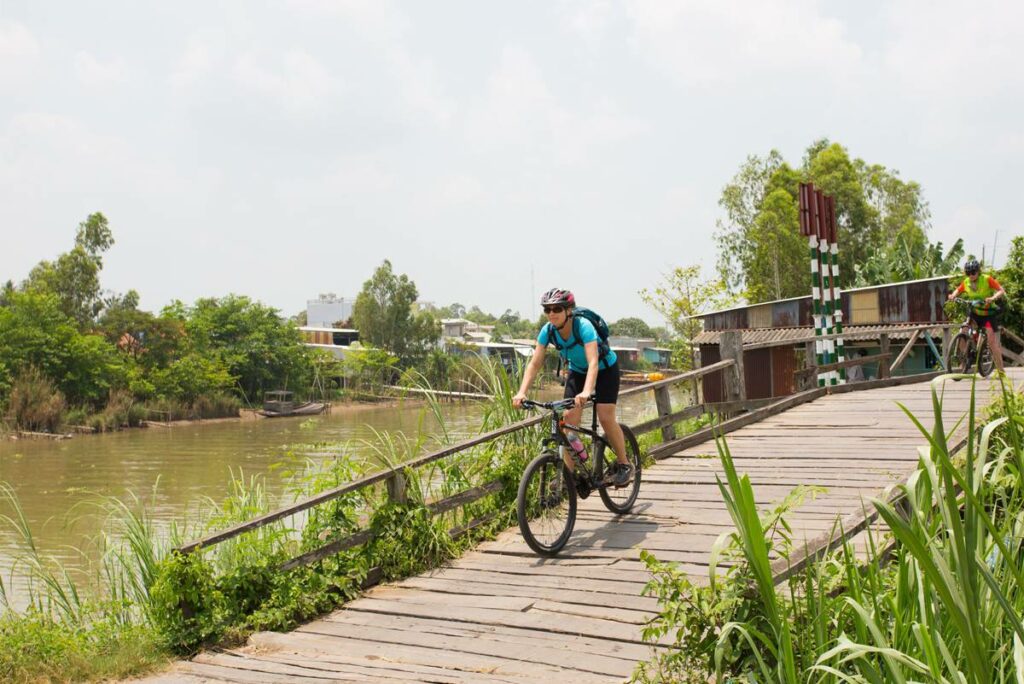 While cycling through the Mekong Delta you will meet friendly people. From local school children waving and high-five to the countless shopkeepers and workers in the rice fields and orchards who look up from their work. You can combine cycling in the Mekong Delta with a visit to floating markets, local factories, villages, temples and fruit orchards. Along the way you have a view of the many canals, rivers and the countryside. Because there are not everywhere bridges, there is a good chance that you will have to cross the water with a small pound. It's all part of a great experience.
Bike tours in the Mekong
There are a number of options for cycling in the Mekong Delta. For example, most homestays have bicycles to borrow for free, with which you can go on your own. Make sure you leave prepared by requesting cycling routes from your accommodation or pinning points in Google Maps / Maps.me.
Another option is to go out with a guide. With a guide you will see more, you will not get lost, you will easily get in touch with the locals and will arrange everything for you along the way. Especially if you like to visit a local factory or orchards while cycling or if you want to combine it with a boat trip, a guide can be useful.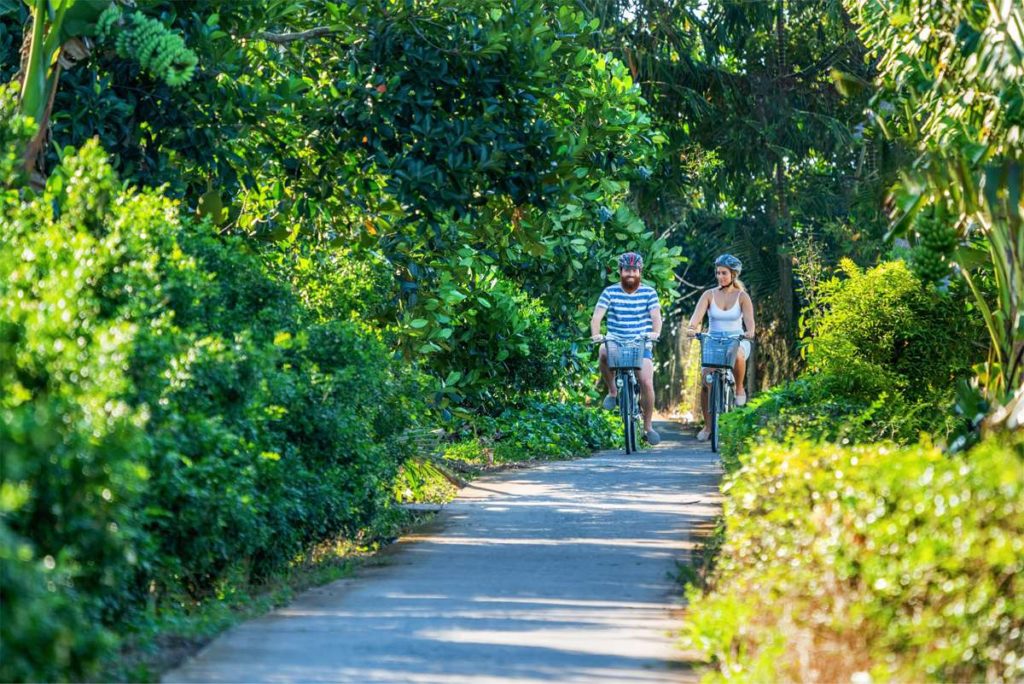 There are several options for cycling through the Mekong Delta with a guide. From Ho Chi Minh City there are organized day or multi-day tours, including cycling. You can also hire a guide from places in the Mekong for a half or full day. What is also becoming increasingly popular are the multi-day cycling tours, where you are on the road in 2, 3 or 4 days or even longer. These are many private tours that are tailor-made. These tours are often a bit more expensive; not only because it is a private tour, but also because there are few good guides who can accompany multi-day cycling tours.
Rent a bike
If you want to go without a guide, you have to rent a bicycle yourself. As mentioned above, you can borrow a bicycle for free at most homestays. Just keep in mind that these bikes are not of good quality, making it fine for several hours of use, but not for being on the road all day. For multi-day tours, it is best to rent good quality bicycles, including all the materials you may need on the way for safety and maintenance.
Multi-day cycling tours in the Mekong Delta
Safety
Although the speed of a bicycle is not as high as that of a motorcycle or car, its small size or poor visibility may put you at risk on the highway or an intersection. So concentrate while cycling in the Mekong Delta and stop regularly to rest when you are tired. Before you go, you should check the bike and its equipment. Make sure your helmet fits your head properly, does not obstruct your view and that all parts of the bike are working properly. If possible, add the light to the helmet or in front of the steering wheel for a better view and that other drivers can see you at night.
Plan a route
Preparing a specific route before departure is also essential. Hiring a guide may also be necessary. He is the person who shows you the way, how reasonable is the way to take and gives you the necessary information about what you are going through.
What to bring
Things like identification, telephone and money are not only important for you when traveling, but also important in difficult situations. In dangerous situations like missing or life threatening, these things are important to help the authorities rescue and help you. In addition, cycling consumes a lot of energy, maybe hundreds or even thousands of calories. Wear light and healthy snacks to avoid hypoglycemia or energy deficiency. You can bring fruits such as bananas, apples or dried goods, peanut butter, bread during the road break.
Best places for cycling in the Mekong Delta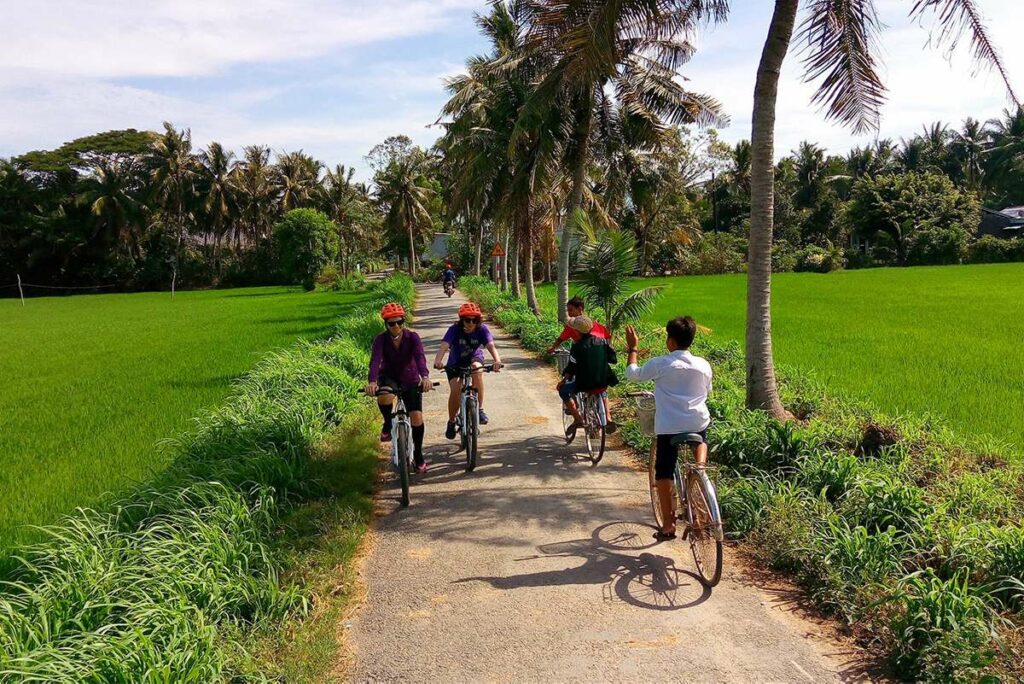 The best regions for cycling in the Mekong Delta are Can Tho, Ben Tre, Cai Be, An Giang and Vinh Long. Actually every region is good for cycling, only the places mentioned are more developed for tourism. This means that bicycles can be rented and borrowed at more places, marked cycling routes are available and guides are available.